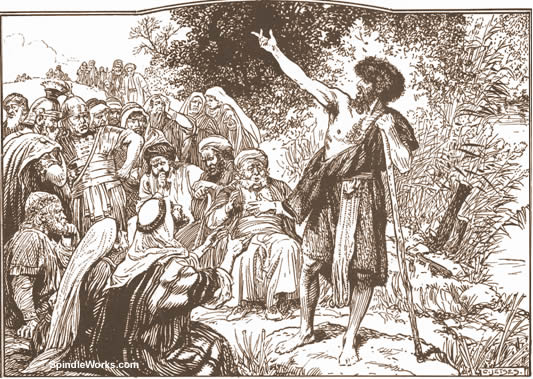 In the next chapter of this series we read the view that John the Baptist was a key figure in sparking the movement that became Christianity. Couchoud takes the date for John from Josephus — that is, towards the end of Pilate's office in 36 c.e. Couchoud believes strongly that there was a fervent expectation among the Jews for a divine messianic deliverer. John was part of this popular hope when he came preaching the coming of the heavenly Messiah figure to judge the world. John's message was thus fed by the tradition we read of in the above works (Daniel, Enoch, Moses).
Zechariah 13:3 had said there would be no more prophets but John was not afraid to don the prophet's mantle and take their place. John did not create an image of the Heavenly Man but delivered threats against those who this figure would judge:
O generation of vipers,  [ Pliny, Nat. Hist. viii. 59, 1 — the viper was believed to be the only snake that could bury itself in the earth – metaphor of those who think they can hide from the wrath of God ]
Who hath warned you to flee from the wrath to come?
Bring forth therefore fruits meet for repentance,
Do not to say to yourselves,
We have Abraham to our father:
I say unto you that God is able
Of these stones to raise up children unto Abraham.  [ "stones" = Aramaic abenayya; children = Aramaic benayya ]
Already the axe
Is laid unto the root of the trees:
Every tree which bringeth not forth good fruit
Is hewn down and cast into the fire.
He that cometh after me
Is mightier than I,
Whose shoes I am not worthy to untie:
I baptize you with water,
He will baptize you with wind and fire: [ the context of the next verse explains the meaning of wind and fire; the word "holy" before wind (same word as spirit) was a Christian addition and foreign to the context ]

His fan is in his hand,
To purge thoroughly his floor,
And gather his wheat into his garner;
But he will burn up the chaff with unquenchable fire.
The urgency of this message (taken from Luke and Matthew) leaves no room for delay. The judgement from this heavenly Son of Man figure from the Book of Enoch is about to befall. Continue reading "John the Baptist and the Foundations of Christianity (Couchoud)"