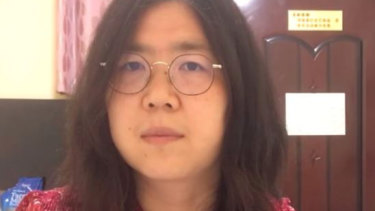 China's Communist Party jails a Chinese citizen journalist for four years for reporting a narrative inconsistent with the one the authorities sought to present:
Her live reports and essays were widely shared on social media platforms in February, grabbing the attention of authorities, who have punished eight virus whistle-blowers so far as they try to stamp out criticism of the government's response to the outbreak.
UK, Australia and the US have acted even more viciously against Julian Assange:
Meanwhile in the US, with the acquiescence of the Republican Party —  Trump's Pardons Show He's Just a Mob Boss; His Presidency Is a Criminal Enterprise
Trump's choices made clear he is a crime boss.
Four Blackwater mercenaries who, working for Trump ally Erik Prince murdered Iraqi civilians, were pardoned. But there was no pardon for Jeremy Ridgeway, the soldier-for-hire who pleaded guilty to manslaughter, testified against the others and was sentenced to a year and a day in federal prison.
Roger Stone, dirty trickster confidant; former General Michael Flynn, national security adviser who was on the Kremlin payroll; and 2016 campaign manager Paul Manafort were pardoned. But Trump didn't pardon Manafort deputy Rick Gates, who turned state's evidence and confessed.
Earlier, Trump pardoned Rod Blagojevich, the former Illinois governor convicted of trying to sell a Senate seat. But there was no pardon for lawyer Michael Cohen, Trump's longtime fixer who confessed to committing felonies at the direction of unindicted co-conspirator "Individual 1," identified in federal court as Trump.
In true mobster fashion, Trump once referred to Cohen as a "rat" for confessing. He praised Manafort for not "flipping" to testify against him.
The boss takes care of friends and allies if they lie for the boss or keep silent, but does nothing for those who cooperate with law enforcement.
The following two tabs change content below.
Neil Godfrey
Neil is the author of this post. To read more about Neil, see our
About page.
Latest posts by Neil Godfrey (see all)
---
If you enjoyed this post, please consider donating to Vridar. Thanks!
---