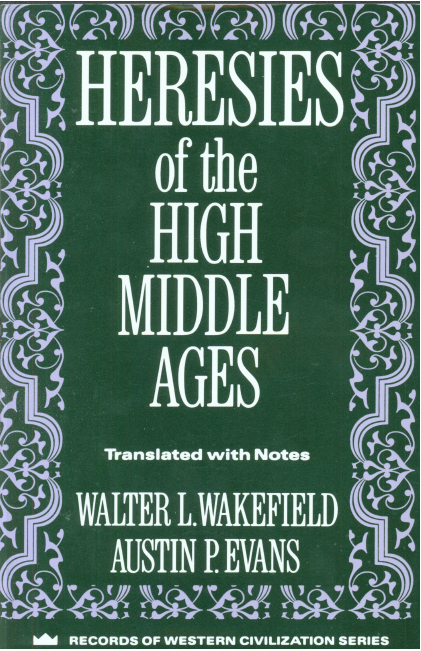 I am now able to add more information to a month-old post, Medieval "Christ Mythicists" and the Ascension of Isaiah. In that post we saw how Peter of Les Vaux-De-Cernay documented in his history of the Albigensian Crusade against certain "heretics" in southern France known as Cathars
Further, in their secret meetings they said that the Christ who was born in the earthly and visible Bethlehem and crucified at Jerusalem was 'evil', and that Mary Magdalene was his concubine – and that she was the woman taken in adultery who is referred to in the Scriptures; the 'good' Christ, they said, neither ate nor drank nor assumed the true flesh and was never in this world, except spiritually in the body of Paul. I have used the term 'the earthly and visible Bethlehem' because the heretics believed there is a different and invisible earth in which – according to some of them – the 'good' Christ was born and crucified. Again, they said that the good God had two wives, Oolla and Ooliba, on whom he begat sons and daughters. There were other heretics who said that there was only one Creator, but that he had two sons, Christ and the Devil; they said moreover that all created beings had once been good, but that everything had been corrupted by the vials referred to in the Book of Revelations.
Of course, the Cathars were not "Christ mythicists" in the way we think of that term. There was surely nothing "mythical" for the "some of them" about the Christ who died in "a different and invisible earth". I admit I merely use the term "christ mythicist" in this context because it has meaning for quite a few interested readers here in its relation to a belief in a "celestial crucifixion". I myself have doubted the view of some mythicists — Couchoud, Doherty, Carrier — that any early Christians believed in a heavenly crucifixion of Jesus. I also have come to doubt their interpretation of the Ascension of Isaiah which posits a crucifixion in the firmament above the earth. But I cannot deny the interest that certain beliefs of the Cathars must hold for many of us, including me.
But anyone who has seriously studied the history of the Cathars must surely know of a surviving document by a Dominican friar, Rainerius Sacconi, who claims that he himself was a Cathar for seventeen years. He writes with loathing of the beliefs of those with whom he once identified. At one point he singles out the beliefs of John of Lugio who led a certain subgroup among the Cathars. The account is quite lengthy but I pick out a few details of particular interest. The document, dated 1250, is titled
THE SUMMA OF BROTHER RAINERIUS OF THE ORDER OF PREACHERS ON THE CATHARS AND THE POOR OF LYONS

In the name of our Lord Jesus Christ.
Although at one time sects of heretics were numerous, by the grace of Jesus Christ they have been almost completely destroyed; yet, two in particular are now found, one of which is called the Cathars or Patarines, the other the Leonists or Poor of Lyons. Their beliefs are set forth in the pages which follow.


. . . .

On the Beliefs of John of Lugio . . . .

Also, he thinks that the good God has another world wherein are people and animals and everything else comparable to the visible and corruptible creatures here; marriages and fornications and adulteries take place there, from which children are bom. And what is even more base, there the people of the good God, against His command, have taken foreign women to wife, that is, daughters of a strange god or of evil gods, and from such shameful and forbidden intercourse have been born giants and many other beings at various times.

. . . .
Continue reading "Further Details on those Medieval "Christ Mythicists""