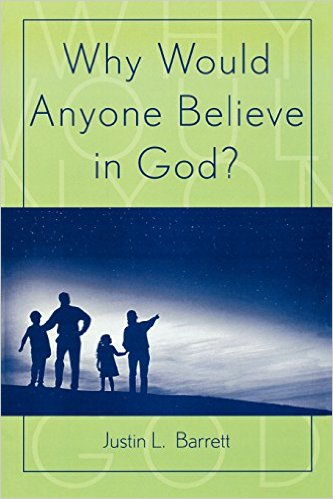 Having posted a series setting out Justin L. Barrett's explanation for why we as a species so easily believe in gods it is only fair that I add a couple of posts pointing out why Barrett himself does believe in "God". I am not for a moment convinced by his arguments but, as I said, I think it's fair that I present the full picture. My earlier posts were based primarily on Barrett's chapter in Religion, Anthropology, and Cognitive Science; this and the next post come from his later chapters in his 2004 book, Why Would Anyone Believe in God? (He has written others since.)
In chapter 7 Barrett explores in depth the analogy between our belief in minds and belief in God. I have no problem with the analogy at all. Our "theory of mind" (ToM) and "hypersensitive agency detection device" (HADD) predisposes us to believe in hidden agencies at work in the world and that was the thrust of the earlier posts explaining why we so easily believe in supernatural beings.
But I do have some difficulty with his discussion of "mind" itself. Here are the problematic passages (at least for me; your mileage may differ):
Before turning to specifically how people come to believe in minds, allow me a few observations about belief in minds. First, belief in minds is not empirically supported. Second, belief in minds may occur both nonreflectively and reflectively. Finally, belief in minds is obstinately universal.

First, as with many theological beliefs, believing that other humans have minds is not empirically verifiable. Perhaps surprisingly, no scientific evidence exists that proves people have minds. Indeed, such direct evidence of minds falls beyond the realm of science because minds (as believed in) are experiential and not material. (p. 95)
The question that immediately arises is, "What is Barrett's definition of 'mind'?"  What is this specific "universal belief", exactly? Barrett continues,
This claim may seem shocking. After all, isn't psychological science the study of minds? Ultimately, what psychologists study is human behavior, including the behavior of brains and nervous systems. Psychologists and cognitive scientists interpret behaviors in terms of mental states and the function of minds. However, minds are not accessible to direct investigation and have not even been proven to exist. Similarly, the existence of minds is not falsifiable. That is, they cannot be proven to not exist. Minds are invisible, intangible, and immaterial (sound like God?)— not the stuff that science can prove or disprove, even if minds seem like good, reasonable explanations of a huge number of empirically verifiable behaviors. It follows from the observation that minds cannot be empirically verified or falsified that people do not simply believe in minds because they have carefully considered the scientific evidence for and against the existence of minds. (p. 96, my bolding)
The error in Barrett's analysis comes to the fore, I think, in his next paragraph:
Indeed, belief in minds, like so many broadly held beliefs, does not first arise as a reflective belief. Rather, people typically believe in minds nonreflectively and only sometimes form a reflective belief in minds. Most of our reasoning about others' minds (and our own for that matter) occurs "below the radar," nonconsciously. When my daughter feels sad or frustrated, I naturally wonder what it is that she wants but has been unable to get. Why? It isn't because I consciously recollect that many emotional states are the consequence of the satisfaction or dissatisfaction of desires and my daughter has desires that motivate her actions. I simply act as if she has a mind with these properties. This acting as if begins very early in life and continues throughout. Very rarely does anyone stop to wonder why we reason about others as we do or if minds really exist. (p. 96, my bolding)
Yes, belief in "minds" (we might say), originates "nonreflectively". That is, we do not conceptualize or verbalize another's emotional/motivational state as the product of "a mind". The word "mind" itself does not arise at the beginning. I suspect that our word "mind" has very few exact equivalents in most other languages. Has our word "mind" been understood in other eras as something more akin to "soul"? I suggest when a psychologist or anthropologist says we have a "theory of mind", she does not imagine that most of us have any notion of the word "theory" or "mind" to explain our thoughts of others. No, the expression "theory of mind" is surely entirely an outsider academic construct to describe from a theoretical perspective how people perceive the intentions and wishes and beliefs and behaviour of others. We should not quickly assume that "mind" itself is a real thing, immaterial or material. As Barrett has pointed out, psychologists are studying behaviour and nervous systems — these are the real things. "Mind", on the other hand, is surely a shortcut term to cover those real things and should not itself be confused with some other real entity.
Barrett again, Continue reading "Argument for God — part 1"