Explorations into why we believe and think the way we do should be shared as widely as possible and not restricted to scholarly publications. Hence these posts. (They cover ideas that we have presented before in different ways as they derive from different researchers, but slightly different perspectives on the same fundamental concepts can deepen our understanding of the matter.)
In the previous post we began with the point that we have two types of beliefs: reflective and non-reflective. Here we identify where these different types of beliefs come from. We will see in future posts how this model explains why belief in gods and spirits is in effect universal.
Where Non-Reflective Beliefs Come From
We are not taught everything we know. We are born with a brain that comes pre-packaged with a set of tools that enable us to make reliable inferences about how our world works.
These mental tools automatically and non-reflectively construct perhaps most of our beliefs about the natural and social world. Non-reflective beliefs arise directly from the operation of these mental tools on inputs from environment. The vast majority of these beliefs are never consciously evaluated or systematically verified. They just seem intuitive, and that is usually good enough. (Barrett 182)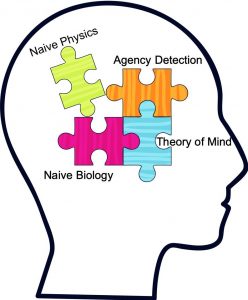 We focus on four of these mental tools.
Our Naive Physics Tool
Even as infants we "know" that physical objects:
tend to move on inertial paths
cannot pass through other solid objects
must move through the intermediate space to get from one point to another
must be supported or they will fall
Our Agency Detection Tool
automatically tells us that self-propelled and goal directed objects are intentional agents
Our Theory of Mind Tool
Theory of mind gives us non-reflective beliefs concerning the internal states of intentional agents and their behaviors: Continue reading "Gods – 2 (An Anthropology of Religion Perspective)"