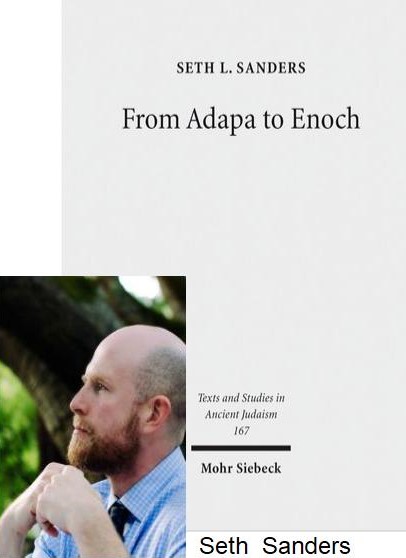 I am looking forward to sharing some of the research of Seth L. Sanders published in From Adapa to Enoch: Scribal Culture and Religious Vision in Judea and Babylon (2017). I sought out the book in expectations that it would open to my understanding the ancient thought-world that lies behind our own religious heritage. Sometimes we will hear that a biblical person or trope has a parallel of sorts in ancient Mesopotamia yet give little thought to the fact that the time gap between the two can be half a millennium or more. How can we meaningfully speak of an influence between A1 and A2 if they are separated by such a span? Besides, how credible is it to imagine different cultures, languages, races, being so frozen within a common umbrella culture that never changes so that a story of a hero's heavenly journey in Babylonia can have the same meaning and function as another hero's heavenly journey many centuries later and hundreds of miles distant?
Sanders hopes to find answers to those sorts of questions. How was it that a story of a heavenly journey by Enoch in Hellenistic era texts echoed similar stories in Mesopotamia 500 or even 1000 years earlier? And it didn't just end with Enoch. Paul, we know, also spoke of experiencing a heavenly journey, and we will see in these posts that his letters spoke of other experiences for all those "in Christ" that have remarkable correspondences with the experiences of Enoch and his predecessors and with the scribal elites who read and used these texts.
I said I sought out the book. The book appeared in my mail box a few weeks after I had requested a review copy from Mohr Siebeck. I heard nothing back from them but I presume it was them who forwarded the book to me. So for that I'm thankful.
I have mentioned the literature of the heavenly journeys of sages. Hellenistic era Judea and Babylonian-Assyrian era Mesopotamia also shared literature of exegetical commentaries and astronomical science.
If these changes are part of a shared development in the intellectual life of the region, shifts in a common ancient Near Eastern scribal culture, why do they only appear in Judea so much later, under the new conditions of Hellenism? Ancient Near Eastern scribal culture spans more than 3,000 years, far-flung cities and empires, and many languages and writing systems. The risk of examining it as a whole is there may not be a whole – at least, we will be better able to tell once we have seen it intimately, at specific moments, in particular forms. (p. 1)
Before addressing some of Sanders' criticisms of past approaches to similarities between Iron Age Mesopotamian and Hellenistic Judean literary cultures I choose to start with the earliest known story of a heavenly journey from Mesopotamia. Continue reading "Heavenly Journeys, from Babylon to Judea"