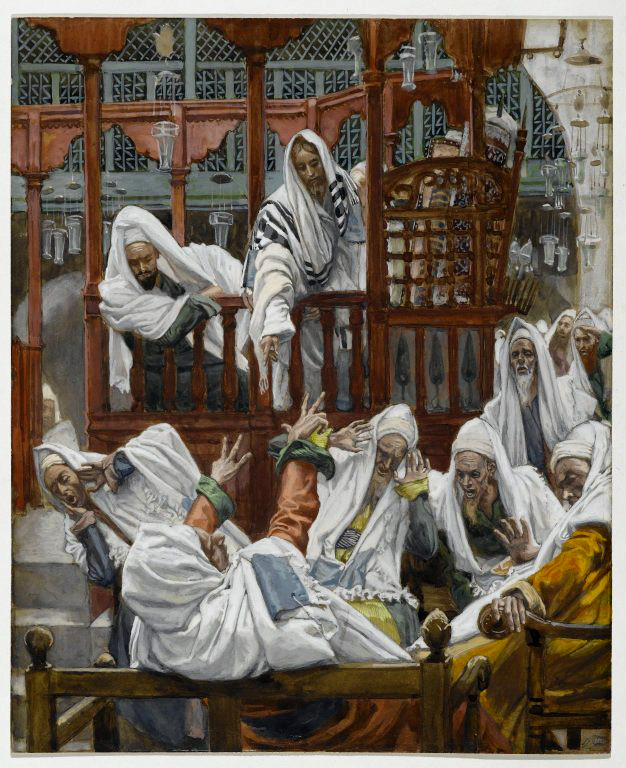 Set the Gospels of Matthew and Mark side by side in their accounts of Jesus' grand public entrance to his mission and something very odd emerges. Mark presents Jesus as having the power of presence, just from a word, that instils in hearers the same sort of awe that overcame those who heard the voice of God at Mount Sinai — except that Jesus does it without the thunder and lightning and earth-shaking and booming-voice effects.
Matthew rejects Mark's account and replaces it with a more plausible narrative. Here is how Mark begins Jesus' public career. Notice what it is that "amazes" his audience and starts the rumours flying "over the whole region of Galilee":
1:21 They went to Capernaum, and when the Sabbath came, Jesus went into the synagogue and began to teach. 22 The people were amazed at his teaching, because he taught them as one who had authority, not as the teachers of the law. 23 Just then a man in their synagogue who was possessed by an impure spirit cried out, 24 "What do you want with us, Jesus of Nazareth? Have you come to destroy us? I know who you are—the Holy One of God!"

25 "Be quiet!" said Jesus sternly. "Come out of him!" 26 The impure spirit shook the man violently and came out of him with a shriek.

Luke 4:36

significantly changes the public reaction in Mark 1:27 so that the people are solely amazed at Jesus' authority over the demon; in Mark the power over the demon is only one instance of something much bigger that awes them all.

27 The people were all so amazed that they asked each other, "What is this? A new teaching—and with authority! He even gives orders to impure spirits and they obey him." 28 News about him spread quickly over the whole region of Galilee.
All the focus is on how the crowd are so awed by Jesus' authority. He teaches with an "amazing" authority. There is clearly here more to be imagined than a bombastic orator who shouts like he knows better than anyone else. Such a person does not "amaze" anyone. No, Jesus' "authority" is clearly meant to be understood as unique. It follows on from the scene where Jesus' authority evidently "amazes" four disciples so that they simply drop everything, leave family and means of income, and follow him at his command:
16 As Jesus walked beside the Sea of Galilee, he saw Simon and his brother Andrew casting a net into the lake, for they were fishermen. 17 "Come, follow me," Jesus said, "and I will send you out to fish for people." 18 At once they left their nets and followed him.

19 When he had gone a little farther, he saw James son of Zebedee and his brother John in a boat, preparing their nets. 20 Without delay he called them, and they left their father Zebedee in the boat with the hired men and followed him.
The people in the synagogue witness that same authority over a demon and are amazed. But before that display they were amazed merely at his words, the way he spoke.
It is not the content of the teaching that amazes them. It is the authority with which he speaks and which gives the teaching itself an "amazing" quality.
In other words, the relation of Jesus to those who hear him is unnatural, it is nothing like anything "normative" in this world. Fishermen immediately drop all and follow him; he speaks, and crowds are amazed; only later is the crowd further amazed at his power over evil spirits. We are not reading history or biography. We are reading about a divine figure who remains a mystery to those who hear him.
Later when asked they express confusion: he is a prophet, they say. That's a clearly inadequate response. It is evident to the reader that he is far more than a prophet or even a resurrected John the Baptist. He is a divine presence and the crowd's failure to come to that obvious conclusion is as great a miracle as is the "authority" of Jesus itself.
Contrast Matthew's gospel. Matthew does not even try to rewrite the scene. He leaves it out entirely and replaces it with the following far more plausible account. At least it's plausible to anyone who believes in "normal" miracles:
4: 23 Jesus went throughout Galilee, teaching in their synagogues, proclaiming the good news of the kingdom, and healing every disease and sickness among the people. 24 News about him spread all over Syria, and people brought to him all who were ill with various diseases, those suffering severe pain, the demon-possessed, those having seizures, and the paralyzed; and he healed them. 25 Large crowds from Galilee, the Decapolis, Jerusalem, Judea and the region across the Jordan followed him.
In Mark, Jesus' first healing is done away from the public gaze, in an upper room, and he does not even speak to effect it. He simply takes Peter's mother-in-law's hand and the fever leaves her. As later with the haemorraging woman power comes out of his body and clothes. The crowds nonetheless flock to Jesus for healing entirely on the report of how he taught and commanded with authority in the synagogue.
That's more "reasonable", isn't it? Jesus' fame spreads because of the reputation he was building up as a healer. Later in Mark we read the same thing but that's not how in Mark Jesus' fame begins. In Mark we read that his reputation went out because of his authority, his "amazing" authority. What followed was that people from far and wide brought sick and demon possessed for him to cure.
In Matthew it is the other way around. It is the more plausible mission of preaching a particular message accompanied by healing miracles that attracts followers.
In Mark we are introduced to a mysterious figure that crowds cannot identify even though they hear demons call out is name and role. The actors in Mark's drama remain deaf to the voice from heaven and the demons declaring who Jesus is. But the actors are as awed and overwhelmed by the mere presence of a word from Jesus as were, say, the multitudes at Sinai hearing the voice of God direct from heaven.
Mark's Jesus is not at all "human" in any way, which is to say he is the opposite of the "most human" figure that some critics declare is found in that earliest gospel. Rather, Mark's Jesus is far more like the Jesus in the Gospel of John. Recall John 19:
4 Jesus, knowing all that was going to happen to him, went out and asked them, "Who is it you want?"

5 "Jesus of Nazareth," they replied.

"I am he," Jesus said. (And Judas the traitor was standing there with them.) 6 When Jesus said, "I am he," they drew back and fell to the ground.
That's the same overpowering Jesus we read of in the Gospel of Mark. People are amazed at his word. He speaks, and they follow; they are astonished; they flee from the temple; they fall over backwards. Even demons and the wild, raging storm obey him.
I think one has to avoid a close reading of the Gospel of Mark if one wants to treat it as presenting "the most human" figure of Jesus. The Gospel of Matthew is the one that begins to present him as a more plausible, a more 'natural' figure.