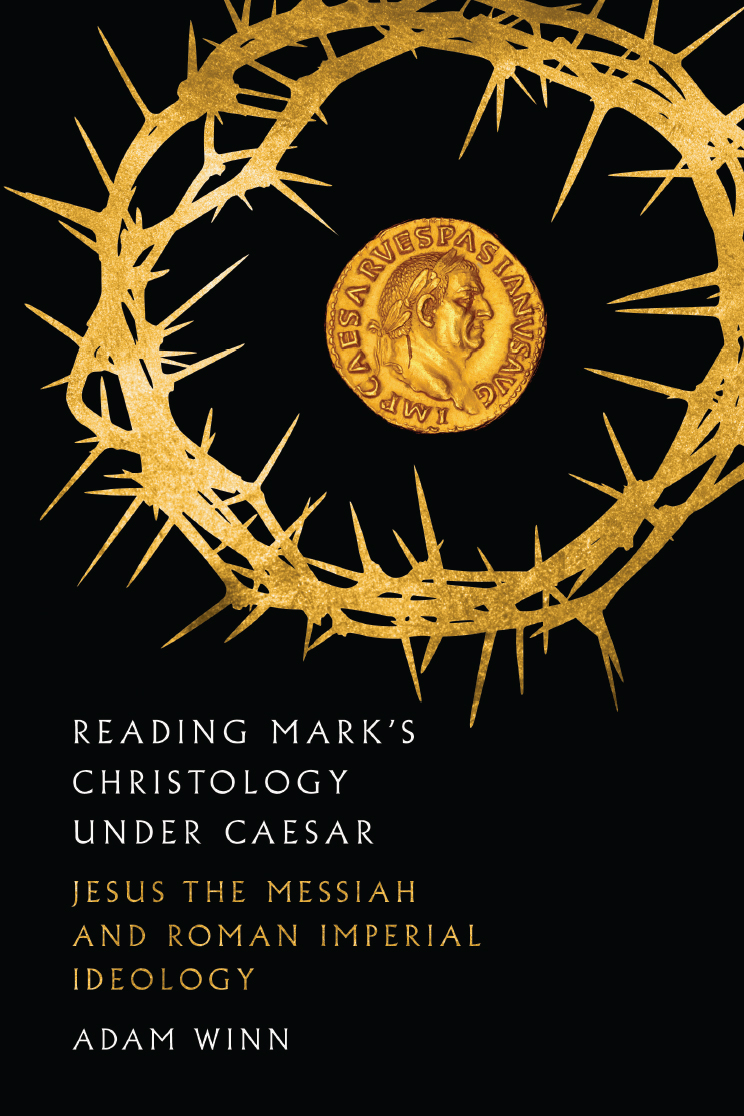 We have another argument (I don't mean evidence-free speculation) for when and why somebody sat down and wrote the first gospel, the one we know as the Gospel According to Saint Mark. I'm going to have to set several of these arguments (beginning with William Wrede and on up through Burton Mack, Dennis MacDonald, and most recently till now R.G. Price) and set all their key points of argument out in a table and compare.
I will try here to set out the main gist of Adam Winn's case.
He begins with the date of its composition because on the relative date hangs his whole thesis. It was written, he believes, not soon prior to but after the destruction of the Temple of Jerusalem in 70 CE.
Justifications for after and not before:
Some scholars say the gospel was written just prior to the destruction of the temple and point to some specific details in Jesus' prophecy not being literally fulfilled; so "Mark" (I'll call the author Mark henceforth for convenience) was recording a tradition that Jesus did predict the temple's destruction.
Winn objects on two grounds:
an overly literal emphasis on a reading of the prophecy (e.g. not one stone left standing on another) misses the nature and point of apocalyptic prophecies. They are never meant to be read strictly literally but for overall fearful impact;
even if Jesus did predict the temple's destruction it would be irrelevant to the question of whether Mark wrote before or after its fulfillment. In fact, it would be risky for the author to record it before the event because he could not have known if it was going to happen and he would know he could eventually lose the confidence of his audience if it didn't. (Even during the siege of Jerusalem itself it was not clear that the Temple would finally be destroyed.) It is more likely that Mark wrote after the prophecy had been fulfilled when the prophecy would be vindicated among readers.
But there is a stronger positive argument Winn uses.
Winn sets out the arguments and evidence for the gospel being written in Rome and primarily for a gentile audience. I won't repeat all of the details here. That's point one.
Point two. We can know from Paul's letters to gentile Christians that the temple of Jerusalem was simply not a thing in the everyday consciousness of gentile Christians. It was not discussed. It was not important for their beliefs. It never arose in Paul's conversations with them. Yet — in the gospel of Mark there are several chapters given to addressing the temple, its authorities, its fate and theirs. From the time Jesus enters Jerusalem and is welcomed by "the people" through to his trial the temple, its destruction, and the demise of the authorities of that temple, is constantly before us. Even Jesus' debates with the leaders are debates with those who bear responsibility for the temple's doom, and those debates are concluded with a parable pointing to their bloody end.
So why? Why does Mark devote so much of his narrative to the fate of the temple and those responsible for its end in a gospel written to gentiles who heretofore had not thought much about the temple at all? It presumably had no theological significance for them. So why?
Theology of Victory
The answer, suggests Winn, lies in the propaganda the emperor Vespasian was so masterfully spreading throughout the empire after his and his son Titus's victory in 70 CE. (I have written about this propaganda effort of Vespasian's before so won't go into details now.) In effect, we can say that Roman emperors ruled by divine right that was passed on through natural succession. But when the system broke down and a new leader arose through military conquest (as had Augustus before him) then the assumption was that the gods had given a special display of "virtue" or courage and manliness and strength to become the rightful ruler.
Vespasian not only defeated the last rival for the imperial chair but promoted his victory in Judea as a massive triumph, even declaring (falsely) that he had been the first to conquer that region. He displayed his greatness through this victory in statues, buildings, monuments of various kinds, and with stories spread of his miraculous powers (he healed the blind and restored a crippled man's hand) and divine-scale beneficence (he fed a hungry Rome from his own largesse in Alexandria, Egypt). There were other miracles and wonderful acts that I won't list here at this time.
So what had happened? Vespasian had overthrown the god of the Jews! To prove it all the loot from the temple was now in Rome. Jewish captives were marched by their hundreds in his triumphal procession. The temple of the Jews was destroyed and that proved that Vespasian's gods had been more powerful, had subjected the god the Christians had looked to.
Suddenly the temple, now destroyed, became a problem for many Christians. This is the inference that Adam Winn draws. If Christians were not popular before this time then one can imagine pagans concerned for their souls trying to bring them back to normalcy by taunting them over the fate of the Jewish god.
And so Mark got to work. A story needed to be created to assure the flock that all was not lost, but that Jesus, the Son of God, really was more powerful and had in fact turned the tables on these ignorant fools boasting in their victory.
I have many things to write about and will add more to this post in due course.
---
Winn, Adam. 2018. Reading Mark's Christology Under Caesar: Jesus the Messiah and Roman Imperial Ideology. Downers Grove: IVP Academic.
---