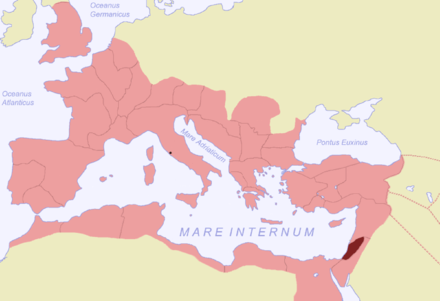 For the previous response and a link to the Non Sequitur video see Response #1 to the Non Sequitur program with Tim O'Neill: MOTIVES.
At about the 49th minute of the Non Sequitur program Tim O'Neill makes the following claim:
Even if you look at what the gospels say about Jesus — and these are the gospels, by the way, that are trying to boost how significant and important he was — when we look at what they say about Jesus, they're not actually making terribly big claims. The Gospel of Mark, for example, says he became really famous, he was doing these miracles, he became really famous, he was famous throughout the whole of… Galilee! You can walk across Galilee in a day in a nice afternoon at a brisk pace. So he became really famous across the whole of Galilee. It's a bit like saying he became famous across the next six city blocks. So they're not actually making a big claim for him to be famous at all. The Gospel of Matthew takes that bit (and he's using the Gospel of Mark as his source) so the writer of Matthew tries to pump it up a bit and says he was also famous in Judea and Transjordan and the ten cities of the Decapolis and throughout the whole of Syria. So he's trying to pump it up. But even in the gospels they don't depict him as being terribly famous outside his back yard, and Galilee was a backwater even by Jewish standards, and Judea, generally, was a backwater by Greek and Roman standards. So even the gospels don't make him out to be terribly famous. And remember I just mentioned about Theudas and the Egyptian prophet needing to have their followers dispersed by large bodies of Roman troops. Even the gospels make it clear that in their version of the story that Jesus was arrested by a handful of temple guards; there was a bit of a scuffle and not much happened. Even the gospels aren't making him out to be terribly famous. So, do we have evidence that this guy was famous even in the Christian material? The answer is 'no'.
Here is the Gospel of Matthew's "pumped up" claim since the Gospel of Mark limited Jesus' fame to Galilee:
Jesus went throughout Galilee, teaching in their synagogues, proclaiming the good news of the kingdom, and healing every disease and sickness among the people. News about him spread all over Syria, and people brought to him all who were ill with various diseases, those suffering severe pain, the demon-possessed, those having seizures, and the paralyzed; and he healed them. Large crowds from Galilee, the Decapolis, Jerusalem, Judea and the region across the Jordan followed him. — Matthew 4:23-25
Here is how the Gospel of Mark, according to Tim, limited Jesus' fame to "the six blocks" of Galilee:
And Jesus with his disciples withdrew to the sea: and a great multitude from Galilee followed; and from Judaea, and from Jerusalem and from Idumaea, and beyond the Jordan, and about Tyre and Sidon, a great multitude, hearing [a]what great things he did, came unto him. — Mark 3:7-8
Jesus mistakenly thought he could hide if he left Galilee but Mark says he was wrong:
And from thence he arose, and went away into the borders of Tyre and Sidon. And he entered into a house, and would have no man know it; and he could not be hid. . . . . And again he went out from the borders of Tyre, and came through Sidon unto the sea of Galilee, through the midst of the borders of Decapolis. And they bring unto him one that was deaf, and had an impediment in his speech; and they beseech him to lay his hand upon him. And he took him aside from the multitude . . . . — Mark 7:24, 31-33a
Matthew was not "pumping it up a bit". He drew upon Mark for the topography.
I find a "Sam Harris mix" of statements here, though. The overall message is clear: the gospels (we are told) do not make Jesus out to be famous beyond Galilee. Yes, there is an exception, Matthew, but the message is then repeated: the gospels (we are told again) do not make Jesus out to be famous beyond Galilee. Presumably if one challenges the main point by drawing attention to Matthew, our dialogue partner can remind us that he mentioned that exception to the rule and that that was a beat up. But, … Matthew wasn't a beat up of Mark, it was a repeat of Mark, and "the gospels" do not limit Jesus' fame to Galilee at all.
Moreover, what is missed in the above is the theological basis of the geographical accounts. In Mark we are reading a Pauline type gospel where Jesus is reaching both Jews and gentiles (Kelber). In Matthew we are reading of Jesus as a "new Moses" (Allison): the crowds that followed Jesus surpassed the multitudes of Israelites along with "many foreigners" (Ex 12:38) who followed Moses out of Egypt; Luke-Acts structure the itinerary so that Jesus begins at Jerusalem and the gentile mission is timed to come after his ascension and is described in Acts; John, the most anti-semitic gospel, limits Jesus condemnation to the Jews. One might well argue that the gospels are not concerned with the extent of any "historical fame" but limit their geographic and ethnic markers to theological symbols.
What should we make of the suggestion that Judea was a "backwater"? I think it is possible to exaggerate its insignificance.
1. Judeans or Jews and their distinctive customs were well known throughout the Roman empire and make frequent appearances in the surviving literature from this period.
2. The conquest of Jerusalem was worthy of a triumphal march in Rome and the great monument commemorating that victory survives today. Vespasian used the victory to promote his imperial status as equal to the earlier Julio-Claudian emperors who arose from Julius Caesar.
3. The Roman historian Tacitus (55 ce – 117 ce) saw fit to write a lengthy account of Judea and the Jews: their origins, their social and religious customs, their geography, and recent history, including the war that led to the destruction of the temple in 70 ce. Judea clearly had more than mere "backwater" significance for him and his readers.
4. The gospels fail to make any mention of the major cities in Galilee, Sepphoris and Tiberias; and Caesarea was transformed into a major free city around the turn of the first century. Great building projects, including baths and theatres were a part of Galilee and Judea. Judean rulers, notably Herod Agrippa II, had close relationships with Roman aristrocracy, including emperor Claudius.
5. In the 130s another rebellion in this "backwater" required three years of heavy Roman losses before it could be put down. A generation later when Rome was humiliated by the loss of an entire legion to the Parthians the author Cornelius Fronto compared the loss to the humiliation of the Jewish revolt in the 130s.
My point is not to exaggerate the importance of the region but to remind us that we should not think of it as an unknown and insignificant "backwater", either. As Tim O'Neill might say, "Let's get history right!"
But my next point makes the above claim of Tim appear thoroughly informed and perfectly accurate. . . . .
The following two tabs change content below.
Neil Godfrey
Neil is the author of this post. To read more about Neil, see our
About page.
Latest posts by Neil Godfrey (see all)
---
If you enjoyed this post, please consider donating to Vridar. Thanks!
---