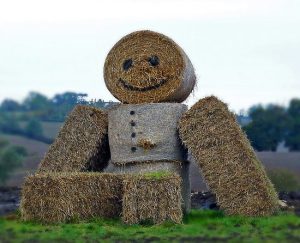 Neil offered his "Four Atheist Responses to a 'Theist's Three Easy Questions,'" and I was tempted to chime in myself, but I just don't have it in me. The days of arguing on CompuServe and Usenet about this or that esoteric point in Christian belief or even general theism are over. The time has passed.
I was telling my wife just recently that the older I get, the less comfortable I am with the terms atheist and atheism. I'm weary of being defined by what I am not. You will recall, I'm sure, the old discussions about being called a "non-stamp-collector." Letting others define you by what they are is to live your life in the shadow of the majority culture.
I'm just a guy who's curious about the world. True, I don't believe in anything supernatural, but it's all right. I won't bite. And I don't wish to change your mind. We're just not wired the same way.
A straw man atheist would doubtless be much more fun to spar with than me — especially one who "hides the goalposts." I've heard of moving the goalposts, but never hiding them. I suppose it must mean something like demanding that theists kick the ball without knowing where the goalposts are. And then I, the mean, nasty atheist, will call out, "Nope, you missed! Try again. . . . Oh! So close!"
Anyhow, I have no idea how I would answer Question 1, so we're already dead in the water. But that's all right, because I don't want to "defeat" James Bishop. Nor am I hiding the goalposts, because I honestly don't know what evidence would convince me. It would be an act of "intellectual dishonesty" to say otherwise.
The problem with wilder and more sensational miraculous acts is that I would be more likely to believe I'm suffering from severe schizophrenia. Hallucinations and mental illness are much more likely explanations.
What strikes me, however, is the new fervor for "evidence" in Christianity. Consider titles like Evidence That Demands a Verdict. These sorts of books, sermons, pep-talks, and videos have nothing to do with converting atheists, of course. They're all about shoring up one's own defenses and building barriers against doubt. More than anything else, they keep the believer's brain busy. Idle hands are the Devil's workshop, but an idle mind is his playground.
I tried my best to keep my brain busy as a teenager, and my fundamentalist church tried as well. I joined Bible Quiz, and practically memorized entire books of the Bible. But there were two problems working against us. First, my high school was too easy for me, which gave me too much free time. Second, I had long bouts of insomnia, during which I either read (not good) or thought (even worse).
The wandering mind asks questions, but not the right kind of questions. Bible Quiz for me fulfilled two pressing needs: (1) answering questions and (2) providing the right questions to ask. It is a sealed system, designed to keep you occupied, like a dog chasing his tail. Mr. Bishop's apologetics perform the same function. They train the mind not to go where it shouldn't.
Quiz Master: "What was the sound the apostles heard on the Day of Pentecost?"

Me: "A rushing mighty wind!"
Looking back on those days and how my mind worked, I'm astounded at how much mental labor one can expend and yet know next to nothing about the subject at hand. I had nearly memorized Paul's letter to the Romans, but did I understand it? Not really.
It was always in my nature to doubt, and I saw this as the most dangerous sin. Yet I knew the scripture. Paul had said, "Prove all things!" And surely that must mean God knew that under even the most intense scrutiny, the Bible would prevail.
Still, the doubts lingered.
I remember as a small child asking my mother about Jesus being tested in all things. She said, "Yes, he was." But I protested, "He could never doubt, though. He knew who he was." Only humans can suffer the temptation of doubt: the nagging suspicion that all of this singing and praying and wailing and hand-waving is merely bad play-acting.
Christianity is not an evidence-based religion. We shouldn't forget that fact. It may pride itself on being a historical religion — that is, one that points back through apostolic succession to a real savior who really lived on Earth, really died, and really rose from the dead. But it does not present the world with overwhelming physical evidence as the primary motivation for belief.
Jesus saith unto him, Thomas, because thou hast seen me, thou hast believed: blessed are they that have not seen, and yet have believed.
And here is where I would offer James Bishop some advice. I see on his blog that he studies philosophy and religion, which is good. James, read up on the Leap of Faith. Stop scrapping with atheists over questions of evidence — evidence that you neither really want nor truly need.
Instead, be the good in the world that you think Jesus would want to see. Feed the hungry, comfort the sick and dying. Don't waste time looking for word tricks that will stump some stranger who doesn't believe in God. If you need something to keep your mind busy, go build houses for the poor, read to the blind, buy groceries for the elderly.
I will tell you from experience that apologetics is a dead end. Eventually, and this may sound counterintuitive, it will generate doubt. Every time you try to account for a contradiction in the Bible, you sprinkle a little sand in the gears. Each time you harmonize scripture into a neat little package, you put a burr under the saddle. Apologetics is a drawer full of bright, shiny, razor-sharp knives; even the handles can cut you.
For me it's too late. Faith is like romantic love. You cannot make yourself love someone. You cannot force yourself to jump across the abyss of unbelief using nothing but rational thought. I fell out of love with God over 40 years ago, and nothing (probably) can change that.
If you want to remain a believer, get busy believing. Don't sit around brooding about it. And don't waste your time getting bloody knuckles from punching straw men. If you want to keep your faith, act on it. Prove the value of Christianity through your own actions. Make people say, "I want what he's got."
The following two tabs change content below.
Tim Widowfield
Tim is a retired vagabond who lives with his wife and multiple cats in a 20-year-old motor home. To read more about Tim, see our
About page.
Latest posts by Tim Widowfield (see all)
---
If you enjoyed this post, please consider donating to Vridar. Thanks!
---