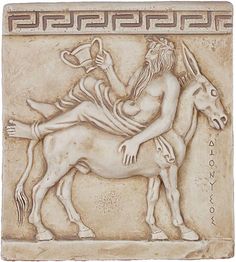 The last few days I've been distracted from my planned reading and posting as a result of reading something quite unexpected by Andreas Bedenbender in Frohe Botschaft am Abgrund: das Markusevangelium und der Jüdische Krieg. Since I don't read German (except sort of through machine translators) and since most of Bedenbender's references are in German, and since I don't sit in a major library, that has been no easy task. But the gist of the surprising suggestion arises from one particular Greek word behind the passage in the Gospel of Mark about Jesus' entry into Jerusalem, 10:8 (RSV):
And many spread their garments upon the way; and others branches (στιβάδας), which they had cut from the fields.
Branches cut from the fields, presumably from trees in the fields. Would not they become an obstacle for any donkey trying to navigate the road? Other evangelists do not use that word, "branches". Compare:
Matthew 21:8 uses κλάδους, also translated as "branches", but not the same word as in Mark.
Luke 19:36 scraps that Markan detail completely and says only that the crowd spread their garments on the ground. No branches at all.
John 12:13 uses a different word again, "branches of palm trees" (τὰ βαΐα τῶν φοινίκων), and more sensibly than in Mark implies that they were waving them rather than setting up an obstacle course for the donkey.
Now it appears that Mark's word for "branch/branches", (στιβάς / στιβάδας), is unique in the Bible:
For στιβάς is found, for example, in Euripides and Herodotus, but in the New Testament it is nowhere except in Mark 11:8. It is missing in the LXX, in the Greek Pseudepigraphen to the AT, in Philo and Josephus. What, then, did Markus take after "straw-shafts," when "branches" were within his reach? That κλάδος, which he used in 4:32 and in 13:28, will scarcely have disappeared! (Bedenbender, p. 312, adapted from machine translation.)
So Mark elsewhere used the more common word for "branches" and that makes his use of "stibas" in the triumphal entry scene more odd.
Andreas Bedenbender does not argue "strongly" for Jesus' triumphal entry in the Gospel of Mark being invested with Dionysiac allusions, but he does point to some details that make the question reasonable.
We have already mentioned the unrealistic detail of dumping branches cut from trees in the fields in the way of a donkey. (Mark's gospel is permeated with surreal details like this one; I will do another post of Bedenbender's list of them.) Bedenbender suggests that the author was setting up a contrary thought to the garments being placed on the road: the garments smooth out the road, and so have a positive effect; the first line the crowds cry out is "Hosanna" or praises to Jesus. All good so far. But the next phrase is the stumblingblock: they expect him to come as a Davidic conqueror. That's not so good. Recall Jesus called Peter Satan for making the same proclamation after the transfiguration.
And many spread their garments on the road,
and others spread leafy branches which they had cut from the fields.

And those who went before and those who followed cried out,

"Hosanna! Blessed is he who comes in the name of the Lord!
Blessed is the kingdom of our father David that is coming! ….."
Garments, good; branches, bad; Hosanna, good; kingdom of David, bad.
Mmmm… okay, what else does Bedenbender say?
He says that "stibades" played a special role in the cult of the god Dionysus, or Bacchus. The cult
was characterized typically with στιβάδες, usually with fresh hay or with ivy.
We tend to think of Dionysus/Bacchus as the libertine god of wine; but in ancient myth he was so much more than a common dirty minded cross-dressing drunk. He was also the conqueror of Asia. He conquered as far as India. Alexander the Great was said to have emulated him. Alexander's successors are known to have identified with Dionysus. Ptolemy IV of Egypt offered privileges to Jews who would voluntarily be branded with Dionysiac emblems, according to 3 Maccabees. Antiochus IV of Syria attempted to institute Dionysiac rites among the Jews, according to 2 Maccabees 6.
But Dionysus was not himself, personally, a warrior god. Again, an adaptation of a machine translation from another German source:
See Merkelbach, 1988, 71: "You could give yourself without fear, because enemies of Dionysus could not exist. Without being a warrior himself, the god overcame all enemies, as the mythical tales of his victories over Pentheus, Lycurgus, and his victorious campaign against the Indians showed." (Merkelbach, R. 1988. Die Hirten des Dionysos. Cited in Bedenbender, p. 313)
We have seen other commentary comparing the Dionysus of the play by Euripides being compared with Jesus. Like Jesus, Dionysus has the power to conquer enemies by his mere presence, a word, a thought.
Not all Jews were thought to be so opposed to the Dionysiac customs as were the Maccabees.
But since their priests used to chant to the accompaniment of pipes and cymbals and to wear garlands of ivy, and because a golden vine was found in their temple, some have thought that they were devotees 

of Father Liber, the conqueror of the East . . . .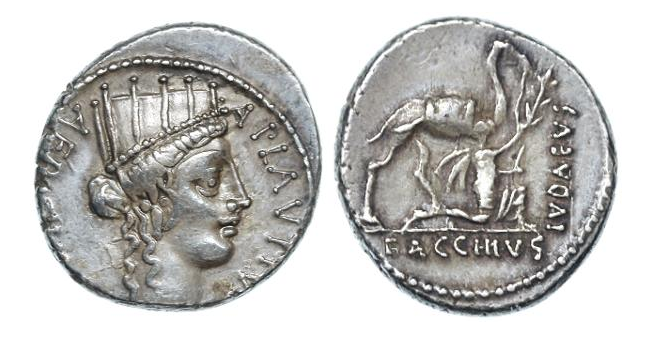 We may say, I think, that Dionysus was a major god who was seen to represent the great conquerors of the East and opposed to Rome. Jews were also thought to have worshiped him, or at least in some way their god was associated with or a mutation of him.
But all of this may seem like a very long bow, and indeed it is, if all we have is but one word in Mark.
But there is more.
Guess what animal was closely associated with Dionysus! Did you say donkey? Correct!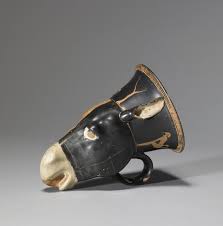 Dionysus and his followers were depicted with and riding donkeys. (Or one author says the animal was a mule and suggests that the reason was that it represented pointless, entirely hedonistic, sex. I'm not sure how he can tell the difference between a donkey and a mule from the pottery paintings, though.) Drinking cups honouring Dionysus could be shaped like donkey heads.
Bedenbender further tells us that the god Dionysus was sometimes called Kyrios, or Lord. He suggests the possibility of an echo in the way Jesus requisitioned the donkey for his entry, verses 2 and 3.
"Go into the village ahead of you, and immediately as you enter it, you will find tied there a colt that has never been ridden; untie it and bring it. If anyone says to you, 'Why are you doing this?' just say this, 'The Lord (Κύριος) needs it and will send it back here immediately.'"
Bedenbender, as I said above, does not argue the point in any "strong" sense. He offers the idea as a "probability" at the very best. But he does see an analog in Acts that contributes somewhat to the possibility that Mark was intending an allusion to Dionysus here.
Recall in Acts 14 that Paul and Barnabas enter the town of Lystra, heal a man crippled from birth, and suddenly find themselves being equated with pagan gods, Zeus and Hermes. No sooner to Paul and Barnabas pull out all stops to prevent the locals from sacrificing to them than the crowd turns on them — at the instigation of Jews arriving from Antioch and Iconium — and stone them. Jesus enters Jerusalem and received as a pagan deity one day, and not long afterwards, at the instigation of the Jewish leaders, the same mobs turn on him demanding his crucifixion.
Other scholars have seen in Mark's narrative allusions to a world outside of, and opposed to, the Jewish nation in Palestine at the time, including ironical roles for Jesus:
Given the gospel's interest in facing and condemning the view that Jesus came to become a great earthly conqueror, it would not be surprising if the author added a mock or ironical triumphal entry scene with Jesus being welcomed as the god who historically conquered all earthly enemies in the east and threatened to do the same to Rome. And since the Gospel of John introduces a wealth of Dionysian allusions, it is not unreasonable think that his foil, the Gospel of Mark, knew of them, too. And don't forget the dog that did not bark: why did the evangelists subsequent to Mark drop that tell-tale(?) word, στιβάδας?
And you thought that Zechariah 9:9 was all we there was to enable us to interpret Jesus' triumphal entry into Jerusalem.
The following two tabs change content below.
Neil Godfrey
Neil is the author of this post. To read more about Neil, see our
About page.
Latest posts by Neil Godfrey (see all)
---
If you enjoyed this post, please consider donating to Vridar. Thanks!
---