Jerry Coyne and Mano Singham have each posted their respective conundrums about Nazis and modern day antisemitism.
FTB (Freethought blogs) blogger Mano Singham raises his question in Why do neo-Nazis hate Jews?
But the anti-Jewish racism of Nazi Germany had a plausible explanation. Demagogues always face a particular problem. Part of their appeal is to pander to their followers by telling them how great their race is. This message resonates especially when they are not doing so well, as was the case in pre-war Germany. But then you have the problem of explaining why, if they are so great, their country and their lives are not wonderful. . . . 
Mano points out that the Jews in the US do not single themselves out as obviously different by living in ghettos; to most of us they are essentially indistinguishable from anyone.
So back to my question: Why do the current neo-Nazis hate Jews? I am genuinely baffled.
Mano's blog post prompted me to pick up from my "waiting-to-be-read" pile of books Jacob Katz's From Prejudice to Destruction: Anti-Semitism, 1700-1933. It had been some time since I read other answers to Mano's question, such as Yuri Slezkine's The Jewish Century and Israel Shahak's s Jewish History, Jewish Religion, (see my 2011 post, Understanding the Reasons for Anti-Semitism) hence I had an added incentive to make Katz my next read.
Mano's quandary arises from what I think is confusion between a moment of political exploitation of antisemitism and the reasons for antisemitism itself. Antisemitism has long lurked independently of persons in power who have taken opportunities to exploit and fan it.
That was part of my point in my previous post, Islamophobia Really Is a Twin of Anti-Semitism.
Hard on on heels of Mano Singham's public query, Jerry Coyne posted his own somewhat perverse confusion in A thought about "Nazis". I posted a short reply on Mano's blog but Jerry seems to have a habit of banning from his blog views that dissent from his and he has certainly banned me from posting on WEIT (Why Evolution Is True) — though ironically he deplores the "deplatforming of Richard Dawkins by a Berkeley radio station as "a terrible blow to free speech" — so I cannot offer my response to Coyne personally.
Coyne has a conundrum that he posts in A thought about "Nazis" . . . .
But when I was thinking about this [recent public demonstrations by neo-Nazis], something struck me. I offer it up here as a conundrum. . . . . 

So why the hatred of Nazis but the concomitant demonization of Israel and—often—Jews themselves? It doesn't make sense. 
"Demonization of Israel" — how did that get in there? What's that about?
Coyne helpfully explains the grounds for his confusion:
Yet the widespread and proper denigration of Nazis doesn't comport with the Regressive Left's demonization of Israel and Jews, which sometimes verges on anti-Semitism. The BDS movement, Students for Justice in Palestine, and many other groups, student or otherwise, not only fault Israel for its oppression of Palestinians, but sometimes call for the dissolution of the state of Israel: "From the river to the sea, Palestine will be free." Yet that state was created largely as a refuge for Jews fleeing from Hitler's Europe and its aftermath, as well as for Jews oppressed everywhere.
Oh Jerry, Jerry. How the blind will not see.
Get over the loaded terminology and your stereotyped filters and look at the people on the ground and observe them and listen to them. I would love to see an end to the state of Israel as it presently exists and become instead a beacon for human rights and democracy — for all races and religions — in the Middle East. That means Jews and Arabs living side by side as equals and without discriminations against either party. Wouldn't that be nice? You may say I'm a dreamer, but I'm not the only one, you know. It's what some (a few) Israelis, some non-Israeli Jews, and even some Arabs, Palestinians included, are asking for.
That's not a genocidal wish. That's not antisemitic. That's respecting Israelis, Jews, Arabs as equals all deserving of equal rights. We don't need to perpetuate more echoes of South African apartheid type states or colonial powers that guarantee for perpetuity the domination of one race or religion over others. That means we first have to acknowledge the realities that exist today in Gaza, the West Bank and the State of Israel.
"But they'll kill all the Jews in their beds!" That's what you fear, isn't it.
At this point I must make clear I dissociate myself and my views from those who — and Islam convert George Galloway stands out as representative —
support the rights of Islamists to have their own laws and courts in our Western societies because those Islamist laws and courts do not meet the basic standards of the UN's Declaration of Human Rights;
support tactics of violence and terror on the grounds that they target the "imperial powers" and are carried out for the cause of anti-Western independence.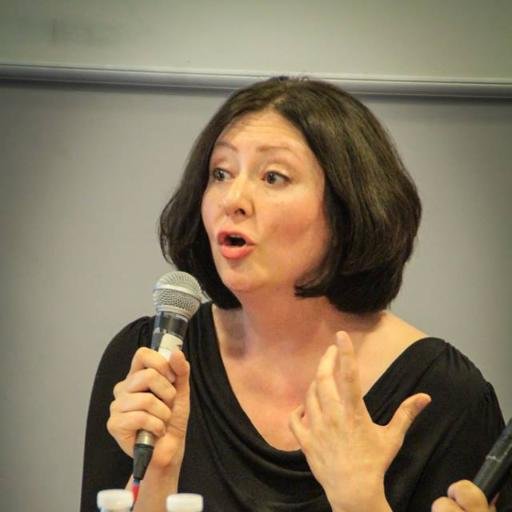 If I have to choose a side I choose to stand next to Maryam Namazie. Jerry Coyne has even posted supportively on Maryam at times so I do wish he would take more notice of what she has to say — about the views of Sam Harris, Islamophobia, and Palestine. He may find his little conundrum arose because of a false premise and that reality (as opposed to ignorant stereotypes and bigotry) does make sense after all.
The following two tabs change content below.
Neil Godfrey
Neil is the author of this post. To read more about Neil, see our
About page.
Latest posts by Neil Godfrey (see all)
---
If you enjoyed this post, please consider donating to Vridar. Thanks!
---