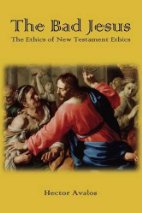 The Bible's ethics are not for our time. They represent an age when policies like those of Trump's "extreme vetting if immigrants" were whitewashed as inspirationally loving.
Take the "beautiful" and "touching" story of Ruth . . . .
The story of the Syrophoenician/Canaanite woman is akin to that of Ruth, which many scholars see as an example of Hebrew inclusiveness. However, Laura Donaldson, who identifies with Native American peoples in the United States, reads Ruth as a case where a woman must reject her Moabite identity and religion to be accepted into the Hebrew community. For Donaldson, Ruth's story is not really about altruistic acceptance, but rather another story of cultural imperialism. Her study reveals that benign interpretations of cultural assimilation in the book of Ruth may reflect the privileged social position of Christian feminists who have not experienced forced assimilation and integration into another culture. Avalos, Hector, 2015. The Bad Jesus, p. 239
Similarly, as Avalos points out,
Jesus' acceptance of the [Syrophoenician] woman was contingent on her declaring his dominion. She calls him "Lord, Son of David' and repeats the title of "Lord" after he refuses to help her the first time. (p. 238)
To be welcomed into Jesus' community a Canaanite must demonstrate "worshipful reverence" of the leader. The Canaanite woman is required to "adopt the cultural premises of Jesus."
That's the only way the aliens can become "good people", "wonderful people", "the best people".
The following two tabs change content below.
Neil Godfrey
Neil is the author of this post. To read more about Neil, see our
About page.
Latest posts by Neil Godfrey (see all)
---
If you enjoyed this post, please consider donating to Vridar. Thanks!
---