Back in 2010 the University of Copenhagen published news of a project to "map the development of the four gospels in order to establish that the Gospel of Luke is not, as believed so far, a contemporary of the Gospel of Matthew, and that the shared content of the two is not to be explained by the existence of a lost scripture [i.e. Q], but by the fact that the author of St. Luke's Gospel used St. Matthew's Gospel as well as that of St. Mark as basis for his own scripture." See Scholars will explode the myth of the New Testament.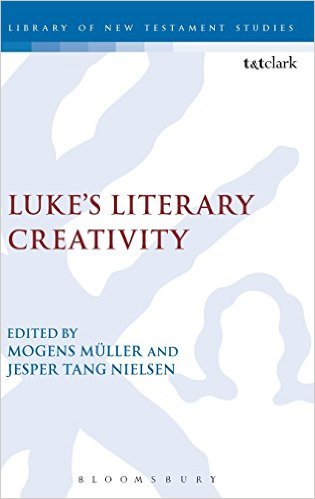 A Facebook reader reminded me of this post a few days ago and asked me what the outcome of this project had been. One outcome appears to be Luke's Literary Creativity – a work edited by Mogens Müller and Jesper Tang Nielsen that I look forward to reading in the coming months. Meanwhile I can discuss another essay by Mogens Müller that appears to be related to the same project,
The New Testament gospels as Biblical rewritings : On the question of referentiality
By "the question of referentiality" Müller means the question of "whether the story told refers to real incidents." To what, exactly, do the narrative's episodes refer? How much is historical? How much fiction? Are our attempts to make such black and white distinctions anachronistic? Müller draws upon Ulrich Luz's Studies in Matthew in which the gospel is compared with Greek literature that intends to reference and describe "historical" or "factual" events. Luz believes that the author of the Gospel of Matthew
must have known that in his writing, to some extent, he reshaped the Jesus-tradition or even invented it. (p.22)
Müller's article led me to Luz's study but it soon became obvious I would not be able to merge the two discussions into a single post. Luz's book requires separate treatment so I will restrict this post to Müller's article and a few of his references to Luz. The argument that arises is that the Gospel of Matthew is a re-writing of the Gospel of Mark much as
1 and 2 Chronicles are re-writings of the books of Samuel and Kings,
or as Deuteronomy is a rewriting (possibly in King Josiah's time?) of the Covenant narrative found in Exodus-Numbers,
or as Jubilees is a rewriting of Genesis-Exodus,
or as the Genesis Apocryphon is a rewriting of the patriarchal narratives in Genesis,
or as Pseudo-Philo's Book of Biblical Antiquities and
Josephus's first eleven books of Antiquities are rewritings of biblical narratives.
Some scholars have even seen parts of Genesis 1-11 as a rewriting of the Epic of Gilgamesh. A re-writing can be found in the same book with a single narrative repeated in different ways: the Abraham and Isaac / Sarah and Rebecca narratives contain three narratives that are all duplicates – Gen. 12:10-20; 20; 26:1-11 – changing to gradually conform more and more closely to Mosaic law.
What is going on here? Why do authors feel at liberty to take existing texts and change them here and there, keeping the original outline more or less in tact but feeling free to add details and to omit others, and changing the way some stories are told so that they present readers with a new lesson that contradicts the original one?
What is going through the authors' minds as they are reading Genesis or the Gospel of Mark and deciding what elements to change or omit and where to inject new material? Can they really be thinking that Genesis or the Gospel is a true account of historical events that must be preserved for posterity in the way a Greek or Roman historian felt a desire to preserve for posterity the best and most authoritative account of a people's past?
To try to answer these questions it is useful to identify the characteristics of a "rewritten bible" and here Müller uses the nine characteristics singled out by Philip S. Alexander on the basis of Jubilees, Genesis Apocryphon, Pseudo-Philo's Book of Biblical Antiquities and Josephus's Antiquities.
"Rewritten Bible" texts are narratives following a sequential chronological order;

On their face, they are free-standing compositions replicating the form of the biblical books on which they are based;

Despite superficial independence of form, these texts are not intended to replace, or to supersede the Bible;

"Rewritten Bible" texts cover a substantial portion of the Bible;

They retain the biblical order of events but can be very selective in what they represent;

The intention is to produce an interpretative reading of Scripture;

The narrative form means, in effect, that they can impose only a single interpretation on the original;

The narrative form also precludes making clear their exegetical reasoning;

"Rewritten Bible" texts draw on non-biblical sources, whether oral or written.
Müller's conclusion:
This means that rewritten Bible texts, by their very existence, document that the texts they are rewriting have not exclusively been understood as being referential with regard to the events which have really taken place. This would have precluded the freedom of their "rewriters."

Apparently, they are foremost perceived as theological texts, not so much aiming at information as at preaching.

Put another way: In their rewriting they intend to mirror the heavenly forces that, according to these authors, are active in their readers' lives. Thus it is this "truth" and not some "historical" fact, they are aiming at describing. (p. 23, my bold and formatting in all quotations)
Continue reading "The Gospels as Creative Rewriting (like rewritten biblical books)"