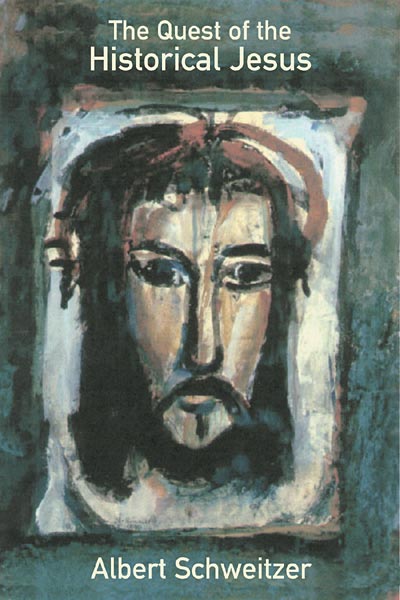 My response to Cornelis Hoogerwerf's post on Γεγραμμένα, Misquoting Albert Schweitzer, has raised the question of the intended meaning of Schweitzer's words in relation to historical probability, common sense, and more. Cornelis has said my own explanation of S's words is wrong; I attempted to explain why I disagreed. But rather than leave the discussion hanging with as a "you are wrong; no I am not wrong" exchange I copy a fairly large section of the relevant section from the Fortress Press edition of Schweitzer's Quest so that readers can hopefully have a more secure handle on the evidence in order to make up their own minds about the meaning and significance of S's words.
Before I do let me comment on a new post by Bart Ehrman in which he explains that "some" biblical scholars are also "historians". The gist of his explanation appears to me to be that if a scholar chooses to study and write about "history" then s/he can be called a historian. Of course that makes perfect sense. But is such a scholar any better at "doing history" than an amateur historian without training or background knowledge in the philosophy and methods of historical research and history writing? I have found that some of the best history writing about "biblical times" has come from those pejoratively labelled "minimalists". It is their work, and in particular their explanations of their methods, that resonates with the best historical research I read among those writing in other (non-biblical) areas. Most significantly, (a) they do not begin with the assumption that a text's provenance can be understood entirely from its own self-testimony; (b) they understand the importance of independent confirmation of its contents in order to establish its degree of reliability; and (c) they "take seriously" the question of genre and wider literary matrix of the text prior to deciding how to interpret it, and do not assume that its content is essentially a window through which readers can look to see "true history" in the shadow of its narrative. These may sound like simple basics but they are very often overlooked by many biblical scholars who aspire to write "history" from the Gospels. Unfortunately Bart Ehrman fails on all three of those points. Among some of the best historians working with the "Old Testament" texts are, in my view, Niels Peter Lemche, Thomas L. Thompson and Russell Gmirkin. There are a few names I would consider genuine historians among later biblical-related history, Steve Mason being one.
It is in that context that I read with interest Schweitzer's words. Even though Schweitzer was not a mythicist and argued extensively against the Christ Myth theory, he did acknowledge the theoretical importance of the above historical principles, especially point (b).
To return to Cornelis's post, I do see that he has since acknowledged his debt to Bart Ehrman for the views and complaint he expressed in the first part of his post. Given his failure to cite a single "mythicist" who has misquoted Schweitzer in an attempt to mislead readers into thinking S himself presented an argument against the historicity of Jesus, I conclude that no-one has done so and that efforts from certain quarters to mislead readers and repeat baseless rumours related to my own quotations of S are entirely mischievous.
In our recent discussion on my post Albert Schweitzer on the Christ Myth Debate other differences arose. Cornelis believes that scholarship since Schweitzer's day has indeed raised the level of probability that Jesus was historical to as close to 1.0 as one might wish. Again, his reasons unfortunately indicate a poor grasp of how historical methods and epistemology is understood outside the field of biblical studies.
Schweitzer, pages 400-402