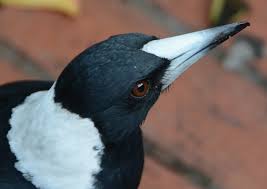 I loved this program when it was first broadcast a few months ago and appreciated the ABC's Radio National "re-releasing" it as a podcast. I always love watching magpies and so often notice fascinating behaviours. For some years many times I went outside to hang the washing out the same magpie would fly down and perch on the clothes line, looking intently at me as if to greet me and spend some time with me. In Australia we easily take their beautiful song for granted so I was pulled up with some surprise when an overseas tourist expressed amazement at the sound.
Anyone interested who hasn't yet heard the program, do listen to
The colourful life of the Australian Magpie
The opening seconds is all you need to hear their sound.
Other details that fascinated me:
they are listening for the sounds of grubs etc beneath the grass
they recognize individual human faces
in the event of the loss of the male partner the female soon accepts another male replacement who continues to care and provide for her chicks
their black and white colour is no camouflage but functions as a highly visual signal for territorial purposes
The following two tabs change content below.
Neil Godfrey
Neil is the author of this post. To read more about Neil, see our
About page.
Latest posts by Neil Godfrey (see all)
---
If you enjoyed this post, please consider donating to Vridar. Thanks!
---