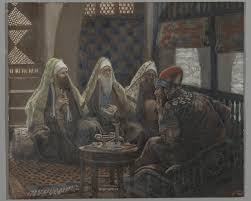 It will be a little while before I set aside the time I would need to prepare a proper review of Richard Carrier's book, On the Historicity of Jesus, and Raphael Lataster's Jesus Did Not Exist, but till then I can drop the odd comment on this or that point.
But one thing I can say about Lataster's book is that it provides an excellent chapter by chapter synopsis of Carrier's larger work. Most of what Lataster says I agree with so overall I can say I have very little to add. The only point that I don't recall being made is that I think it would be an excellent idea if Carrier or someone on his behalf re-wrote On the Historicity of Jesus without any of the Bayesian jargon. Perhaps then (we can dream) those academics who appear to have read it will not be able to excuse themselves from the main thrust of its argument by happily lamenting that "Bayes is not their speciality so they can't comment". Does anyone know of any critic of Carrier's book who has actually dealt with the chapters on "Background Knowledge"? What I have seen in the few critical reviews to date are a complete bypassing of this absolutely critical section and a zeroing in on a controversial scriptural interpretation or two. In other words, they are not dealing with the argument at all. If the scriptural interpretations they disagree with are indeed crucial to Carrier's argument they need to demonstrate that — but none has, as far as I am aware.
A Quibble
Anyway, there is one quibble I do have with one of Carrier's "Elemental Background Knowledge".
Element 4: (a) Palestine in the early first century CE was experiencing a rash of messianism. There was an evident clamoring of sects and individu­als to announce they had found the messiah. (b) It is therefore no oddity or accident that this is exactly when Christianity arose. It was yet another messiah cult in the midst of a fad for just such cults. (c) That it among them would alone survive and spread can therefore be the product of natural selection: so many variations of the same theme were being tried, odds are one of them would by chance be successful, hitting all the right notes and dodging all the right bullets. The lucky winner in that contest just happened to be Christianity.16

This element is often denied, or its basis not well understood, so I will pause to establish it before moving on. (OHJ, p. 67)
I might be one of those who denies it. Lataster supports Carrier, assuring readers that he supports the point well enough with evidence. I am not so sure, however. Though I should say at the outset that I do acknowledge a messianic fervour in the mid to late first century and on into the second century and that the gospel authors ("evangelists") were influenced by this later development.
The Gospels as Supporting Evidence?
One piece of evidence Carrier cites is in the gospels themselves. There we read that Jews were so eagerly anticipating the Messiah that they could be plausibly portrayed as "seeing" Elijah among them raised from the dead. John the Baptist is also said to have been preaching a messianic message. My problems with Carrier's argument here are:
the scenario of Jews thinking they see Elijah among them is an evangelist's conceit; a theological foil to the larger theme of Jesus' identity;
John the Baptist in the gospels is another artificial construct conveying the evangelist's theological message of Jesus superseding the Prophets, and he is quite unlike the John the Baptist found in Josephus — where he is not a messianic preacher.
The gospels also contain evidence, I think, against the notion of a popular messianic expectation in the early first century. The Gospel of Matthew suggests that the people of Jerusalem from the Herod down to the street rabble had no idea what the Magi were looking for when they arrived to see a messianic king. Only the priests knew and they had to be consulted to find out what all this had to do with them and their little part of the world. That doesn't sound to me like everyone knew about, let alone eagerly awaiting, the fulfilment of the prophecies.
The Gospels are anachronistically projecting messianic hopes of the end of the century back into the early first century.
Texts and Popular Passions
Carrier also points to the Parables of Enoch and the Dead Sea Scrolls as evidence of popular messianic fever. Again, I am afraid I don't see it. I am currently in the middle of another book on messianic movements — those in the Islamic world from the eighth to the twenty-first centuries — and can't avoid some comparisons. One message is clear: the mere existence of messianic or apocalyptic writings in sacred or scholarly texts does not of itself point to a popular enthusiasm for those texts. Doctrinal beliefs or indications on the record can exist without an ardent belief that those passages are about to be fulfilled any day very soon. They can be quite academic, or theological. In the Islamic world when such teachings were taken up with popular and eager anticipation that they were about to come to pass they were the talk of active, often violent, political movements.
The Sequence of the Available Evidence
Yet Carrier rightly says that any political action motivated by such messianism would have been quickly squashed by the Romans. Therefore, he concludes, messianic movements were more likely to survive if they embraced nonviolence. The problem here, of course, is that we simply have no evidence for such non-violent groups eagerly anticipating the Messiah — until…. See page 72 of OHJ where Carrier explains:
It is reasonable to infer that once the literal, militaristic versions of this idea had been seen to fail (or indeed to be impossible, given the unstoppa­ble might of the legions), it would not be unthinkable to adapt the same idea to being freed from the slavery not of the Romans or the corrupt Jewish elite, but the slavery of invisible demons (and death itself) instead. Anyone who took that step would essentially end up with a movement like Chris­tianity ….
Here I can agree. But where is the evidence for these violent or at least political active messianic hopefuls? They only seem to appear with any certainty as such from the mid to later first century. That's after the time Jesus was supposed to have lived. Carrier cites four such apparently messianic pretenders but they all appear after the first decades of the first century. They appear to be signs of social distress because they are followed by the outbreak of the war against Rome. One can well imagine non-violent messianic movements arising after the bloodshed of all of these activities but that brings us to post 70 CE and the time when the gospels are being written. Carrier's scenario about quietist movements emerging after bloodshed makes sense, but the evidence we have tells us that this development took place in the late first century.
We have more. The political expression of messianic hopes continued after 70 CE with widespread uprisings of Jews early second century and again in the 130s. There is some evidence that the "pacifist" messianists, the Christians who believed in a Messiah who was opposed to taking up the sword at that time, were persecuted as traitors.
Back to the early first century and we find in Paul's writings attacks on false messiahs or on beliefs in them — but no indication that any of these false messiahs were defined by political opposition to Rome.
The evidence we have, as I understand it, points to esoteric or "academic" beliefs in a future Messiah as early as the first decades of the first century. It is not until the lead up to war and the war itself that we find evidence of messianic hopes expressed in ways such popular beliefs are usually expressed — politically. It is in the wake of the failure of these movements that Christianity took on the stance of being challenged by false-messiahs — from around 70 CE and beyond.
I am open to being persuaded otherwise and I welcome attempts to do so. Till then, however, this is one quibble I have with both Carrier and Lataster.
The following two tabs change content below.
Neil Godfrey
Neil is the author of this post. To read more about Neil, see our
About page.
Latest posts by Neil Godfrey (see all)
---
If you enjoyed this post, please consider donating to Vridar. Thanks!
---