A number of readers have questioned my own questioning of a popular belief and claim by Richard Carrier that
Palestine in the early first century CE was experiencing a rash of messianism.
I suggest on the contrary that evidence for popular messianism does not appear until the Jewish War in the latter half of the first century. See post + comment + comment and links within those comments to earlier posts. Certainly popular counter-cultural leaders prior to that time (but still well after the time of Jesus) did not imitate any known Danielic or Davidic notion of a messiah expected to challenge Rome.
In this post I will address some general background information that we have about popular messianic movements. If we are to be good Bayesian thinkers then we need to set out as much background knowledge as we can before we begin. This post will put two or three items on the table for starters. Other background data has been covered to some extent in the above linked "comment(s)" and "post".
Medieval Messianism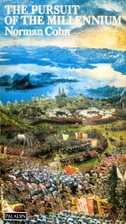 A classic study of popular millennial movements is Norman Cohn's The Pursuit of the Millennium . After surveying such movements in the Middle Ages Cohn concludes:
"They occurred in a world where peasant revolts and urban insurrections were very common and moreover were often successful. . . .

"Revolutionary millenarianism drew its strength from a population living on the margin of society – peasants without land or with too little land even for subsistence; journeymen and unskilled workers living under the continuous threat of unemployment; beggars and vagabonds – in fact from the amorphous mass of people who were not simply poor but who could find no assured and recognized place in society at all. These people lacked the material and emotional support afforded by traditional social groups; their kinship-groups had disintegrated and they were not effectively organized in village communities or in guilds; for them there existed no regular, institutionalized methods of voicing their grievances or pressing their claims. Instead they waited for a propheta to bind them together in a group of their own.

"Because these people found themselves in such an exposed and defenceless position they were liable to react very sharply to any disruption of the normal, familiar, pattern of life. Again and again one finds that a particular outbreak of revolutionary millenarianism took place against a background of disaster . . . "

Excerpt From: Cohn, Norman. "The Pursuit of the Millennium: Revolutionary Millenarians and Mystical Anarchists of the Middle Ages." iBooks. (My own bolded highlighting)
Examples of those camel back-breaking disasters and related messianic movements:
Plague –> the First Crusade and the flagellant movements of 1260, 1348-9, 1391 and 1400;
Famines –> First and Second Crusades and the popular crusading movements of 1309-20, the flagellant movement of 1296, the movements around Eon and the pseudo-Baldwin;
Spectacular rise in prices –> the revolution at Münster.
Black Death –> The greatest wave of millenarian excitement, one which swept through the whole of society . . .  and here again it was in the lower social strata that the excitement lasted longest and that it expressed itself in violence and massacre.
Islamic Messianism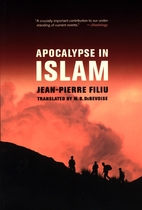 A more recent work I am currently reading addresses popular apocalypticism cum messianism among Muslims: Apocalypse in Islam by Jean-Pierre Filiu. Here we the messiah in question is most often the Mahdi who is to appear in apocalyptic times and begin to restore true religion. I have not yet read the chapter on Shia Islam so this post limits its comment to the Sunni branch.
Again we find an external stimulus to set the ball rolling among a critical mass of the population to begin to speak of a sub-culture or "movement". This took place in 1979 when Egypt, the leader of the Arab world, broke ranks and made peace with Israel. Egypt was expelled from the Arab League. Jihadists assassinated President Sadat and went on to commit outrageous atrocities throughout Egypt and including its capital city Cairo. Hundreds died in a violent clash between the security forces — the army and the police — whom the public had trusted to eliminate the terrorists! It was in that traumatic context that the first popular books anticipating both apocalypse and messianic rescue were printed, reprinted, and reprinted.
It takes little imagination to suspect the horror of 9/11 and the West's violent response catapulted interest in the same type of literature across the Middle East.
The extension to Iraq of what the American government called the global war against terror proved to be an extraordinary source of encouragement to apocalyptic speculation in the Islamic world in the years that followed. (p. 119)
And it continued to avalanche as more chaos erupted:
It was less the fall of Saddam Hussein than the prolongation of the American occupation of Iraq that triggered the explosive growth of this mass literature. Large sections of the Sunni population in the Middle East turned away from the usual forums for political analysis, and even from militant propaganda, in order to wallow in the paranoid vision of a world in which Islam's chronic weakness became the surest guarantee of its ultimate triumph. (p. 140)
Palestine the Exception
One might wonder on reading the above paragraph in isolation whether a parallel might be found in the "prolongation of the Roman occupation of Judea" around the turn of the millennium. But that would be to miss the context. The common factor in the messianic/millennial/apocalyptic popular movements is social disruption, a shattering of safety, security, identity. Where military occupation has become a part of one's way of life then messianic reactions do not necessarily break out.
In support of this Filiu observes that the one place in the Middle East where such messianic anticipation has not occurred is Palestine!
Generally speaking, inhabitants of the West Bank and Gaza seemed less fond of apocalyptic imaginings than people in neighbouring countries. Radical messianic bestsellers could be purchased in Palestine, though not uncommonly they were sold in a plain unmarked wrapper. (p. 135)
What that suggests to me is that we see yet again a rash of popular hopes arising when situations radically change for the worse. But where things continue on as normal (even if that normal is an ongoing multigenerational occupation) realism sets in and despite all the prophecies in the classical sacred texts that invite believers to exercise their imaginations that just does not happen. Same-same for generation upon generation and no sudden apocalyptic fervour. Sudden changes in the status quo with a great power barging in and changing everything — apocalyptic and messianic expectations flourish.
Were there sudden overturnings of everyone's world in early first century Palestine during the generally accepted life time of Jesus? If not, how likely is it that we should expect a flurry of messianic expectations at that time and place?
The Classical Texts & Scriptures
Another aspect of Islamic messianism concerns the role of conservative scholars. Generally this group has attempted to fight against the wild popular apocalyptic scenarios found among "the masses" by appealing to more sober interpretations of prophecies in the Quran and hadiths. They have also published counter claims attempting to point out that the legitimate interpretations of the prophecies have their fulfilment set in the far off indeterminate future.
It has been a long while since I've read Cohn's book or other historical works on "sectarian" movements in the Middle Ages but I think I am right in recalling that the mainstream Church was sometimes threatened by these alternative movements and did work at subduing them with "true doctrine" — just as conservative imams have tried to do in the Muslim world.
For these reasons I think that the mere existence of ancient prophetic texts cannot be held up as evidence that they inspired popular messianic movements. Throughout most of the history of these scriptures they have been cared for and interpreted by conservative elites.
Interestingly in both the Medieval and Muslim messianic movements inspiration for the various prophecies has been drawn not from the sacred texts alone but also from a mix of other unconventional writings: Nostradamus, Protocols of the Elders of Zion, astrology, numerology, Bermuda Triangle and UFO literature, as well as from the scriptures of other faiths.)
Radicalisation and Sects
But what about those cults today that attract new members who suddenly become crazy for the imminent end of the world? I suggest that these are less "popular messianic movements" than organisations for the meeting of individuals who are radicalised — and who very often drop out after a few years. The long-time members of these groups do not seem to exhibit the behaviour or mentality of what we normally associate with genuine messianism. Individuals who experience this kind of extremist and anti-social radicalisation would appear to undergo at a personal level some of the trauma we saw above that generates messianism on national and regional levels. See, for example, any of the recent posts addressing this kind of conversion process (Who joins cults; How Radicalization Happens; How Young People Become Radicalised). I would not call this phenomenon a "mass" or "popular" messianic movement.
Conclusion
I don't know if we have evidence for the conditions that we would expect to precipitate popular messianic movements in early first century Palestine. Certainly we do in the later part of that century, and we can see evidence from that time of a tendency to see contemporary events as fulfillments of prophecies with the expectation of a messianic deliverance. We also find evidence of a tendency to anachronistically anticipate those events back into the early first century and the time of Jesus.
The following two tabs change content below.
Neil Godfrey
Neil is the author of this post. To read more about Neil, see our
About page.
Latest posts by Neil Godfrey (see all)
---
If you enjoyed this post, please consider donating to Vridar. Thanks!
---