Once again we see evidence of the ad hoc nature of arguments built upon the assumption of the historicity of Jesus.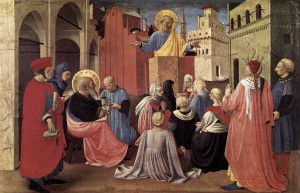 After a closer look at Romans 1:3-4 in Ehrman's case for the earliest Christians thinking of Jesus as a "mere man" who only became a Son of God at his resurrection, I had to try to get a better grasp of the next pieces of pre-Gospel (and pre-Pauline) evidence he offered: passages in several speeches in the Book of Acts. I suspected these would not be so assailable as his interpretation of the Romans passage but I was wrong.
Here are the exhibits:
"We preach the good news to you, that what God promised to the fathers, this he has fulfilled for us their children by raising Jesus; as also it is written in the second psalm, 'You are my Son, today I have begotten you'" (Acts 13: 32– 33).
"Let the entire house of Israel know with assurance that God has made him both Lord and Christ, this Jesus whom you crucified" (Acts 2: 36).
"the God of our fathers raised Jesus . . . This one God exalted to his right hand as Leader and Savior" (Acts 5: 30– 31).
Inconsistency would not be expected but….
As with the Romans passage Ehrman points out that the author of these passages, "Luke", believed something quite different. Here in Acts Luke has the apostles preach their conviction that Jesus became the Son of God or was exalted to divine status only at the resurrection, while he himself (called Luke for convenience) actually believed that Jesus was the Son of God from the moment of his inception and birth. That's why he wrote the nativity scene in Luke 1.
Ehrman concludes:
On Acts 13:32-33
In this pre-Lukan tradition, Jesus was made the Son of God at the resurrection. This is a view Luke inherited from his tradition, and it is one that coincides closely with what we already saw in Romans 1: 3– 4. It appears to be the earliest form of Christian belief: that God exalted Jesus to be his Son by raising him from the dead.

Ehrman, Bart D. (2014-03-25). How Jesus Became God: The Exaltation of a Jewish Preacher from Galilee (p. 226). HarperCollins. Kindle Edition.
On Acts 2:36
The earliest followers of Jesus believed that the resurrection showed that God had exalted him to a position of grandeur and power. This verse is one piece of evidence. Here, in a preliterary tradition, we learn that it was precisely by raising Jesus from the dead that God had made him the messiah and the Lord. During his lifetime Jesus's followers had thought he would be the future messiah who would reign as king in the coming kingdom of God to be brought by the Son of Man, as Jesus himself had taught them. But when they came to believe he was raised from the dead, as Acts 2: 36 so clearly indicates, they concluded that he had been made the messiah already. He was already ruling as the king, in heaven, elevated to the side of God. As one who sits beside God on a throne in the heavenly realm, Jesus already is the Christ.

More than that, he is the Lord. During his lifetime Jesus's disciples had called him "lord"— a term that could be used by a slave of a master, or by an employee of a boss, or by a student of a teacher. As it turns out, in Greek the term lord in each of these senses was the very same term as Lord used of God, as the "Lord of all." Just as the term Christ came to take on new significance once Jesus's followers believed he had been raised from the dead, so too did the term lord. Jesus was no longer simply the disciples' master-teacher. He actually was ruling as Lord of the earth, because he had been exalted to this new status by God. And it happened at the resurrection. The man Jesus had been made the Lord Christ.

Ehrman, Bart D. (2014-03-25). How Jesus Became God: The Exaltation of a Jewish Preacher from Galilee (pp. 227-228). HarperCollins. Kindle Edition.
On Acts 5:31
Once more, then, in an early tradition we find that Jesus's resurrection was an "exaltation" specifically to "the right hand of God." In other words, God had elevated Jesus to his own status and given him a prominent position as the one who would "lead" and "save" those on earth.

Ehrman, Bart D. (2014-03-25). How Jesus Became God: The Exaltation of a Jewish Preacher from Galilee (p. 229). HarperCollins. Kindle Edition.
So once again, as he argued in relation to Romans 1:3-4, here we find passages that are at odds with what the author of the larger two-volume work apparently believed. This is the foundation of the argument that these passages are adapted from very primitive Christian beliefs, relics that somehow hung around even into Luke's day.
What is the motive?
So what could have motivated Luke to do something like this? Continue reading "Another Flip Flop Argument: Ehrman again on early Low Christology"