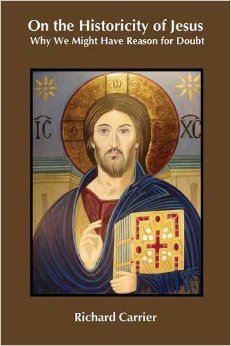 It's more of a few notes or a "book write up" than a review per se. PhD candidate and Bible scholar James Pate has posted Book Write-Up: On the Historicity of Jesus, by Richard Carrier on his blog James' Ramblings. He explains the purpose of his brief notes:
I would like to wrestle with some of Carrier's arguments.  This post will not be comprehensive, but it will wrestle with key points that Carrier makes in his book.
Unfortunately what I missed from the "key points" that follow was an acknowledgement of the central methodology and case made by Richard Carrier. What troubles James Pate more appear to be some of the old chestnuts that I thought Carrier had addressed, but evidently not to the satisfaction of James. But credit where credit is due: James Pate does not engage in subtle or overt innuendo, put-down, and cavalier dismissal of Carrier as some other reviewers have done. Nor does he engage in outright distortion of the arguments. [There is one point made by James Pate that is incorrect, however, and I addressed this in a comment below.]
I suspect the limitations of Pate's post are really the outcome of simply wanting to jot down notes of some key questions that a reading of Carrier's book failed to dispel rather than write a formal review. We ought not be faulted for not doing what we did not set out to do. So I would like to think that Pate's points should provide a good spring-board for further discussion and an opening into the wider arguments presented by Carrier.
Pate's first point:
A.  Carrier does ask good questions. . . . 
Pate lists several of them. Of course Carrier does more than simply ask such questions: he raises such questions in the context of probabilities against the relevant background knowledge of Christianity and its wider cultural matrix. Potentially fruitful discussion topics here.
B.  On why first century extra-biblical sources fail to mention Jesus, many would respond that they would not mention a backwater Galilean peasant. . . . 

C.  . . . . Carrier notes that so many extrabiblical sources fail to mention Christianity. . . .  Why did so many first century sources fail to mention Christianity?  Was it because Christianity was obscure, or not well-established yet, or kept to itself?
Continue reading "Another review of Richard Carrier's On the Historicity of Jesus"