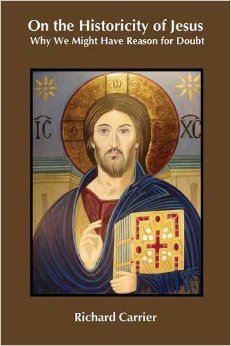 It's more of a few notes or a "book write up" than a review per se. PhD candidate and Bible scholar James Pate has posted Book Write-Up: On the Historicity of Jesus, by Richard Carrier on his blog James' Ramblings. He explains the purpose of his brief notes:
I would like to wrestle with some of Carrier's arguments.  This post will not be comprehensive, but it will wrestle with key points that Carrier makes in his book.
Unfortunately what I missed from the "key points" that follow was an acknowledgement of the central methodology and case made by Richard Carrier. What troubles James Pate more appear to be some of the old chestnuts that I thought Carrier had addressed, but evidently not to the satisfaction of James. But credit where credit is due: James Pate does not engage in subtle or overt innuendo, put-down, and cavalier dismissal of Carrier as some other reviewers have done. Nor does he engage in outright distortion of the arguments. [There is one point made by James Pate that is incorrect, however, and I addressed this in a comment below.]
I suspect the limitations of Pate's post are really the outcome of simply wanting to jot down notes of some key questions that a reading of Carrier's book failed to dispel rather than write a formal review. We ought not be faulted for not doing what we did not set out to do. So I would like to think that Pate's points should provide a good spring-board for further discussion and an opening into the wider arguments presented by Carrier.
Pate's first point:
A.  Carrier does ask good questions. . . . 
Pate lists several of them. Of course Carrier does more than simply ask such questions: he raises such questions in the context of probabilities against the relevant background knowledge of Christianity and its wider cultural matrix. Potentially fruitful discussion topics here.
B.  On why first century extra-biblical sources fail to mention Jesus, many would respond that they would not mention a backwater Galilean peasant. . . . 

C.  . . . . Carrier notes that so many extrabiblical sources fail to mention Christianity. . . .  Why did so many first century sources fail to mention Christianity?  Was it because Christianity was obscure, or not well-established yet, or kept to itself?
Carrier's discussion of the lack of evidence is more far-reaching than indicated here. We need to account for the compromised evidence (forgeries) and the broader implications to be drawn from that. Among the most crucial absences are so many instances of larger surviving works that just happen to be missing key sections that were about to give us an account of the time, the place, the early movement in the first century — passages that we expected to give some account of either Jesus of the early movement and that Christian authors and scribes would surely have had the strongest motivations to preserve.
Further, as for the question of Christianity being too obscure, we would expect that question to engage with Carrier's comparison with the evidence for Socrates, and for the implications of an early Christianity keeping to itself (e.g. how did it grow and attract persecution by remaining obscure and keeping to itself? what of the difficulty of subsequently inventing hyperbolic stories about a person known to be obscure in his own day? what of the failure of late first century and early second century fathers and others to leave no stone unturned to search out eyewitnesses or hearers of eyewitnesses to learn more about the man they were worshiping as an emanation of God?). . . .
D.  There are sources that Carrier mentions that, in my opinion, are open to interpretation.  Did Ascension of Isaiah, . . . Ignatius . . . 
Fair enough. But at the same time one needs to keep in mind the marginal significance that these have for Carrier's theory according to his own probability weightings.
E.  Carrier argues that there were Christ mythicists during the time of the church fathers. 
Pate raises reservations about Carrier's view without addressing Carrier's arguments. This is just a question starter.
F.  Carrier offers his own interpretation of passages that have been cited to argue that Paul believed in a historical Jesus.  . . . Some of what Carrier said took me aback. 
Again, more discussion starters here. Some of Carrier's views are debatable, of course. I myself tend to think of Galatians 4:4 as an interpolation (see the various views on this verse at The "Born of a Woman" / Galatians 4:4 INDEX and Roger Parvus's post). But I know such a view would be seen by opponents of mythicism as a cop-out. There are sound arguments, however.
I can understand being taken aback by interpretations that are contrary to what two thousand years of tradition have established. By the time I read these arguments in Carrier's book I had already grappled in some depth with them as a result of Earl Doherty's books and website. One can understand difficulty in rethinking Paul in radically new ways if one has been habituated to orthodox Christian teachings.
H.  Is Jesus' name too good to be true? . . . I.  On a related note, there is the high priest Joshua in the Book of Zechariah.
My own take on this question is to add the names of Peter, Paul, Jairus, Judas, Bethphage, Bethsaida, and a good number of others. But I guess that's not really relevant to origins of Christ belief itself as found in Paul.
J.  A final item.  Some Christian apologists argue that Christianity was true because Christians would not make up a doctrine about a crucified savior, since crucifixion was stigmatized in the ancient world.  As Carrier notes, however, people were offended by the castration of Attis (Augustine, City of God 6.10-11), but that does not mean that Attis was actually castrated.  People can believe offensive doctrines; that does not mean the doctrines are true.  Some Christian apologists make a big deal about Matthew 28:17's acknowledgment that some people saw the risen Jesus and still doubted, heralding the apparent honesty of the Gospel writer, and thus his authenticity.  But, as Carrier says, Plutarch said that people had doubts about Romulus' ascension.  And yet, in the latter case, what was Plutarch's agenda?  Plutarch often sifts through different sources and makes judgments.  The Gospel writers, however, are faith documents, and perhaps they were more dogmatic than Plutarch was; consequently, their admission of doubt may have a different significance than what is in Plutarch's book on Romulus.
There are enough points James Pate raises here to start a conference full of discrete discussions.
But again, focusing on specific questions like some of the above does miss Carrier's primary argument and methodology. Let's remove from Carrier's argument some of the points above and see how much their absence (or weighting against mythicism and in favour of historicity) changes the final assessment of probabilities.
The alternative — insisting that one's interpretation of a few such points is enough to virtually "prove" the historicity of Jesus — is to bypass Carrier's argument altogether. One needs to grapple with the totality of our background knowledge and full implications of the state of our surviving evidence and to seriously discuss interpretations of specific points (such as the early movement keeping to itself or a passage in Paul meaning X) against the full backdrop of "everything else". Or at least demonstrate why Carrier's method fails to make any difference to traditional reasons given for accepting the historicity of Jesus.
The following two tabs change content below.
Neil Godfrey
Neil is the author of this post. To read more about Neil, see our
About page.
Latest posts by Neil Godfrey (see all)
---
If you enjoyed this post, please consider donating to Vridar. Thanks!
---