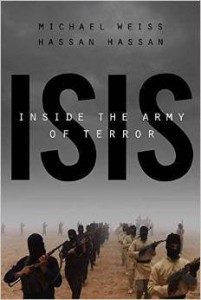 There was a time I needed to read Marx and Mao to orient myself to the essential thought of the ideologies challenging the West. Never did I imagine that in my lifetime those works would be gathering dust and I'd be seeking out the likes of al-Maqdisi's Democracy a Religion and Naji's The Management of Savagery (and more recently, al-Suri's – original name Nasur – Call for a Global Islamic Resistance)  to get a handle on contemporary threats.
Not long ago I devoured a cluster of works on Islam and terrorism and posted on snippets of that reading; the last few weeks I've been trying to catch up with Islamism (as distinct from Islam the religion and even "terrorism" per se — though there are obvious overlaps, of course). So most recently I've read Islam and the Future of Tolerance: a dialogue (by Sam Harris and Maajid Nawaz), Maajid Nawaz's experience as a leader in a group with a long-term strategy of establishing Islamist regimes, Radical: my journey from Islamist extremism to a democratic awakening, Ed Husain's The Islamist : why I joined radical Islam in Britain, what I saw inside and why I left, and Isis: inside the army of terror by Michael Weiss and Hassan Hassan. (Still on my to-read list are three other very recent works on ISIS — by Stern & Berger, Cockburn and Burke.
I recommend Radical and The Islamist to anyone who thinks all Muslims are by the nature of their religion somewhat medieval in their values. Nawaz's upbringing was not particularly religious but Hasain's certainly was. Reading the lives of these two, especially that of Ed Husain, is an eye-opener to the stark difference between the religion of Islam and the ideology of Islamism.
ISIS: inside the army of terror is a depressing yet informative study of the group's origins, its brutal nature and strikingly sudden emergence. Michael Weiss (Twitter) and Hassan Hassan interviewed many persons closely associated with terrorist organisations and others among the military and political establishments that have been directly involved with events connected to the rise of Islamic State.
The roots of ISIS appear to go right back to Saddam Hussein's preparations for an American led invasion of his country. Well before the occupation he had prepared safe-houses, secret arms storages and underground economic machinations that would help sustain their secret networks and ongoing armed struggle against the occupiers. Much of Iraq's army melted into this underground network after March-April 2003 and became the backbone of the various resistance and terrorist movements that followed.
The Sunni insurgency was primarily an attempt to restore their power after the de-Baathification of Iraq's government. This is why Shia Muslims, backed by Iran, were as much the targets of their bombing campaigns as the foreign forces. Further, the US forces essentially facilitated the coordination and spread of underground terrorist networks every time they imprisoned large numbers of suspects. The same contacts and recruitment activities could never have been conducted so easily, if at all, outside the prison system. Prisons became furlough and conference opportunities as well as radicalization centres. New and more extensive networks were made, new recruits were enlisted.
Zarqawi's Sunni terrorist faction became the foundation of what was to emerge as the Islamic State. Bin Laden, still the Al Qaeda leader at the time, deplored the way he targeted Shia Muslims and focused on Sunni power in Iraq so the relationship between the two groups was never a true meeting of minds. It is also essential to understand the tribalism of the region to understand Zarqawi and the intentions of many of the terrorist attacks.
The Islamic State of Iraq (ISI) continued the struggle on behalf of the Sunni tribes against the Shia tribes and the Shia-serving brutal dictator (officially "prime minister") Maliki.
ISI evolved into ISIS as a very sophisticated military power. It's military power was led by very well trained former members of the former Iraqi army. It's brutality was an extension of the brutal machine established by Saddam Hussain. Weiss and Hassan even argue that the ISIS leader al-Baghdadi tapped in to the iconography of Saddam Hussain who in the latter half of his rule linked himself to the rise of the ancient glories of Baghdad and Arab imperial power. The authors even suggest that Baghdadi and ISIS can be rightly understood as a resurgence of Saddam Hussain's rule, only with a stricter religious aspect and an even more barbaric modus operandi.
Weiss and Hussain interestingly quote several sources suggesting the possibility that in Syria Assad himself was responsible for the emergence of terrorism and even inroads by Islamic State. The argument is that Assad found it useful to present himself to the West as the bulwark against terrorism. Time will tell how valid these suspicions have been.
Populations who find themselves under ISIS rule on the whole are relieved to experience peace and order once again in their lives. Usually prior to the ISIS takeover their lives were disrupted by the bloodshed of rival terrorist factions and conflicts with the State authorities. ISIS, not unlike the Taliban in pre-9/11 Afghanistan, bring about quick and firm settlement to disputes. Guns are not carried around in non-combat zones. (As with all states, violence is monopolised by the ruling authority.) Most do not reject the ideology of ISIS and do not agree with their brand of Islamic legislation, but for the sake of peace and security they have removed themselves from the pool of potential sympathisers for any efforts to undermine ISIS's authority.
The terror of what to expect that preceded the arrival of ISIS also helped. The first acts of ISIS on entering a new area are to set up an open area where "justice" with often barbaric punishments are meted out but after that, the "peace and security" remain.
And what of the sex-slaves and throwing gays off tall buildings? Such acts are actually motivated by a form of "self-fulfilling" prophecy. We know of the apocalyptic view of history of these radical Islamists. Passages are read in the light of this "last days" view of history — it is to be a time when homosexuals are thrown to their deaths and sex slaves taken, so ISIS sees itself acting in fulfilment of these "prophecies".
ISIS has made effective use of modern web technology for their recruitment drives, as we know. Indeed, at one point early in the occupation it was the less-technically sophisticated resistance fighters (those who communicated naively through their cell phones) that were the most easily found and killed, leaving the more technologically sophisticated surviving. In order to bypass UN sanctions Saddam had set up secret networks to enable core areas of the economy to continue to function (e.g. smuggling in essential goods, selling oil via the black market) and it is this system that has largely continued in support of ISIS.
There is a chapter covering the wide variety of backgrounds and motivations of people who continue to make up ISIS's leaders and recruits. Very few are there for purely religious reasons. Some join for economic survival and profit. (Especially ex Baathists who have been trained in specialist skills and who have no other job opportunities.) The propaganda machine is sophisticated. The same patterns have been described by Husain and Nawaz in their biographical works, The Islamist and Radical, and I recognise the principles well as standard among other types of cult recruiting techniques. I could probably devote an entire post to the range of political, pragmatic, adventurist and other reasons so many join ISIS rather than go into details in this post. It's a topic of particular interest to me.
The book ends on a depressing note. The authors see ISIS as being around for quite some time yet. The victories we read about in the media (so many stronghold bombed, leaders killed, territory regained) are only tactical. ISIS still holds the strategic initiative. And who knows what will transpire in the immediate and longer-term future with Russia as an actor in Syria now.
The following two tabs change content below.
Neil Godfrey
Neil is the author of this post. To read more about Neil, see our
About page.
Latest posts by Neil Godfrey (see all)
---
If you enjoyed this post, please consider donating to Vridar. Thanks!
---