Lately Richard Carrier has been providing me with excuses not to post new material myself here. Carrier's latest post addresses an article that had also come to my attention some weeks ago, one that at the time I chose somewhat reluctantly to ignore. With this post I'm making an easy compromise and posting on Richard Carrier's posting about it.
In recent weeks two scholars have posted approvingly the link to an article published in an archaeological journal making the surprising argument, in depth, that Jesus did exist.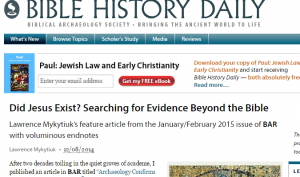 It is surely odd that such a journal would dedicate a lengthy article to this question. Does anyone seriously have any doubts? What audience did the editors and author have in mind? Are serious scholars really so concerned about passing fads like "mythicism" among a small sector of the public? Surely they can ignore "kooks". Or perhaps it's not just "kooks" who are raising serious questions. A look at who's who among mythicists and mythicist agnostics known on the web today shows a good number of serious scholars (in areas like philosophy, literature, sciences) and others who have passed through the academic system who do give serious attention to the Christ Myth theory. Perhaps some scholars are sensing that it's not just a few "kooks" who are open to the question.
Certainly the two scholars who brought this six months plus old article to my attention through their blogs appeared to find it most reassuring. There was Michael Bird who describes it as a "great article":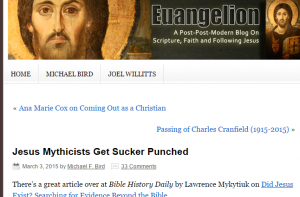 and who heard of it through George Athas of the With Meagre Powers blog who describes it as a "neat article": 

I found Lawrence Mykytiuk's article tedious reading because it was clear that
he had never made himself aware of the long-standing arguments undermining his points;
and that his arguments were repetitions of apologetics and bore little resemblance to the serious treatment of documents applied by historians in relation to other ancient historical figures.
Michael Bird gave the motive away: Mykytiuk's article was a six month old opportunity to warn everyone not to read anything mythicists might say. The mere fact that it existed (who cares whether the content indicated any awareness of mythicist arguments?) was "a good thing" because one could point to it and say, "There, suck on that you stupid mythicists!"
That both Michael Bird and George Athas could suggest the article was "great" or "neat" demonstrates that both scholars are unfortunately unaware of
the questions left unaddressed by Mykytiuk's arguments;
and the common assumptions or biases that guide scholarly readings of documents in relation to Jesus as opposed to other figures of history.
Happily the terrible apologetic gaffes in the original article by Mykytiuk are exposed by Richard Carrier's response:
And that's let me off the hook of having to respond this time.
But I have one slight concern. Maybe it's a sign of a generational difference between us but I kind of wish Richard Carrier would not write the way I used to write when I was in my forties and the way I know I still can write when I also am "high on wine right now" – as he explains he was when he wrote. Sure it's "only a blog" and not a "scholarly forum" but I have learned that even satire and light-hearted mocking that I wrote years ago provides targets that are too damned easy for certain opponents. I sometimes think I should go back and edit some of my earlier articles. Or maybe I'm being too old and reactionary as I age, losing my spark. Have I become wiser or simply more tamed over time?
Sure there is some terrible scholarship out there and we know that biblical studies, even by the admission of several of its professional practitioners, accumulates more than its fair share of apologetics and poorly reasoned and ill-informed rubbish. A spade should be called a spade but we can do that without "the language". Sure we can sit back and conjure up the most watertight ideological rationales for speaking any way we want (I certainly used to do that) but as social animals, and biological ones at that, communication involves much more than sounds, signs, logic and idealistic rationales for our word choices. Anthropology is probably a better teacher of wisdom than abstract reasoning alone about rights and wrongs. I think one has a better chance of casting the strongest light on dishonesty in the academy, especially among those scholars with the higher profiles, through more tactical (not necessarily to be confused with tactful!) expressions. And God knows some of the nonsense that passes for serious scholarship among a few theologians needs to be spotlighted and shown for the sham it really is.
People like Bird and Mykytiuk are not themselves interested in reading arguments that challenge their assumptions and they write for audiences of whom they expect the same outlook. Responses like Carrier's are very necessary for the benefit of those on the sidelines who are perhaps the majority. And because they are necessary they are better presented in ways that will not give the Birds and Mykytiuks or anyone else — especially anyone else — further excuses not to read them.
But I write as the hypocrite here because I originally opted not to bother with any response to Mykytiuk's article at all. It was too trite and I was feeling too tired to bother, I reasoned.
Anyway, here are a few of Richard Carrier's highlights:
Tacitus: Mykytiuk neglects all critical scholarly discussion of the passage in Tacitus and worst of all treats Tacitus as "a reliable historian" — which was one of the first things I learned not to do in my undergrad course on the Julio-Claudian era. Carrier links to Michael Grant's Greek and Roman Historians: Information and Misinformation, "a standard in the field", that I think can be found online.
Josephus: Mykytiuk again addresses none of the critical scholarship on the "Christ" passages in Josephus. Carrier lists several pertinent resources:
Both of which refute Mykytiuk's claim that the main passage is in Josephan and not Christian style (it is in fact in Lukan-Eusebian and not Josephan style). And though he cites Alice Whealey on an unrelated point, he continues to claim the Arabic testimony to the main passage in Josephus goes back to Josephus and not Eusebius, even though Whealey thoroughly refuted that years ago: it's just a derivation from a Syriac translation of Eusebius. But again, [Mykytiuk misses] the most recent peer reviewed research on this subject[.] My article on the Josephus passages in the Journal of Early Christian Studies was published in Winter of 2012 (also available now in Hitler Homer Bible Christ).
Then there's commentary on the rabbinical evidence and Lucian for the benefit of anyone who might wonder what that's all about. Is comment really necessary if we assume a rational audience who seriously reads, thinks and follows up the footnotes or the original references?
The following two tabs change content below.
Neil Godfrey
Neil is the author of this post. To read more about Neil, see our
About page.
Latest posts by Neil Godfrey (see all)
---
If you enjoyed this post, please consider donating to Vridar. Thanks!
---