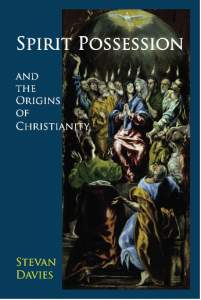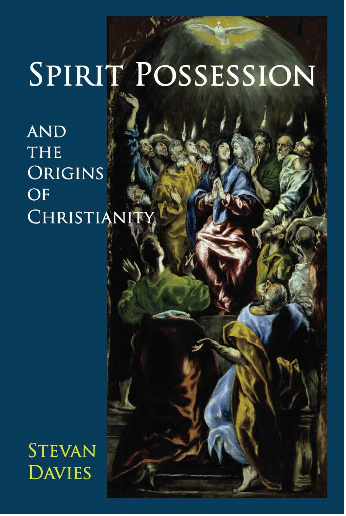 Professor Stevan Davies has re-published his book Jesus the Healer under a new and probably more appropriate title, Spirit Possession and the Origins of Christianity, a new introduction on the pentecostal origins of the Christian movement (including an account for comparative purposes of the origins of modern pentecostalism since 1906) and added a couple of chapters on the possible evidence that Christianity emerged out of a form of Judaism we find expressed in the Odes of Solomon. Although some scholars have seen these poems as having been influenced by Christianity Davies argues for the traditional view that they are pre-Christian. And if pre-Christian, they are evidence of beliefs held by certain Jews that eventually had a profound influence on Christianity.
Scholars today (Charlesworth, Lattke) have dated the Odes to around 125 CE, at "the overlap of early Judaism, early Gnosticism and early Christianity." Davies argues with others (e.g. Jack Sanders) that they influenced Christianity rather than the reverse and that they date from the period 50 – 25 BCE.
Western Syria (which includes the region of Galilee) is the most likely place of their origin.
It should be, but often is not, obvious that there were cultural influences on Galilee, and Samaria, and even Judea that come from the north, from Syria, Tyre, Sidon, Damascus, Antioch, influences on Judaism that were not Judean in origin. (p. 260)
Distinctive features 
While the Odes speak of a Christ figure they convey no hint of any awareness of a Jesus. If we define them as "Christian" they are of a quite different type of Christianity we read about in the New Testament.
Their Christ figure is a human who becomes Christ and who has no particular historical identity.
The Odes share vocabulary and phrases that appear in early Christian documents but the ideas conveyed by these shared expressions are quite unlike anything we associate with Christianity.
They do not mention
forgiveness
atonement
sin
resurrection
ascension
baptism
eucharist
the name of Jesus
any sayings of Jesus
any event in the life of Jesus
cross or crucifixion
The word "cross" supposedly appears twice in the Odes of Solomon (Odes 27 and 42), but only when translators such as Charlesworth take the Syriac (qaysa) or Greek (xylon), the word for tree or wood and translate it as "cross." Less tendentious translators do not do this. . . .
Davies suggests that those passages should probably be translated to convey the image of a suppliant stretching his arms upward in prayer like tree branches. They do not depict arms stretched out as if on a cross.
The Odes do remind us of the Gospels with their references to:
a virgin and a virgin birth
a dove fluttering above the Messiah
But notice how unlike the ideas found in the Gospels these expressions are:
Ode 19
4 The Holy Spirit opened his bosom and mingled the milk of the two breasts of the Father,
5 And gave the mixture to the world without their knowing, and those who take (it) are in the fullness of the right hand.
6 The womb of the virgin took (it) And she received conception and brought forth
7 And the virgin became a mother with great mercy.
8 She was in labor and brought forth a Son without incurring pain, for it did not happen without purpose.
9 She had not required a midwife, for he delivered her.
10 And she brought forth, as a man, by (God's) will . . . 
Odes 33
5 A perfect virgin stood proclaiming and crying and saying,
6 "O you sons of men, return, and you their daughters, come;
7 Leave the ways of that corruptor, and draw near to me
8 And I will enter into you and bring you forth from destruction, and I will make you wise in the ways of truth.
And the dove's appearance is difficult to reconcile with the Gospel portrayal of the dove descending upon Jesus at his baptism:
Ode 24
1 The dove flew over the head of our Lord the Messiah, because he was her head
2 And she sang over him, and her voice was heard,
3 And the inhabitants were afraid, and the sojourners trembled.
4 Birds took to flight, and all creeping things died in their holes.
5 The abysses were opened and closed. They were seeking for the Lord, like (women) in labor.
Ode 28
1 As the wings of doves over their nestlings and the mouths of their nestlings towards their parents mouths, so also are the wings of the Spirit over my heart.
2 My heart is delighted and leaps up, like the babe who leaps up in the womb of his mother.
The Odes agree with conventional Judaism in their view that God created the world out of his goodness. There is no hint of a gnostic pre-cosmic fall or a cosmic dualism. Humanity, however, suffers and needs to be rescued; this is accomplished through gnosis or knowledge of God.
The speaker, from son of man to Christ
While the Odes have been understood as confusing exchanges between different speakers, one human and the other divine, Davies agrees with other scholars who see no reason to insert separate speakers into the translations. Much simpler and more straightforward, he says, is to read them as
one person speaking who has been transformed from human to divine, a person in whom dwells God's immortal life who becomes a savior with a people whom he has saved. Presumably those who are saved are now in the same condition he is, once captives but now in freedom. (p. 252, my bolding)
Davies believes the experience behind the Odes is one of "spirit possession", or what we commonly think of as charismatic, pentecostal or glossolalia experiences.
If the Odes derive from a kind of possession experience, then the odists will understand themselves sometimes to be speaking as the possessing divine entity and sometimes as themselves. Insofar as they have become a Spirit, they can speak sometimes as themselves transformed and sometimes as the Spirit within them. Speaking as Spirit, for example, the Odist speaks of descent, of arrival in this world from a world beyond this world. Speaking as a human merged with Spirit, the Odist speaks of ascent, of arrival in the paradise beyond this world, of becoming a divine person. (p. 254)
In this way the human speaker, a son of man, becomes possessed by the Spirit of the Lord, and like other Jewish mystics experiences an ascent to the presence of God and becomes transformed into the Son of God, a divine being in a heavenly world.
The speaker, now the Son of God, is also anointed, and is thus technically a Christ or a Messiah (Greek and Hebrew words meaning 'anointed'). As the Son of God or Messiah the speaker has escaped the prison of the world, has escaped death or been brought back from the grave (Sheol), and once liberated is destined to act as an ideal example for his spiritual colleagues.
The Odes of Solomon present a "saved savior" model such that potentially any and all human beings can receive the Spirit, ascend to the place of God, and be transformed into a Son of God to serve as a model so as to facilitate the saving transformation of others. . . . 

The idea that the Odist and Christ are two separate persons ismistaken. The Odes speak of the transformation of the speaker (the "Odist") into the one spoken about (" Christ"). (p. 257)
The New Testament Christological Hymns:
Philippians 2:6-11;
Colossians 1:15-20;
Ephesians 2:14-16;
1 Timothy 3:16;
1 Peter 3:18-22;
Hebrews 1:3;
Prologue of the Gospel of John
Jack Sanders in The New Testament Christological Hymns: Their Historical Background (discussed by Davies) concludes on the basis of similar concepts in the New Testament that they derived from pre-Christian myths in Judaism of redeemer figures (Wisdom, Word, Heavenly Man) in which the divine figure was equal with God but at the same time entered into human existence and identified with humanity for the purpose of revealing the way of salvation.
In his analysis of the Odes of Solomon Sanders concluded that redeemer myth of the Odes appeared in some ways to be more primitive than the New Testament Christological hymns.
Sanders also suggests that the Odes betray influence of the Syrian redeemer myth of Adonis. Recall Ezekiel's protest against Jews who incorporated the worship of Adonis, also known as Tammuz or simply "Lord".
[T]he Odes of Solomon seem to attest that Judaism could, under some outside influence, give birth to at least one myth of redemption similar to that displayed in the New Testament Christological humans, and yet apparently independent of the New Testament tradition." Looking to the north, as Sanders did, will remind us of the fact that the people of Judea, and much more so the people of Galilee were influenced by a host of different religious ideas and systems. (p. 261)
But this point leads to a much deeper discussion of Second Temple Jewish mysticism that I am unable to address here.
From the Odes to Christianity
Davies is not arguing that the New Testament authors read the Odes of Solomon or that they consciously wove their concepts into the Gospels and epistles. The point is that the community behind the Odes preceded Christianity and influenced its theology.
Davies argues that it was quite likely that the group Paul persecuted before his conversion was the Odes community. Several factors lead him to this conclusion. One of these is that there is too little time between the death of Jesus and Paul's conversion (possibly as little as one year but no more than five) for a Jesus church to become established and then spread out from Jerusalem throughout Judea and Galilee and to Damascus and perhaps Arabia while attracting such opposition that it occasioned violent persecution.
It is more likely that the communities Paul was persecuting had been in existence for some years and therefore originated prior to Jesus.
Paul wrote in Galatians that it was recognized he preached the faith that he had once attempted to destroy, and Davies identifies several correspondences between the teachings of Paul and what we read in the Odes. Paul, too, claimed to be filled with signs of the Spirit of God and declared that Christ lived in him, freeing him from his body of flesh.
The Odes, meanwhile, speak of their members being persecuted. So Paul's career as a persecutor fits.
I have my own doubts about Davies' arguments linking Paul to the Odes community. The Odes also speak of the persecutors being killed.
Ode 23
20 And all of the apostates became bold and fled away, and the persecutors were blotted out and became extinct.
Ode 42
5 All my persecutors have died, those who sought after me and who proclaimed about me, because I am alive.
More fundamentally, however, Davies' argument rests on major unaddressed assumptions about his source texts. As a professor specializing in Old Testament history recently pointed out, the most fundamental step of the historian's craft is source criticism:
Source criticism. It is the alpha and the omega of an historian's craft. Then we can put everything else on top of that. . . . [It] has been a must in historical research since the days of Barthold Niebuhr c. 1810.
The entire basis for the belief that Paul in fact persecuted churches before his Damascus Road experience rests upon
One may argue against the evidence of genre and other literary clues in the source texts but one will not be able to overthrow the potential for dispute. The story of Paul the persecutor is not secure historical fact.
It is this failure to address the questions of source criticism that unfortunately detracts from significant points of the remainder of Davies' arguments about Christian origins. At a general level his thesis about Christianity originating as a charismatic sect has much to commend it but it is going farther than the evidence truly allows to get down to the level of specifics (e.g. that the glossolalia experiences began on Pentecost according to Acts, etc.) that Davies writes about.
Having read Davies' chapters on the Odes of Solomon I would now like to read more carefully Jack T. Sanders' work on the Christological Hymns and Sanders' identification of links with the Odes. I have for a little time now been exploring Jewish mysticism and pre-Christian and other Second Temple Jewish ideas that appear to be close parallels to fundamental Christian ideas and it is intriguing to think of the Odes as another set of texts to be considered in this context.
I'll conclude on one more coincidental note. The Gospel of Mark tells us about Jesus walking on water as his disciples struggle against a strong wind and rising waves. When they see Jesus they at first fear he is a ghost. Some commentators have seen Mark's inspiration for this in a Psalm where God has power over the seas and one has compared the scene to Greek gods running across the oceans to their destinations. But here is one of the Odes of Solomon:
Ode 39
8 Put on, therefore, the name of the Most High and know him, and you shall cross without danger, while the rivers shall be subject to you.
9 The Lord has bridged them by his word, and he walked and crossed them on foot.
10 His footsteps stand (firm) on the waters, and were not erased. They are as a beam that is firmly fixed.
11 The waves were lifted up on this side and on that, and the footsteps of our Lord Messiah stand (firm),
12 And are not obliterated, and are not defaced.
13 A way has been appointed for those who cross after him, and for those who agree to the course of his faith and for those who adore his name.
Hallelujah.
Translations of the Odes can be found online at the Gnostic Society Library and at the Early Christian Writings site.
The following two tabs change content below.
Neil Godfrey
Neil is the author of this post. To read more about Neil, see our
About page.
Latest posts by Neil Godfrey (see all)
---
If you enjoyed this post, please consider donating to Vridar. Thanks!
---