William Wrede's The Messianic Secret
Part 11: Luke Abandons the Secrecy Motif
While we may have had to wait until the end of Mark's story for the denouement of the secrecy gospel, Luke removes all suspense early on with the scene in the Nazareth synagogue (Luke 4:16-30). In The Messianic Secret, William Wrede writes:
Here Jesus reads out the words of Isaiah 61.1f. regarding the anointing for messianic vocation and then goes on to say, "Today this scripture has been fulfilled in your hearing". But this is nothing other than a messianic self-proclamation, and if Luke in all probability made up this scene himself in so far as it is at variance with Mark, and certainly thought of it as an introduction determining the character of the presentation of the story which follows, yet one gains the impression that here he is doing something which Mark would hardly have done. However many contradictions may be found in Mark along with the idea of secret messiahship, this is on a different footing. It looks like a denial of the idea itself. (Wrede, 1901/1971, p. 178, emphasis mine)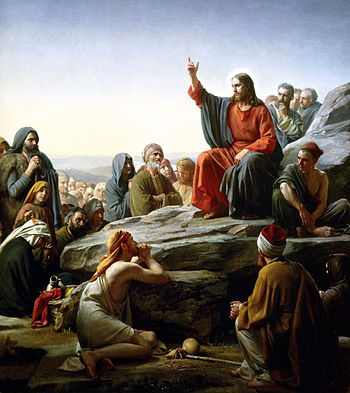 Is the Sermon on the Mount private instruction?
Luke's Jesus does not hide his light under a bushel. He lets everyone know who he is. We can see the extent to which Luke has embraced this public, openly messianic Jesus even in the way he teaches the crowd.
Wrede makes the point that in Matthew, much of the instruction Jesus imparts to his disciples remains private. The Transfiguration, the prophecy of the passion, the meaning of parables, the "question about the last things," etc. happen away from the crowds and sometimes away from the majority of the disciples. But that's not all.
We may also mention that even the Sermon on the Mount is regarded as instruction of the disciples. For according to 5.1, when Jesus sees the crowds, he goes up the mountain and then the disciples approach him[*] in order to receive his teaching. This, of course, is again forgotten at the end of the sermon in 7.28.

[*] prosēlthan autō hoi mathētai, Matthew is very willing to say, even although they were already together with Jesus. Proserchesthai [coming near to, approaching] is generally used by him more often than in all the other New Testament writings put together. (Wrede, 1901/1971, p. 178)
In other words, Jesus is moving away from the crowd and up the mountain where he will give private (secret?) instruction. Apologetic and traditional commentators haven't seen it that way, of course. Instead of retreating, they imagine that Jesus is simply getting a better vantage point from which to address the crowd. But the text is quite clear. Continue reading "Reading Wrede Again for the First Time (11)"