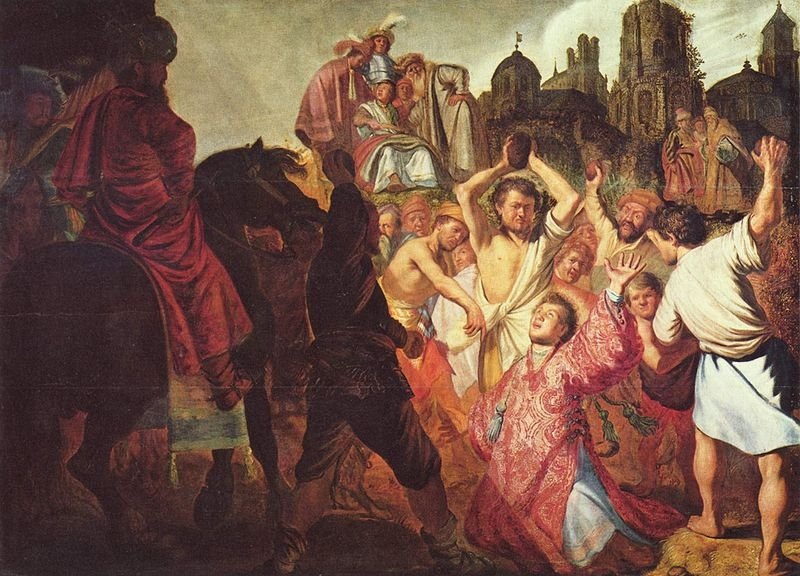 I'm taking a light diversion by challenging somebody on earlywritings.com over his assertion that Christians were persecuted like crazy (as per the popular notion derived from the Acts and Eusebian tales). The posts have since met a bit stiffer challenge from more reasonable and knowledgeable participants — so the discussion has become even more rewarding.
Reasons I am questioning the assumption that Paul before his conversion persecuted the church in the sense of haling people off to prison, engaging them with enhanced interrogation techniques, beating them, sometimes too severely so they died:
The word for "persecution" is διωγμός — one could "pursue" [δίωκε] righteousness; Paul wrote that Ishmael "persecuted" [ἐδίωκεν] Isaac. The word can have very unpleasant associations when used negatively but does not necessarily mean to beat up and kill.
The notion that Paul did beat and kill Christians before his conversion is derived from Acts. I argue elsewhere (following several scholars) that this is theologically motivated fabrication. I am arguing from the evidence of Paul's letters alone.
There were divergent views about Paul's pre-Christian career. Marcionites denied he had been a "persecutor" of the church. How do we explain such diversity of opinion?
What motive could Paul have had for "persecuting" the church in the whipping and killing sense? He himself said he was persecuted because of his views on the Law. But he was the one who introduced those views. So that cause could not have been the reason he himself persecuted Christians prior to his conversion.
Second Temple Judaism, according to its literature, appears to have embraced views about the Messiah as diverse as the belief that he (or one of the messiahs) would be killed, so preaching a crucified Christ/messiah is not likely to have attracted murderous rage.
Litwa shows us that it was not at all blasphemous for Jews to imagine a human being deified — so preaching that a man Jesus had become a divinity would not have overturned the world.
The followers of Jesus were obviously not seen as a threat since they were left alone when the authorities arrested Jesus, so one finds it difficult to think that they would suddenly change their minds and persecute them for posing a threat to the "state".
There were other Jewish cults who protested against the Temple cult and it is difficult to imagine the authorities persecuting them or fearing a threat to their religious system. What would such a threat look like? A lone man overturning a table or two in one corner of the crowded precinct? A few more persons wandering off to join the Qumran community?
The following two tabs change content below.
Neil Godfrey
Neil is the author of this post. To read more about Neil, see our
About page.
Latest posts by Neil Godfrey (see all)
---
If you enjoyed this post, please consider donating to Vridar. Thanks!
---