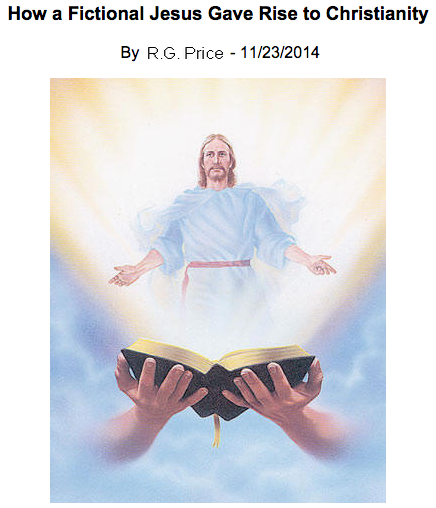 I have just completed reading How a Fictional Jesus Gave Rise to Christianity, a web article written by R. G. Price. It begins:
Having written several pieces on the historicity of Jesus (Jesus Myth – The Case Against Historical Christ, Jesus Myth Part II – Follow-up, Commentary, and Expansion, The Gospel of Mark as Reaction and Allegory), I think it is of critical importance to not simply cast doubt on the historical existence of Jesus, but to actually put forward plausible explanations for the development of early Christian writings and how the widespread belief in a real life Jesus was established. This piece builds on the evidence laid out in my prior writings and ties everything together into a cohesive explanation for the origins of belief in a human Jesus and the development of early Christian history.
Price is not merely attempting to raise doubts about the historicity of Jesus. He hopes to prove "beyond reasonable doubt" that there never was a real Jesus at the start of Christianity. He does not focus on the letters of Paul but rather on the Gospels themselves as his primary evidence. Since his argument examines the Gospel narratives and their literary sources he is led to discard even the concept of the "Jesus myth" and replace it with the "Jesus fiction".
There is little I find myself disagreeing with in Price's work. Or rather, I think I agree with almost all of it. Readers of past posts on Vridar will recognize some of the themes Price addresses: the literary indebtedness of Gospel narratives to Old Testament stories; the association of the Gospel of Mark with the Jewish War (compare earlier posts here addressing Clarke Owens' "Son of Yahweh". Price appears to have absorbed this sort of material from both his own analysis and a wide range of reading. My initial reaction was disappointment in the absence of citations but I soon learned that I was reading a print-out of a draft essay and that Price was at the time editing his work and adding citations.
While on the subject of negatives — there is one minor one I'd like to see Price address. His piece could flow more easily if he could avoid awkward language like "the Gospel called Mark" instead of more simply "Mark's Gospel". I can understand the desire to be particular but this sort of thing can be explained at the outset by simply informing readers that the colloquial use throughout does not represent a known fact.
I myself have been moving towards the view that the Gospel of Mark was structured around themes closely related to the (or at least "a") Jewish War (strengthened by my reading of both Hanhart and Owens) so it is interesting to see Price strongly arguing a similar point. Price argues that the literary allusions are not simply "there" but that he can show how they acquire explanatory power or meaning when understood in the context of the recent Jewish War. 
Literary allusions in the Gospels do not necessarily of themselves imply that their content is fabricated, but Price points out at length the vast extent of these allusions in the Gospels. So extensive that they leave next to no room for any additional data left over for historicity. To my way of thinking the argument can be strengthened somewhat more. There is much historical literature in which we do see a person either embellishing himself with mythical claims or in which we see the author dressing up his subject with such allusions. But in such cases there is always room to see the real person apart from these trappings. See my recent post on Lord Raglan's Hero Types — this is the point he makes to separate mythical from historical persons. There is also the principle of Occam's razor: once we have a clear explanation for the content of a narrative (e.g. literary logic) we have no need to seek further possible hypotheses (e.g. also historical reporting) unless there is data the first explanation cannot account for.
Price further discusses the places of famous names — Peter, James, John — in the literary evidence. The inconsistencies are clear from Price's treatment.
After discussing the literary nature of the Gospels Price shows how subsequent literary evidence shows how knowledge of Jesus continued to rely upon Scriptures and theological writings and not independent historical traditions. Details of so-called "church history" such as the fate of the apostles were also clearly fabricated.
Price has synthesized a wealth of information from diverse sources and has produced a most interesting and (I think) strong argument as a result. In some places the wording could be tidied up a bit for snappier and less repetitive reading — but this online article is a great start.
It's worth reading and a worthy thought and discussion starter.
The following two tabs change content below.
Neil Godfrey
Neil is the author of this post. To read more about Neil, see our
About page.
Latest posts by Neil Godfrey (see all)
---
If you enjoyed this post, please consider donating to Vridar. Thanks!
---