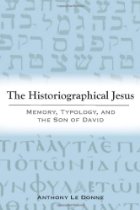 Anthony Le Donne has written a book that I find is both chock-full of many fascinating nuggets in the Gospel narratives and riddled with startling revelations (if only discerned between the lines) about the foundations of "Gospel Narrative Origins" studies, The Historiographical Jesus: Memory, Typology, and the Son of David. (This post does not address Le Donne's main thesis. I have addressed core aspects of that in Searching for a Good Fantasy, though I would like to explore his thesis in more depth in a future post. Here I focus on Le Donne's foundations for believing there was anything historical at all in the Gospels.) I say "Gospel Narrative Origins" studies in preference to "Historical Jesus" studies for several reasons, one of which is that the term "Historical Jesus" presumes that there was an "historical Jesus" to study.
Historical origins of the icon we call "Jesus"
Further, I believe the question of "the historical Jesus" is fundamentally an ideological or dogmatic expression. Its meaning derives from the most fundamental core doctrine of Christianity — that in some sense God historically appeared in or through the person of Jesus. After two millennia of Christian heritage the concept of "Jesus" has come to transcend religiosity and become a cultural icon advocating hosts of idealistic aphorisms. The true question for the historian, then, ought to be concerned with how to explain the origin of Christianity. That includes explaining the origin of its Jesus. If the best explanation leads us to an historical Jesus, then, and only then, will we have a valid rationale for attempting to explore such a figure.
Bultmann's test for insanity
Readers who find the above line of reasoning far too radical to swallow can find solace in Rudolf Bultmann's words quoted by Anthony Le Donne:
Of course the doubt as to whether Jesus really existed is unfounded and not worth refutation. No sane person can doubt that Jesus stands as founder behind the historical movement whose first distinct stage is represented by the oldest Palestinian community. (Bultmann, Jesus, 13. Cited in Anthony Le Donne, The Historiographical Jesus, p. 36)
Bultmann is surely being deliberately provocative here, since in his own day there were several very intelligent (and far from insane) scholarly persons (e.g. Georg Brandes, Paul-Louis Couchoud, Arthur Drews, and several notable others) questioning the authenticity of Jesus, as Albert Schweitzer himself acknowledged. (Robert M. Price has, if I recall correctly, even suggested that Bultmann was cornered into making such "protesteth too much" denunciations because some readers were inferring the non-historicity of Jesus from his own studies.) Theologians have since found a place in George Orwell's dark visions as the guardians of correct thought who declare insane (or misfits of some variety) any lesser life-forms who question the historicity of Jesus.
"Unfounded and not worthy of refutation"?
Now I could well understand someone saying that doubt as to whether Augustus Caesar really existed is "unfounded". I would baulk at going so far as to say it is "not worth refutation", however. Surely any doubt is worth a valid refutation. Scholars don't want to isolate themselves into exalted ivory towers out of touch with ordinary folk, do they? If ordinary folk are hearing rumours that Augustus Caesar did not exist, but was a conspiratorial invention of Latin school teachers or whatever, or if they are hearing Intelligent Design advocates arguing that evolution is not true, then I am sure scholars would be happy to open up and spill out all the evidence to reassure them otherwise. In the case of Augustus Caesar, they could point to
primary evidence (real physical remains testifying to be from the actual time of that Caesar),
the secondary evidence of surviving historians whose claims are in varying degrees of validity supported by their record of verifiable identity and provenance,
the independently established genre of the above records and what this, on probabilities, indicates about the intent of the authors,
the clearly established independence of these sources from one another,
the overwhelming explanatory power of all of the above for the events that clearly followed.
Or let's take a more lowly figure like Socrates who left no monumental evidence. We have relatively strong evidence for his historical existence as a real person, too:
Independent testimonies from people who appear to have known him personally (followers Plato, Xenophon) or at least knew of him in their generation (satirist Aristophanes),
and about whom we know enough to appreciate

their reasons for wanting to write about Socrates
and their ability to know anything about him,

and whose works/testimonies are in the form of genres not inconsistent with an interest in relaying historical realities.
The evidence for Socrates is far from iron-clad proof but it is enough satisfy most, even those of us who are mindful of the way genres can be turned inside-out in order to write a spoof or otherwise deliberately deceive readers. At the same time, one can find reasonable grounds for at least asking if it is possible that Socrates was nothing more than a literary figure. So if doubts about the historical existence of the person Jesus are indeed "unfounded" as Bultmann said, what are the foundations for his existence?
How can we know?
The closest Anthony Le Donne comes to addressing that question directly is when he asks of Gospel narratives:
Does the story have an origin in perception or invention?
That is, are we reading in the Gospels stories that originated in the perceptions of certain eye-witnesses and that were filtered through other ideas, values, beliefs, biases of some of those witnesses, and that were then transmitted through others who also had their own filtering biases and interests? Or are we reading in the Gospels stories that an author or his source completely made up? How can we know? Anthony Le Donne answers but unfortunately there is nothing new in his answer:
In answering . . . . [t]raditionally, historical Jesus research has employed authenticity criteria to support arguments for historicity. With some qualification, the present study relies on some of these criteria. (p. 87)
Criteria! Criteriology, in all its well-paraded fallacious glory, is déjà vu all over again. Just when we picked up a new book offering a new approach to historiography in the quest for Jesus, we find the entire enterprise is built on the same old foundations as the last quest.
Maths for

dummies

theologians
And once again we read the fallacious mantra that the application of multiple criteria supposedly increases the certainty that an event having really happened.
Criteria are always applied in plurality. I never appeal only to one criterion alone. (p. 88)
How unlike the evidence for Socrates
In sum, what Le Donne is effectively telling us, as some regular readers here might well know by now, is that theologians have NO real primary data to indicate the existence of an historical Jesus. They have NO evidence for the existence of Jesus that is comparable to the evidence even for Socrates. And not just for Socrates, but for any other low-profile person known from history: Cicero's slave Tiro, Publius Vinicius the Stammerer, Honi the Circle Drawer. . . (See various posts for fuller discussions.)
We really do have historical evidence testifying to the existence of relatively low-profile people in ancient times but we have no comparable quality of evidence for one who was supposed to have been so famous, we are told, that he even came to the notice of Josephus!
The historical Jesus really IS an assumption. And all "proofs" that are pulled out to "prove" otherwise — Paul speaks of his flesh and blood and of his ancestry, no-one would make up a crucified messiah, he had a brother — are little better than ad hoc rationalizations. I say that because they are all debatable and are debated and refuted in various quarters, or are contradicted by other studies with different agendas.
So Bart Ehrman can in one venue say that we have no way of knowing if our current letter to Galatians was what was originally penned by Paul, and others arguing for key passages being interpolations, but when it comes to the question of the historicity of Jesus, suddenly key proof-texts in Galatians become as certain as sacred dogma.
And scholars all know that the criteria they use are debatable. They all know that some of their peers have demonstrated their fallacies both in terms of logic and of known evidence.
Look again at Socrates for a moment and think about the comparison with the evidence for Jesus.
At least in the case of Socrates we have some knowledge of the provenance of our sources and are thus in a position to make certain judgments about their reliability; we also have sources that are written by those who appear to have directly known Socrates.
Classicists and/or ancient historians do not have primary data (in situ monuments) that indicate the existence of an historical Socrates. Socrates left no monuments or coins as would be expected of a conquering or ruling king, but classicists and ancient historians do have clearly independent testimonies from persons purporting to have known Socrates personally (or at least to have belonged to his generation) — e.g. Plato, Xenophon, Aristophanes. And those disparate accounts sit well with what we independently know of the political and social situation in Athens at the time, and they also help explain a lot about what followed in the "history of ideas".
Conclusion: While it is certainly possible that Socrates was a mere popular literary cipher who represented a certain "attitude" of the day, given the absence of evidence to the contrary in the face of evidence for the hypothesis, it seems very likely that Socrates was a very real historical person.
Contrast the evidence for Jesus
We have theological tales that are directed at encouraging readers to believe in the supernatural. Patently mythical tales are told about Jesus, many of which various scholars have identified as having been derived from other narratives in the Jewish Scriptures. We have no way of knowing the identities of the authors of these narratives or whether they wrote 40 or 80 years after the supposed events. The arguments for oral tradition have been countered by a number of scholars so that we cannot assume oral tradition as an unquestionable source of the narratives.
The evidence from Paul is also, at best, ambiguous. Certainly, it is debatable.
What is disconcerting, however, is that so many theologians do not attempt to address the debates or ambiguities but so often resort to appeals to their collective credentials and ad hominem attacks on outsiders. That sort of response only increases the suspicions that they really do know that the entire question of Jesus' historicity ultimately comes down to faith, or assumption.
The very best efforts I have ever seen by a few scholars to establish the historicity of Jesus consist of little more than the recitation of the usual mantras: no-one would invent a crucified messiah, Paul speaks of Jesus' flesh and blood, etc. I call them mantra recitations because they are repeated without any attempt to address the many arguments that have been amassed against them. When one repeats proof-texts without any apparent consciousness of the detailed refutations against them, then one is doing little more than mouthing catechisms for the faithful.
So let's look once again at the criteria that are so foundational to their faith in the reality of the historical Jesus. This time we take them from Anthony Le Donne's list. Le Donne insists that a single criterion is insufficient and that only the application of multiple criteria will do — an easy enough mistake for a non-mathematician to make (as I pointed out above).
Multiple Attestation
Le Donne means "independent" multiple attestation. We all know by now the fallacy here. There is an abundance of multiple attestation (much of it independent, we might say) for alien visitations. So we won't explore all the relevant nuances involved in the validity or otherwise again here.
But Le Donne points explicitly to some major problems with this criterion in relation to historical Jesus studies, although he presents them as positives.
Multiple attestation works best, he suggests, if the Gospel of John is independent of the Synoptics and if Q is accepted as a literal pre-gospel source. In other words we must infer that scholars who believe the Gospel of John is based somehow on the Gospel of Mark and/or who conclude that the author of the Gospel of Luke copied from the Gospels of Mark and Matthew — we must infer that these scholars have fewer grounds for accepting the historicity of Jesus than those who think otherwise.
In other words, we don't have an "evidence" that can be labelled "multiple attestation". We only have theories.
Embarrassment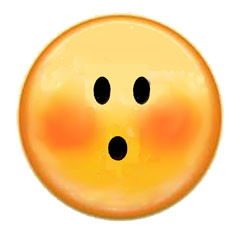 This is one of the most fallacious of the criteria that has been exposed as nonsense too many times for me to repeat here.
The idea is that the Christians sought to exalt Jesus so they would not have invented anything that diminished his status.
But of course, the evidence does tell us that the stories that are said to have "diminished" Jesus (such as his family rejecting him) did appear long after the earliest Christian evidence — Paul's writings. The ad hoc nature of the arguments is obvious when scholars then argue Paul did not mention such things because they were well-known already! But really, of course, there is nothing in the Gospels that "diminishes" the character of Jesus. Like any other literary hero, Jesus is exalted by his noble response towards efforts to humiliate him. By having Jesus' family reject him the evangelists are ensuring Jesus is lined up alongside the greats like Joseph, Moses, David and the other pious ones praised in the psalms.
Contrary Tendency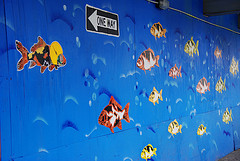 Le Donne explains this with an example. If Luke's tendency is to stress the significance of Jesus to the Gentiles, then anything in his gospel that does not serve this function needs special explanation — such details are "best explained as early memory".
That sounds like the fallacy of the false dichotomy to me. Maybe such details mean we need to develop a more sophisticated understanding of Luke's gospel.
Multiple Forms
The baptism of Jesus is portrayed as a narrative and it is also referenced as a saying. That's an example of an event being found in multiple (genre) forms.
The only way. I think, that such a phenomenon could be considered a "criterion" for the historicity of the event is if we assume that the author was working like a quiltmaker taking a patch from this tradition and something else from another.
Again, we don't have evidence for historicity here. We only have theories of composition.
Coherence
This refers to an episode that is compatible or coheres with something that is firmly established about Jesus. Of course, this begs the question about what can be known for certain. Le Donne says there are very few points of universal agreement among scholars on what Jesus did. I have seen other scholars say there is nothing that all scholars agree on. Le Donne thinks this is one of the weaker criteria and should only be used, therefore, in conjunction with two other criteria.
Semitisms and Semitic influence
As with "Coherence", Le Donne relegates this criterion to one of the weaker set that should only be pulled out of its box if there are already two stronger ones out there taking the heavy load. Reasons for its weakness, as listed by Le Donne:
Such features might simply betray the author's spoken language
There are often alternative grammatical explanations for these supposed Semitisms
Some historians (theologians?) think Jesus spoke Greek (some also think the Gospel of John relied upon Mark and that there was no Q)
But where a phrase presupposes a Semitic wordplay, then it presumably can be reasonably assumed it must have come from Jesus and none other.
Don't think history is black and white
Anthony Le Donne would not be content if I left readers with any sense that he thinks an absolute knowledge of something that really happened is possible. All witnesses, memories, perceptions, are filtered through biases, viewpoints, world-views, etc, etc. I think most historians have always taken that as a truism. Even the reputed arch positivist Leopold von Ranke understood that much. But such an idea appears to be quite novel among theologians if the amount of space Anthony Le Donne devotes to explaining it is any guide.
It is somewhat embarrassing to read such an in-depth introduction to how R. G. Collingwood understood the nature of history (as primarily a matter of interpretation) after having encountered a few theologians who have loudly insisted they are true historians, even pioneers in the "science of history". In reality, they know very little, many of them, as Anthony Le Donne's introductory chapters seem to indicate.
And worst of all, they do not know that what they call "evidence" for the historicity of events or persons is not the same sort of data historians think of as such evidence. Historical Jesus studies really have tended to confuse evidence with theories and assumptions. Not surprising, given that their roots are, after all, rooted in dogma.
(But there are also some really interesting points in Le Donne's book that I hope to post on not too far from now.)
The following two tabs change content below.
Neil Godfrey
Neil is the author of this post. To read more about Neil, see our
About page.
Latest posts by Neil Godfrey (see all)
---
If you enjoyed this post, please consider donating to Vridar. Thanks!
---