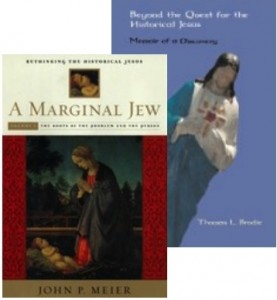 Continuing the series on Thomas Brodie's Beyond the Quest for the Historical Jesus: Memoir of a Discovery, archived here. (I am breaking up Brodie's chapter 17 into a series of smaller posts, and adding more of my own commentary in the process. I hope I keep the distinction between my own thoughts and Brodie's clear.)
In the previous post we reviewed what Brodie sees as "two key problems" in John Meier's A Marginal Jew:
reliance upon oral tradition,
inadequate engagement with the literary features of the sources.
These two shortcomings in turn lead to further problems. The first of these is criteria.
Brodie explains that by beginning with the assumption that the Gospels are derived from oral tradition, scholars are led to the "delicate operation" of trying to sift what is historical from the final narratives. So criteria of historicity have been developed. A Marginal Jew (like probably most historical Jesus works) relies heavily upon these.
Brodie begins with the criteria of contradiction and discontinuity. That is,
if something in the Gospel is seriously out of line with what is said elsewhere in the Gospels or Epistles, then the reason for including it must be very strong, must be due to reality in history, in the life of Jesus. (p. 157)
Most of us have read the methodological and logical flaws in these criteria, but Brodie does not address these here. Instead, he points out something about "contradictions and discontinuities" in the Biblical literature that only a handful of his peers seem to be conscious of. Contradictions and discontinuities are, Brodie reminds us, are prevalent throughout the books in the Bible. They are integral features of biblical literary artistry. It starts with Genesis. Man is first created in the image of God (1:26); then he is made of clay (2:7). First he is made to rule the earth (1:28); then he is made to serve it (2:5).
Continue reading "Making of a Mythicist — ch 17 . . . Unreliable Criteria"