Not so great courses
Several months ago, I purchased a course on ancient Christianity through audible.com. You might find the title intriguing (I know I did) — From Jesus to Christianity: A History of the Early Church — which reminded me of Paula Fredriksen's book, From Jesus to Christ: The Origins of the New Testament Images of Christ. In no other respect do these works resemble each other, not in clarity, accuracy, or depth.
Thomas Madden may be an expert in medieval and renaissance studies, but his understanding of the Ancient Near East and early Christianity is superficial and slanted toward a confessional, orthodox, if not specifically Roman Catholic, viewpoint. As we've said many times here, bias does not inherently make somebody wrong. We all have particular points of view; however, we should acknowledge other points of view and strive to present them fairly. Madden, unfortunately, seems completely unaware of other perspectives.
When I buy courses and books, in the back of my mind I hope to find something new and interesting that I can blog about. However, as I alluded to above, Madden's course is so superficial as to be devoid of blog-fodder — except for a few outright mistakes that made me shake my head and grumble. (I wonder how crazy I look, walking through airports, earbuds in place, muttering softly to myself in disgust — like Popeye in a Max Fleischer cartoon.)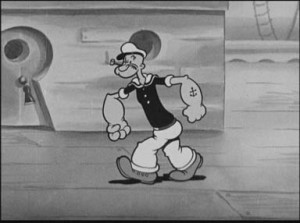 As a brief aside, we should note that Madden's wretched course is emblematic of a trend in publishing. The latest history and religion courses released by The Great Courses (formerly The Teaching Company) and The Modern Scholar (part of Recorded Books, LLC) are more conservative than ever — a comfort to a public that prefers confirmation of its beliefs over learning. Listeners to these courses will learn, to their relief, that Paul certainly wrote all of the epistles attributed to him and that the Documentary Hypothesis is false. Madden, a frequent contributor to such publications as The National Review and Crisis Magazine, as well as an apologist for the Crusades and the Inquisition, fits right in.
Comforting the comfortable
Given the underlying purpose of Madden's course on the history of the church — namely, to comfort the faithful laity by regurgitating the party line — nothing should have surprised me. I thought I'd heard nearly all of the pious lies proffered by Christian apologists, but I wasn't prepared for this one.
Continue reading ""With All Fear": Christianity and Slavery (Part 1)"