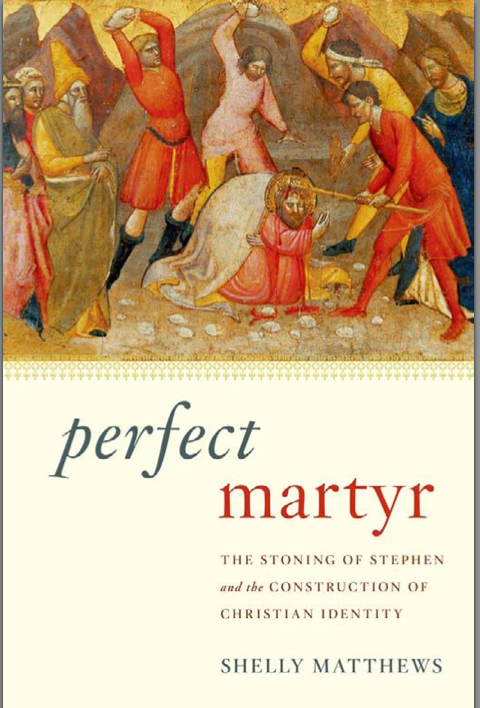 I was introduced to the work of Shelly Matthews through the Acts Seminar Report. She is one of the Seminar Fellows. I have since read — and enjoyed very much — her historical study Perfect Martyr: The Stoning of Stephen and the Construction of Christian Identity.
Shelly Matthews is one of the few theologians I have encountered who demonstrably understands the nature of history and how it works and how to apply historical-critical questions to the evidence. She is a postmodernist (and I'm not) but I won't hold that against her. At least she understands and applies postmodernist principles correctly — unlike some other theologians who miss the point entirely and resort to trying to uncover "approximations" of "what really happened" behind the fictional (and ideological) narratives in the Gospels and Acts.
Matthews is critical of the way scholars have with near unanimity assumed that the story of Stephen's martyrdom in Acts is based on some form of bedrock historical event:
How else to explain the sudden propulsion of Jesus followers beyond the limits of Palestine?

(Recall that the Acts story tells us it was the death of Stephen that instigated the wider persecution of the "church", and persecution led to the scattering of the believers, and that scattering led to the proclamation of the message beyond Judea.)

How else to explain the conversion of Paul?

(Recall that Paul — originally "Saul" — was one of those persecutors and it was his "Damascus Road" experience that brought him to heel and turned him from persecutor to missionary.)
Those are the twin (prima facie) arguments that have assured scholars that the Stephen event is historical ever since they were made explicit in the nineteenth century by Eduard Zeller (son-in-law of F. Baur).
But let's save the discussion of method and criteria of historicity till last this time (or maybe a follow up post). To begin with we will set out the grounds for questioning whether the Stephen narrative in Acts owes anything to some historical "core" event. The question of the historicity of Stephen's martyrdom is not the primary theme or interest of Shelly Matthew's study (as its title indicates) but she does address it as part of her larger discussion on historical-critical inquiry and the way scholars have culturally fallen under the spell of the fundamental narrative outline and ideology of Acts. (Her discussion could equally well apply to the question of the historicity of Jesus but I think we need to wait for scholars to come to grips more generally with critical and methodological questions about Stephen before taking that step.)
External evidence
Outside of Acts there is not a whisper of awareness of the martyrdom of Stephen until Irenaeus talks about it around 180 CE. And Irenaeus is clearly using Acts itself as his source. (Recall, too, that the Acts Seminar has concluded that Acts itself was written in the second century.) Continue reading "The Fiction of Stephen the First Martyr"