William Wrede's The Messianic Secret
Part 7: "The Self-Concealment of the Messiah" — The injunctions to keep the Messianic secret
This unit continues Part 1, Section 2 (p. 34ff.) of Wrede's The Messianic Secret (covering other features of the motif and the defense of a single coherent theory).
Demons in retrospect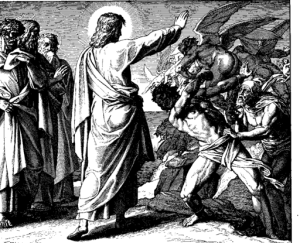 Last time in Part 6 we finished up Wrede's discussion of the demons' recognition of the Messiah. At this point, we should probably mention why Wrede wrote about exorcisms first. And here, once again, I will refer to James D.G. Dunn's 1970 paper, "The Messianic Secret in Mark" (PDF).
I rather suspect that Wrede was misled by taking the exorcisms as his starting point. It was natural that a nineteenth/twentieth century man should fasten on to these incidents which were to him among the most bizarre and incredible, and which for that very reason gave him immediate access to the theological viewpoint of the primitive Church — that is, to the way the primitive Church had viewed and worked over the historical facts. No psychological argument could explain how, for example, the Gerasene demoniac came to hail Jesus as Son of the Most High God, and recourse to a supernatural explanation was unacceptable. Therefore, Wrede concluded, we are in the presence of a legendary development in the tradition which leads us straight into the heart of the Messianic secret. Leaving aside the issue of demon possession and the possibility of supernatural knowledge, which I personally hold to be a far more open question than Wrede allowed, it still seems to me that Wrede's approach was methodologically suspect. (p. 97 of the Journal, p. 6 of the PDF, bold emphasis mine)
Dunn thinks Wrede latched onto the stories of demonic possession (1) because they were "bizarre and incredible" and (2) because they give modern, critical scholars a window on the "theological viewpoint of the early church." Yet Dunn is suspicious of Wrede's methodology. Why would that be? Dunn is intimating that Wrede's post-Enlightenment, scientific, naturalistic biases drew his focus to the exorcism stories, and that these biases further clouded his judgment, causing him to overstate his case.
Perhaps Dunn is even suggesting that Wrede deliberately started with exorcisms with an eye toward treating them as low-hanging fruit, something easy to debunk and declare unhistorical. He continues:
But if Mark was trying to 'get over' to his readers the message of the Messianic secret the first exorcism would give no indication of it to his readers. In fact, the distinctive Messianic secret motif only appears in these two summary statements, and there are no commands to silence in any of the other exorcisms where the narrative goes into any detail (5:1-20; 7:24-30; 9:14-29). I question therefore whether Wrede was right to single out the exorcisms as the decisive clue to the meaning of the secrecy theme in Mark. (p. 97-98 of the Journal, p. 6-7 of the PDF, bold emphasis mine)
Unfortunately, in his zeal to undermine the foundation of Wrede's thesis, Dunn has missed a crucial point . . . .
Unfortunately, in his zeal to undermine the foundation of Wrede's thesis, Dunn has missed a crucial point. Wrede concentrated his initial efforts on stories of the demoniacs for the simple reason that they exemplify all the features of the Messianic Secret. And surely even the most ardent anti-Wrede scholar must admit that the author of Mark's gospel intended the summary of Jesus' great works in Capernaum to apply to all previous exorcisms up to that point, with emphasis on the only reason given for the commands to silence: because they knew him.
1:34 And He healed many who were ill with various diseases, and cast out many demons; and He was not permitting the demons to speak, because they knew who He was. (NASB)
So what is striking and what draws the reader both to Peter's confession and to the stories about demon possession are the recognizable, formulaic characteristics — specifically, the acknowledgment of Jesus' true identity followed by a sharp, forceful rebuke to keep the revelation quiet. Yes, the exorcisms are a "specific class" of prohibition. However, Wrede insists:
This is not because of any special characteristics they might in themselves possess, but because they are closely bound up with what we are told of the peculiar capacity of the demoniacs for recognizing Jesus as the Messiah and about their peculiar inclination to address him as such. (p. 24, emphasis mine)
Recognition leads to announcement, which prompts Jesus' harsh rebuke. However, in other cases — miracles, for example — the formula is not so clear. Are we witnessing a manifestation of the same phenomenon, minus the public recognition? Wrede argues that indeed we are.
Five classes of prohibitions
Wrede lists and describes the following types of prohibitions (Das Messiasgeheimnis in den Evangelien, 1901, pp. 33-34, my translation with editorial comments in purple):
1) Prohibitions referring to the demons

1:25: And Jesus rebuked [threatened] him (ἐπετίμησεν): fall silent (φιμώθητι αὐτῷ) and come out of him.

(Wrede's Note: The command "φιμώθητι" [be silent!] does not mean that Jesus rejected the Messianic title, but beats down the demon's manifestation of life, which lies in its speech. 4:39: Jesus says the same word to the sea. (Cf. B. Weiss, Markusevang. p. 62, Volkmar p. 89 — it is understood not incorrectly as an actual spell word [i.e., a magic word to drive away evil]). Nevertheless, the Evangelist seems to mean by the the use of parallel words that Jesus is fending off the Messianic title.)

1:34: And he prevented the demons from speaking because they knew him.

3:12: And he threatened them violently [πολλὰ ἐπετίμα] that they should not make him known [cause him to be revealed].

2) Prohibitions referring to (other) miracles

1:43-45 (The leper): 43. And he fiercely prevailed upon him (ἐμβριμησάμενος) [this word — "snort" — connotes anger, indignation, strong displeasure] and immediately drove him out. 44. telling to him: Take heed (ὅρα) that you tell no one the slightest thing, but rather (ἀλλὰ) go and show yourself to the priest and offer for your cleansing, what Moses commanded [i.e., the sacrifices enumerated in Lev. 14], as a testimony to them. 45. He went out, however, and began to proclaim it, eager to make the event famous . . .

5:43 (Jairus' daughter): And he commanded them urgently [desperately] that nobody should discover it . . .

Cf. v. 37: And he allowed no one to go in with him except Peter and James and John, the brother of James . . . v. 40: But after putting them all outside, he took the father of the child and the mother and his companions, and entered in where the child was.

7:36 (The deaf-mutes): And he commanded them to tell no one, but the more he ordered them, the more zealously (μᾶλλον περισσότερον) they proclaimed it.

Cf. v. 33: And he took him aside away from the crowd and put his fingers in his ears . . .

8:26 (The blind man from Bethsaida): And he sent him back home and said, "Do not go into the village (v. 1 and talk to no one in the village)."

(Wrede's Note: Along with other variations. In any case, it's the correct explanation [i.e., take the long way home, avoid seeing anyone, don't talk to anyone, etc.].)

Cf. v.23: And he took the blind man by the hand and led him out of the village and spit in his eye . . .

3) Prohibitions after Peter's confession

8:30 (Immediately after the confession): And he threatened them that they should tell no one about him.

9:9 (After the Transfiguration): And as they came down from the mountain, he ordered them to tell no one what they had seen, except when the Son of Man has risen from the dead.

Cf. v. 2, 3: 2. And after six days, Jesus took Peter and James and John apart from the others (κατ' ἰδίαν), alone (μόνους), and led them up a high mountain. 3. And he was transfigured before them . . .

4) The intent to maintain his incognito

7:24: From there he left and moved to the region of Tyre. And as he entered into a house, he wanted no man to know, and he could not remain hidden [concealed].

9:30f.: 30. And they went on from there and stole down around Galilee, and he did not want anyone to find out.

(Wrede's note: Certainly this is translated a little too strongly, but "παραπορεύομαι" is close to that effect. [Note: Some texts — e.g., Westcott and Hort — have ἐπορεύοντο instead of παραπορεύομαι. Wrede believed that the "para-" prefix in the verb proves that that Mark meant that Jesus and Co. went around and did not pass through Galilee. The translator of the English edition, J.C.G. Greig, claims that Wrede is quibbling.] They went alongside without actually visiting the (occupied) land. Cf. Volkmar as well as Fritzsche ad loc. The appearance ἐπορεύοντο in the manuscript record — B* D a c f — is certainly not original.)

31. For he taught his disciples and said to them: The Son of Man will be delivered over . . .

5) A prohibition to speak which did not originate with Jesus

10:47f.: (The blind man from Jericho): 47. And when he heard that Jesus of Nazareth was there, he began to shout: Son of David, Jesus, have mercy on me. 48. And the crowd threatened him that he should remain silent . . .
I provided my own translation above in order to restore some of the pungency that is missing from the 1971 English treatment. Most translations of Mark tend to soften Jesus' acerbic speech. Wrede correctly points out the harshness of Jesus' prohibitions. He doesn't just ask people to keep quiet; he threatens them.
Two characteristics of the prohibitions
Wrede notes that the commands are remarkably similar, which is in itself evidence that a single purpose underlies these sharp rebukes. Two features of the commands stand in stark relief.
"The commands are sharp and definite." It is hard to overstate how rough, stringent, and emphatic these commands are. Mark even hints at Jesus being angry, especially after healing the leper. Wrede writes, "I simply don't in the slightest believe that it is to be explained from the peculiar circumstances of this story, as has been previously attempted." He would no doubt be amused that conservative scholars are still trying to find peculiar historical circumstances to explain away Jesus' behavior. (See p. 37 of the English translation.)

"Nowhere is a motive expressed for these instructions." Let that sink in for a minute. Mark never explains why Jesus practically shouts at people to "Shut up!" Wrede reminds us that there are as many explanations for Jesus' reprimands as there are scholars who invent them. "This does not exclude the possibility that one of them is the right one," writes Wrede, "but it can also mean that no understanding at all has been arrived at."
Certainly any explanation of the commands to secrecy and the continual secretive behavior of Jesus in the gospel of Mark must address these two prominent, undeniable characteristics. Moreover, Wrede insists that the stereotyped admonitions along with the lack of explicit motivation points to a unified determining factor. Here, in a nutshell, is how Wrede frames the argument:
First and foremost it must be reckoned extremely probable that all of the various commands in Mark have the same sense. For every disinterested reader this is the first impression. The continuous repetition of the feature is by itself enough to press this upon one, but the lack of motivation intensifies it. (p. 37, emphasis mine)
In future posts, we will see the ways in which later well-respected scholars (who have the good fortune to see their books remain in print at popular prices) will try to dismember the Messianic Secret motif by splitting apart Wrede's "unified field theory." I will continue to draw your attention to the "stereotyped features" above and ask how these new, alternative explanations (whether they be historical, literary, or cultural) address them, for that, I contend, is where they fail.
The following two tabs change content below.
Tim Widowfield
Tim is a retired vagabond who lives with his wife and multiple cats in a 20-year-old motor home. To read more about Tim, see our
About page.
Latest posts by Tim Widowfield (see all)
---
If you enjoyed this post, please consider donating to Vridar. Thanks!
---