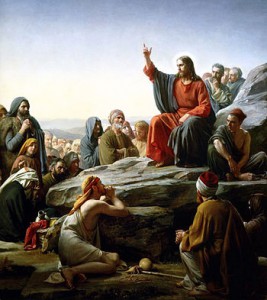 At Ed Jones' urging, a few of months ago I purchased Essays on the Sermon on the Mount, a collection of papers by Hans Dieter Betz. While reading chapter 4, "A Jewish-Christian Cultic Didache in Matt. 6:1-18: Reflections and Questions on the Historical Jesus" (p. 55), I was alerted to Norman Perrin's Rediscovering the Teaching of Jesus. Betz cites this book as a landmark work in the quest to determine the authenticity of Jesus' sayings.
I started reading Perrin's book and came upon a citation of T.W. Manson's The Sayings of Jesus, which I naturally had to order. Perrin praises this work despite Manson's denial of form criticism, which surely hobbled his efforts (or at least led him to untenable conclusions). Manson's book will no doubt lead me to other sources. And so it goes.
I promised Ed I'd have something to say about Betz, the Sermon on the Mount, and the historical Jesus. That's what this post is about.
The mini-didache in Matthew
Betz's essay analyzes a series of complex and intricately structured teachings of Jesus found in Matthew's Sermon on the Mount. We should resist calling this set of instructions a group of "sayings"; Betz shows the intricate, multilayered framework indicates a fairly long literary phase between the written gospel and the (presumed) oral tradition. For example, we can clearly see the difference between an early set of instructions (Matt. 6:1-6) that appear to conform well to Judaism and a later insertion (Matt. 6:7-15) that appears to have come from the Jewish Diaspora.
Betz demonstrates the difference by painstakingly examining the structure of what he calls a didache, using the title of a well-known work from early Christianity. He cites Rudolf Bultmann, who commented that these "rules of piety" resemble a church catechism. At first glance, it may seem as if they're a series of simple "don't do that — do this" rules, but they're far more complex than that.
Continue reading "Hans Dieter Betz and Norman Perrin: The Sermon on the Mount and the Historical Jesus"