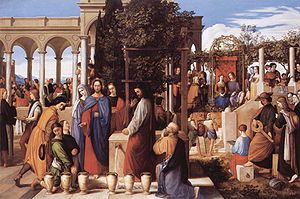 A Gospel without Parables?
We all know the standard line: the synoptic evangelists tell us that Jesus' ministry heavily relied on parables, while the Fourth Gospel contains none. It's a striking conundrum. However, for a long time now I've been considering the possibility that John is itself entirely a parable gospel.
That is to say, each pericope may stand primarily as an allegorical story, regardless of whether it is based on historical events. The story of Jesus changing the water into wine, for example, seems to contain so many obvious references — narrative points and objects that have direct theological allusions — that resemble the parables in the other gospels.
Rudolf Bultmann in The Gospel of John: A Commentary (1971, pp. 114-121) counsels us not to overstate the significance of the water as referring to baptism, blood, or the new covenant. On the other hand, F.F. Bruce writes:
Jesus' action was, in C. S. Lewis's terminology, a 'miracle of the old creation': the Creator who, year by year, turns water into wine, so to speak, by a natural process, on this occasion speeds up the process and attains the same end. But if it is a miracle of the old creation, it is a parable of the new creation. (p. 45, The Gospel of John: Introduction, Exposition, Notes, emphasis mine)
John as "Megaparable"
If Bultmann gave us a red light, Bruce at least changed that light to amber. Earlier this year in The Power of Parable, John Dominic Crossan changed it to full-on green. He subtitles chapter 10: "The Parable Gospel according to John," writing:
John interprets all the physical or restorative miracles of Jesus as symbolic of what God is in Jesus rather than of what God does in Jesus. Look back, for example, at John 4 and note how physical drinking in 4:7-15 and physical eating in 4:31-38 become spiritual symbols of Jesus. Or, again, do you really think that Cana was just about wine? (Kindle location 3748, bolding mine)
Continue reading "John's Wedding at Cana — Chronicle or Parable?"