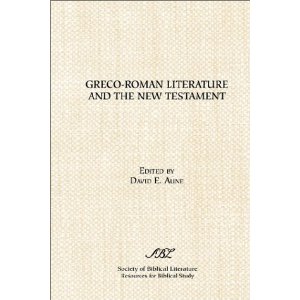 A week ago I posted thoughts from a chapter by Ronald Hock, Why New Testament Scholars Should Read Ancient Novels. This post is based on an earlier article by Hock ("The Greek Novel", a chapter in Greco-Roman Literature and the New Testament, edited by David E. Aune) and looks at many more ways novels can offer us "real-life" glimpses into the world of the New Testament.
That last post was a slap-dash effort. This post provides more illustrations of the way these novels can throw light on both the Gospels and letters of Paul; it concludes with a special focus on the Philippian Hymn in which Christ was abased in order to be exalted above all creation. Further, this time I'm less rushed and have had time to quote passages from the novels themselves.
Hock first explains the point of comparing popular Greek romances with New Testament literature:
The number and variety of parallels between the Greek novels and early Christian literature are legion. The following sampling of these parallels only hints therefore at what a thorough investigation of this genre might accomplish . . . .

Ronald Hock

But first a word of justification: The evidence for earliest Christianity is too fragmentary and culturally alien to be fully understood without recourse to a clarifying and complementary set of roughly contemporary evidence. Typically, however, scholars have sought this evidence largely in Jewish sources; seldom has any scholar looked at the evidence of the novels. But whatever the Jewish roots of Christianity, the earliest Christians lived in a traditional culture and specifically that of the Hellenized oikoumene of the early Roman Empire. The novels, products of this oikoumene, often set their action precisely where Christianity first took root and flourished: Barnabas' Antioch, Paul's Tarsus, John's Ephesus, Mark's Alexandria, Polycarp's Smyrna.

But the point of comparison is not mere propinquity, for the novels provide an extensive, concrete, and coherent account of the traditional culture of the New Testament world. It is the novels' very comprehensiveness — their documenting the habits of thought and action that regulated life in the cities, agricultural areas, and outlying wilderness areas — that justifies their use for interpreting the parallel, but briefer, accounts in the New Testament and other early Christian literature. (p. 139, my emphasis and formatting)
Hock, for space reasons, restricts his parallels to the Gospels and letters of Paul. He compares only novels dated to the first and second centuries.
To depart from Hock for a moment and intrude with my own comments: The examples here are only a smattering of what one recognizes when reading the novels for oneself. The novels are also an especially potent cure for anyone who has the notion that peoples in days before Christianity were somehow especially morally depraved. They are a great invitation to meet our ancestors and to see how like us they were, how humans are not only the same the world over, but the same through the ages. Continue reading "Greek Novels Casting Light On New Testament: Part 2 of "Why NT Scholars Should Read Ancient Novels""