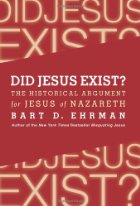 This second post addresses the opening pages of Ehrman's first chapter. It continues from the last words of the first installment.
Here Doherty examines
Ehrman's appeal to Schweitzer and the problems faced by both Schweitzer and Ehrman
The logical improbability of Ehrman's reconstruction of an historical Jesus
Ehrman's appeal to pre-Gospel sources and his failure to notice the problems that will have for his own reconstruction
Ehrman's treatment of the history of mythicism and the contradiction his observations present for common claims about mythicism among mainstream scholars
*  *  *  *  *
.
"But as a historian I think evidence matters," says Ehrman. Let's see how he handles evidence, and those who interpret that evidence in a different way.
.
Chapter 1: An Introduction to the Mythical View of Jesus
.
Ehrman begins by quoting the great Albert Schweitzer. On the one hand, says Schweitzer:
There is nothing more negative than the result of the critical study of the life of Jesus. The Jesus of Nazareth who came forward publicly as the Messiah, who preached the ethic of the Kingdom of God, who founded the Kingdom of heaven upon earth, and died to give his work its final consecration, never had any existence.
On the other hand, says Ehrman,
toward the end of his book he [Schweitzer] showed who Jesus really was, in his own considered judgment. For Schweitzer, Jesus was an apocalyptic prophet who anticipated the imminent end of history as we know it.
This of course is a "judgment" dear to Ehrman's heart, because he himself subscribes to it and has written a book advocating such a picture of Jesus. It is a mantra in New Testament scholarship these days, in agreement with Schweitzer a century ago, that immense difficulties abound in the effort to unearth the real historical man from beneath the Christ of faith. And yet scholar after scholar, from Schweitzer and before him to Ehrman and no doubt after him, can claim that they have done so, and have usually disagreed with each other on what the result is. Both Ehrman and Schweitzer can acknowledge the difficulty of getting beyond the faith literature—Ehrman and more modern scholarship have benefited from the realization that there is no "history remembered" in the Gospels, and that virtually all of it is midrashic construction out of scripture—and yet both declare certainty in their knowledge that the Jesus character (whatever he was) did indeed exist.
Schweitzer and Ehrman importing the Gospels into the epistles
On what is that certainty based? We will look at Ehrman's own justification for it as we go along, but perhaps we might ask a few questions ahead of time. Did either Ehrman or Schweitzer take off their Gospel-colored glasses as they studied the epistles? Jesus was an apocalyptic prophet, they say. Paul and most of the other epistle writers were engaged in the same activity, prophesying the impending arrival (not return) of the Son Christ Jesus at the imminent End-time. Did either of them notice that Paul and the others never once refer to their Jesus as having been a prophet on earth foretelling the very same thing? (See later about mainstream scholarly interpretation of Paul's "words of the Lord" in regard to 1 Thess. 4:15.) Did they not consider it reasonable that we should expect Paul to place himself in Jesus' line, to appeal to the Son on earth as having begun the prophetic process, to validate his own preaching by pointing to its divine predecessor?
Those who dismiss the argument from silence under any circumstances, no matter how compelling the unfulfilled expectation, are invited to turn to Romans 8:22-3:
Up to the present, we know, the whole created universe groans in all its parts as if in the pangs of childbirth. Not only so, but even we, to whom the Spirit is given as firstfruits of the harvest to come, are groaning inwardly while we wait for God to make us his sons and set our whole body free. [NEB]
Paul is looking ahead to the End-time and he is encouraging his readers to have faith that it is coming. "Up until the present" refers to the past, with its promises of the future birth of the new age. But where is the promise as embodied in Jesus' own prophetic teaching? What have been the firstfruits of the harvest to come? Solely the Spirit, God's revelation and gospel found in scripture about the Son. This is the only thing the epistle writers ever appeal to, never the preaching of such promises by the Son on earth. This is not a simple silence, it is an exclusion of any such earthly preaching Son. Both Schweitzer and Ehrman are importing the Gospels into the epistles.
What of Titus 1:3?
Yes, it is eternal life that God, who cannot lie, promised long ages ago, and now in his own good time he has openly declared himself in the proclamation which was entrusted to me by ordinance of God our Savior. [NEB]
As I say in Jesus: Neither God Nor Man (p.39),
"There is not a crack in this facade where Jesus could gain a foothold. In the past lie God's promises of eternal life, and the first action on those promises is the present revelation by God to apostles like Paul who have gone out to deliver the message. Jesus' own proclamation of eternal life, or whatever he may have proclaimed, has evaporated into the wind. Here is a prime example of the very exclusion of a human, historical Jesus."
Paul allots to himself "the ministry of reconciliation" (2 Cor. 5:18-19). God has qualified him "to dispense the new covenant" (2 Cor. 3:5). A role for Jesus here is non-existent; it is de facto excluded.
Ehrman's bizarre reconstruction of Jesus
Might Ehrman claim that the historical Jesus was solely an apocalyptic prophet and therefore had nothing to say about eternal life and new covenants? What kind of bizarre situation would that create? That a Jewish rebel who had nothing more profound to say than that the apocalypse was upon us and to rise up against the Roman overlords (a message preached by all manner of Zealots and would-be messiahs, most of whom were also slaughtered) was nevertheless turned into a part of God who had risen from his grave and redeemed the world's sins? That a whole group of apostles who preached the supposed return from heaven of this apocalyptic prophet, along with promises of eternal life and new covenants with God, would never once 'read back' their preaching into that of his, never make him into a precursor to their own activities and teachings, never appeal to his authority and their own connections to him? That would show a woeful ignorance of how sects work, let alone of human nature.
I'm mentioning here only a smattering of the passages in the epistles which provide us with compelling indication that their writers place no historical Jesus in their own past. 2 Cor. 5:5 tells us that as a guarantee of "life immortal," God has sent "the Spirit," not Jesus. There is no post-Jesus world evident in Romans 13:11-12 or 1 Cor. 10:11. More will crop up later, such as Hebrews 8:4 which tells us in no uncertain terms that Jesus had never been on earth; or its 10:37 which promises that "the one who is to come" (a prophecy which later Gospel-based Christianity universally applied to the incarnation, not the Parousia) will come, and soon. All of this and much more both Ehrman and Schweitzer have failed to take into account. Their a priori convictions that a Jesus existed have screened it out for them.
Ehrman's own "primary sources" are his lurking iceberg
Ehrman declares:
I agree with Schweitzer's overarching view, that Jesus is best understood as a Jewish prophet who anticipated a cataclysmic break in history in the very near future, when God would destroy the forces of evil to bring in his own kingdom here on earth. (p. 14, DJE?)
Now, Ehrman is one of that majority of scholars who subscribes to the existence of a Q document (as do I), though I cannot say with how much of the detailed analysis of it he agrees. But if he assumes, as many critical scholars studying Q these days do, that the so-called "Wisdom" stratum—labelled Q1—represents the earliest and most reliable material as belonging to the "genuine" preaching Jesus, he ought to be aware that the content of such a stratum contradicts his contention above. For Q1 has virtually nothing to say of an apocalyptic nature, it contains no prophetic sayings, no mention of the Son of Man as a future judge, no break-up of the world or history. In fact, there is very little if anything of a specifically and exclusively Jewish nature at all. And yet, as we shall see later in his book, Ehrman appeals to alleged early pre-Gospel sources containing not only reliable information about Jesus and his teachings, it supposedly concerns Jewish interests and can even be confidently declared as having existed in the Aramaic language. Q is obviously front-row-center in Ehrman's body of 'early witness.'
He should also be aware that the way Q is analyzed these days, the prophetic/apocalyptic stratum of Q—labelled Q2—is generally regarded as a later development, a later addition to the evolving collection. Now, one can admit that this "compositional history" does not have to coincide with "tradition history," in that some Q2 sayings may go back as early as the Q1 sayings even if not recorded at the same time as those Q1 sayings. But this idea and rationalization has serious problems, which we can get to later. I just want to warn the reader that everything is not so nice and tidy as Ehrman presents it, and that icebergs lie in wait.
Two histories
Ehrman provides a fairly competent summary of the history of the mythicist 'movement' over the centuries, which is a bit surprising, given that he admitted only recently to even becoming aware that such a thing existed. Perhaps he sourced it from somewhere else. However, he left out my own and others' favorite from the 1920s, Pierre-Louis Couchoud. In the modern period, he brings in G. A. Wells, Robert M. Price, Frank Zindler, Richard Carrier, and Thomas L. Thompson (Acharya S and Timothy Freke/Peter Gandy he discusses only to dismiss). And he did have the good grace to work in reference to myself as someone
seen by many as the leading representative of the view in the modern period. By his own admission, Doherty does not have any advanced degrees in biblical studies or any related field. But he does have an undergraduate degree in classics [actually, my degree is a combined one of classics and history], and his books show that he has read widely and has a good deal of knowledge at his disposal, quite admirable for someone who is, in his own view, an amateur in the field. (p. 17, DJE?)
How he handles my views and arguments, especially in Jesus: Neither God Nor Man, will be seen later.
That history Ehrman supplements with another 'history', that of mythicists and their books being ignored or summarily dismissed by mainstream scholars. One of these, John Meier is quoted as saying, a single sentence in a four-volume work on the historical Jesus:
"[G. A.] Wells's book, which builds its arguments on these and similar unsubstantiated claims, may be allowed to stand as a representative of the whole type of popular Jesus book that I do not bother to consider in detail." (p. 20, DJE?)

This situation seems to stand in contradiction to the common claim, almost a mantra among historicists, that mainstream scholarship has long addressed the mythicist case and thoroughly demolished it. It's difficult to see "demolition" in the comment by Meier, or in any of the other books which Ehrman mentions as ignoring or dismissing those who theorize that Jesus never existed. For a comprehensive examination of the refutation of mythicism since the beginning of the 20th century, see my 3-part website article "Alleged Refutations of Jesus Mythicism" beginning at: http://www.jesuspuzzle.humanists.net/CritiquesRefut1.htm
To be continued . . . .
The following two tabs change content below.
Latest posts by Earl Doherty (see all)
---
If you enjoyed this post, please consider donating to Vridar. Thanks!
---