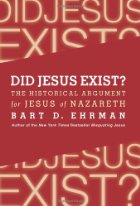 This is the first installment in a comprehensive response by Earl Doherty to Bart Ehrman's Did Jesus Exist? We plan on publishing one or two installments per week. Upon completion, the full series will be converted to an e-book and made available on Amazon Kindle.
Earl Doherty's response (title yet to be finalized) will essentially follow Ehrman's book section by section. In this opening post he covers:
Anticipation of Ehrman's book and initial reaction to it
Procedure in this rebuttal
Ehrman's Introduction:

How did a humble non-divine preacher become God?
Problems with Ehrman's answer
His recent discovery of mythicism and an appeal to authority
Examining the term "myth" and a "mythical Jesus" in the record
Calling on experts
Demonizing agendas
* * * * *
.
A Response to Bart Ehrman's Case Against Mythicism
.
Bart Ehrman's Did Jesus Exist? has been long-awaited.
First, this particular book was announced over a year before its publication and became much anticipated. As he says in his Introduction, Ehrman had increasingly found himself subjected to queries and challenges concerning the growing idea that there had never been an historical Jesus, and that the Christian story of such a figure was entirely fiction, allegory, or mythology based on other mythological precedents; that earliest Christ belief related only to a heavenly entity who had never been on earth. And so Ehrman decided to devote himself to making a definitive case for the historical Jesus and lay so-called "Jesus mythicism" to rest.
Second, it has been almost a century since any mainstream New Testament scholar devoted an entire and substantial book to refuting the theory that Jesus never existed, a theory that is now some two centuries old, championed over that time by often reputable scholars outside the mainstream. Occasionally, shorter attempts at refutation have appeared within other books by various mainstream academics. But a new and comprehensive case against mythicism was not to be had, despite a resurgence of the no-Jesus theory in the last two decades due to renewed attention generated on the Internet and a general broadening of the 'critical' element in traditional scholarship since the Jesus Seminar. Bart Ehrman's book, it was anticipated, would fill that bill and hopefully move toward settling the question once and for all.
The unanticipated
What no one would have anticipated, however, was the extent of the furor and negative review of the book within the days and weeks after its publication. The quality and legitimacy of Ehrman's case has been questioned and condemned by many on blogs and discussion boards across the Internet, by amateurs and professionals alike. The latter, thus far, do not include established scholars from mainstream academia, whether conservative or liberal; they have so far kept quiet. But many from outside the establishment who possess qualifications and knowledge more than sufficient to judge Ehrman's case (and that includes many of those technically referred to as "amateurs") have roundly reproached the failings of Ehrman's case and his less-than-objective treatment of mythicism and mythicists.
The procedure of this rebuttal
The procedure I have adopted in this rebuttal will be one of moving along with Ehrman's text, making a section by section commentary. I will at times quote him, at times paraphrase. I think it is best to dig down in this way to uncover and address not only the nitty-gritty arguments (when such have been provided), but to uncover something about the assumptions and thought processes behind the arguments to evaluate their legitimacy. Ehrman has produced a book addressing the HJ/MJ debate which, more than any other perhaps, reveals it to be not just an academic one, but a highly-charged emotional and personal one, something that has become clear to me over my years of participation on discussion boards, encountering strong viewpoints on both sides. Rules and methodology, treatment of counter-opinions, principles of objectivity in evaluating evidence and drawing conclusions, everything in this discipline places it in its own category from any other in the field of historical research, let alone of scientific investigation generally. To ignore or pretend that such a dimension does not exist, or that today's religious culture is not facing a 'clash of titans' between the two stances on the origin of Christianity, would be extremely short-sighted. Ehrman entered this ring confident that his opponent would be a pushover, the match a knockout in one or two rounds (and that low blows were permissible), but he did so having neglected sufficient training or investigation of his opponent's abilities and techniques. He also failed to anticipate how a crowd can easily turn at the first sign of weakness.
In many cases, I will include at given points definite arguments (in varying degree of detail) to back up my observations and criticisms of Ehrman, though in other cases those will be left until later points in the book when the same topic comes up in more specific fashion. In some cases, I will regard certain pertinent counter-arguments as fairly well-known to the reader already and needing perhaps only an allusion to. But to include all possible argumentation in favor of mythicism and against Ehrman's positions would be to rewrite my previous books.
*
.
Introduction
.
The major perplexity: How did a humble non-divine preacher become God?

Ehrman begins his book with this traditional question that has exercised modern New Testament scholarship from its beginnings:
For the past several years I have been planning to write a book about how Jesus became God. How is it that a scarcely known, itinerant preacher from the rural backwaters of a remote part of the empire, a Jewish prophet who predicted that the end of the world as we know it was soon to come, who angered the powerful religious and civic leaders of Judea and as a result was crucified for sedition against the state—how is it that within a century of his death, people were calling this little-known Jewish peasant God? Saying in fact that he was a divine being who existed before the world began, that he had created the universe, and that he was equal with God Almighty himself? How did Jesus come to be deified, worshipped as the Lord and Creator of all? (p. 1, DJE?)
Stated this way, Ehrman has revealed that historicism is not a slam-dunk. It involves at its heart a major perplexity that is not easily resolved, a fact which calls into question the wisdom of such cavalier and haughty dismissal as that which the mainstream bestows upon mythicism. One of the major failings of historicism has been its inability to provide a coherent answer to the above question. Unapologetic apologists fall back on the claim that this is only explainable by an actual event: the historical resurrection of the crucified Jesus from his tomb. Ehrman and many of today's critical scholars do not allow themselves such an explanation. But there are problems with Ehrman's question and the answers which scholars like himself think to provide for it.
One is that it was far sooner than "within a century of his death" that an alleged Jewish peasant was called God. In fact, it was virtually immediately. In the epistles widely considered authentic to Paul, as well as in liturgical passages ("Christological hymns") identified within them as pre-Pauline, Jesus is clearly identified as a part/emanation of God, as possessing divine roles and attributes, as deserving of titles such as "Lord" previously reserved for God alone. The same situation is found in epistles written not too long after Paul's passing, as well as in the Epistle to the Hebrews, which undoubtedly precedes the Jewish War of 66-70 and might even be earlier (except for an added ending) than Paul himself.
Ehrman downplays and misdirects the problem
Ehrman has also softened the problem by not specifically referring to the "people" who came to call Jesus God as "Jews." This would have pointed up the problem even more sharply, postulating that Jews who traditionally had a horror of identifying anything human with God or even portraying him in any human way, were nevertheless converted in significant numbers to such an identification of Jesus of Nazareth. The early record in the epistles makes it quite clear that such a blasphemy would have been embraced by Jews, not just by gentiles—if in fact the object of their identification and worship was a man who had lived on earth.
Happily, Ehrman does not subscribe to a common ploy in some critical scholarship which maintains that the earliest followers of Jesus did not consider him divine, and would have used the title "son of God" only in the biblical sense of one who had a special relationship with God and was highly regarded and rewarded by him, somewhat as Moses' relationship with God would have been seen. This reduced status for Jesus is not supported by the epistles, except by doing great violence to the texts and their interpretation.
On the other hand, Ehrman's description of Jesus in his opening paragraph above is entirely based on the Gospels (and to some extent on a source for them, in Q), and has no basis in Paul or any other epistle writer. They never identify their Christ Jesus as "an itinerant preacher from the rural backwaters of a remote part of the empire, a Jewish prophet who predicted that the end of the world as we know it was soon to come, who angered the powerful religious and civic leaders of Judea and as a result was crucified for sedition against the state." Nothing remotely like it. (I might note here that for this reason alone, though there are others, it becomes dubious to try to identify all the Paulines as second-century forgeries, essentially following the Gospels and in some part dependent on them.)
Ehrman's surprise
Ehrman then goes on to discuss his own introduction to the whole phenomenon of mythicism and makes this admission:
I discovered, to my surprise, an entire body of literature devoted to the question of whether or not there ever was a real man, Jesus. (p. 2, DJE?)
It comes as some surprise that a scholar with the high profile of a Bart Ehrman could have been virtually ignorant until very recently of this minority position in the history of scholarly study of the New Testament. In his own lifetime, the books of G. A. Wells alone gained a lot of attention in the 1970s and 1980s (certainly fellow scholars like Graham Stanton, R. G. France, Robert Van Voorst devoted some space in books to refuting Wells), and since the late 1990s a spate of books has steadily appeared promoting or related to the question, from Robert Price to Alvar Ellegård to several like myself who, despite being deemed unworthy to put pen to paper, nevertheless gained much exposure on the internet scene, and even among some mainstream scholars who were curious or courageous enough to poke their heads out of the insulated hothouse of hallowed academia. Nor, apparently, did Ehrman ever investigate the historical phenomenon of the early 20th century History of Religions School, elements of which created a fair amount of buzz in its day over the question of Jesus' existence.
Ehrman's bluster
My point here is that, even in the face of this ignorance, when met by this flood of interest in a subject and body of literature about which he admits he knew virtually nothing, Ehrman immediately considered himself a prime candidate to address and rebut it, and promptly announced a forthcoming book. It was not on the basis of being familiar with the field and knowing already that he had a body of rebuttal available as a reliable counter to it, not even on the basis of being familiar with prior rebuttals by scholars past and present from whom he could have drawn. Nor did he wait to actually read up on the work of various mythicists before deciding that he could tackle the task. Not knowing the depth or temperature of the waters, he seems to have simply pinched his nose and jumped in. We get a picture of a frantic reading (skimming?) of various examples of the literature, including my 800-page Jesus: Neither God Nor Man, and finding that he either had to sink or swim. To judge by early comment and dissection of Did Jesus Exist? by competent and knowledgeable investigators of Christian origins, even if largely outside academia's hallowed halls, Bart Ehrman has struck an iceberg.
Ehrman's thinly disguised appeal to authority
Ehrman brings up the fact that none of the writers of mythicist literature are "scholars trained in New Testament or early Christian studies teaching at the major, or even the minor, accredited theological seminaries, divinity schools, universities, or colleges of North America or Europe (or anywhere else in the world)." This is a thinly-disguised appeal to authority, with those authorities defined within a context which would have the least likelihood of ever coming to agree with an outside body of literature so at odds with their own work (often involving confessional interests), let alone of ever choosing to objectively investigate the question themselves. On the other hand, Ehrman does bring himself to acknowledge that some of that body of literature is "highly intelligent and well-informed." We will see what that amounts to in his actual treatment of the mythicist case.
What is myth?
Ehrman complains in passing about the use and potential ambiguity or wooliness of the term "myth" as in "Jesus was a myth." I partly sympathize and do not recall that I have ever used that phrase. At the least, it ought to be "Jesus was originally a mythical figure"; we can speak of the "mythical Jesus." In the context of ancient religious thinking and cosmology, the use of the term in this way ought not to be woolly or misleading, and quite understandable. A "mythical" entity refers to a figure who exists in popular or philosophical thought and religious belief, who is accorded reality within a spiritual or supernatural dimension (or in some cases, in a primordial distant past). The Son of Man expected as an End-time judge is such a "mythical figure," or the Gnostic redeemer in documents like The Paraphrase of Shem or the Apocalypse of Adam. It is in such a fashion that we can interpret Paul's Christ Jesus or the Son in the Ascension of Isaiah who descended through the layers of heaven and was hung on a tree by the evil spirits of the firmament. The one who shared God's nature yet took on the likeness of a human to undergo death and exaltation was celebrated in the hymn of Philippians 2:6-11, as he was in 1 Timothy 3:16, or praised as God's very image and sustainer of the universe in Hebrews 1:2-3 and Colossians 1:15-20, all with no identification with any incarnated historical human.
I would also agree with Ehrman not to style the Gospel story as a "myth." That story did not arise out of the same processes as the myths of Attis or Osiris, though elements introduced into them may have been inspired by common mythemes in the traditions of the times attached to savior gods or famous historical figures. "Allegory" or "symbolism" are perhaps the closest terms we could use to style the Gospels, some of it representing sectarian faith and practice in the earthly world, some of it meant to convey new spiritual truths envisioned by the sect, including the processes of salvation taking place in the mythical world.
Calling on experts: What would your dentist say about all this?
After admitting that a near-unanimous opinion about something by every expert in the field does not automatically bestow truth on that opinion (after all, didn't every expert astronomer in the ancient world, with the odd notable dissenter, judge that the universe was earth-centered, and didn't most expert physicians up to a couple of centuries ago in the western world have a practice of bleeding sick patients to rid them of harmful humors?), Ehrman then offers us invalid analogies to urge us to accept the work of past experts in New Testament interpretation:
When you make a dental appointment, do you want your dentist to be an expert or not? If you build a house, do you want a professional architect or your next-door neighbor to draw up the plans? (p. 4, DJE?)
Well, it is one thing to want to use the services of an expert craftsman or surgeon, it is another to be expected to automatically trust the judgment and conclusions of a student of a given belief system or historical process, especially if confessional interests have traditionally been involved. Ehrman does recognize a difference, but then counters it by suggesting that experts in the field of historical research, and in this case of Christian origins, have been properly trained to acquire and use that expertise: the study of ancient languages, the ins and outs of ancient texts and manuscripts, a grounding in the background cultures and philosophies of the time. Of course these are relevant, they are in great part indispensable. An adequate preparation for mythicist writers needs to be a working knowledge of Greek and Latin. Coptic, on the other hand, to study the question of Jesus' existence, is probably dispensable. Hebrew and Syriac are certainly helpful, though in some cases the careful researcher who cannot work with languages like these can refer to scholars who do. (Sometimes self-training can help solve a deficiency. I myself studied the basics of Hebrew and Syriac on my own, the latter to get as much as I could out of the Odes of Solomon.)
We know there is something amiss
More importantly, it is not simply training in certain expertises which determines who can be trusted to come up with reliable conclusions, especially in a field like this. If that were so, then New Testament scholarship as a body would long since have solved the taxing problem of separating out the genuine "historical Jesus" from the Jesus of faith. Scholars are no closer to a solution there, let alone anything resembling unanimity, than ever. Criteria for making judgments about a text and its veracity come and go. Those sworn by in one generation to arrive at a picture of what a real Jesus said and did are exposed as fallacious and rejected by the next. And when one particular type of interpretive theory with legs enough to last for two centuries and counting is vilified and rejected out of hand in clearly subjective and biased fashion, we know that there is something amiss in the self-lauded scholarship of its detractors. Ehrman's application of the phrase "conspiracy theorists" to mythicists in general, and his equation of mythicism to Holocaust and moon-landing denial and those who believe in a 'second shooter' bear witness to everything I've just said. (Nor do I believe that Dick Cheney orchestrated 9/11.)
Demonising
No scholarship worth its name demonizes those who disagree with it. Ehrman, in a Huffington Post article promoting his new book, openly accused mythicists of having a personal "agenda" to destroy Christianity, rendering them devious, dishonest and some kind of devil's spawn. He repeats the same sentiment, somewhat more muted, at the close of his Introduction:
Jesus existed, and those vocal persons who deny it do so not because they have considered the evidence with the dispassionate eye of the historian, but because they have some other agenda that this denial serves.
When one has recourse to this sort of rejoinder—and it's a common one—to deal with an opposing viewpoint, one only demonstrates that the cupboard is bare and the integrity bankrupt. One wonders, if Ehrman had lived in the 17th century, would he have accused Galileo of having an "agenda" against the Christian Church for maintaining that we live in a sun-centered universe, thereby demonstrating the falsity of the Bible and the folly of the Church for presenting an earth-centered one.
*
"But as a historian I think evidence matters," says Ehrman. Let's see how he handles evidence, and those who interpret that evidence in a different way.
To be continued . . . .
The following two tabs change content below.
Latest posts by Earl Doherty (see all)
---
If you enjoyed this post, please consider donating to Vridar. Thanks!
---