*
Earl Doherty's Response to Bart Ehrman's Case Against Mythicism – Pt.5
A Roman Trio
COVERED IN THIS POST:
Pliny the Younger – Letter to Trajan

Information taken from Christians
Is "Christ" a man or only a god?
"Christo quasi deo" – "as" or "as if"?
Ancient quotes have no "quasi"

Suetonius – Life of Claudius

"Chrestus" and the expulsion of Jews
Misleading translation
Paul and Acts

Tacitus – Annals 15

"Christ" but no "Jesus"
Tacitus' source: archive or hearsay?
"Procurator" vs. "Prefect"
The question of authenticity
No Christian witness to martyrdom for the Great Fire
No Roman witness after Tacitus
Sulpicius Severus (c.400) the first witness

.
* * * * *
Non-Christian References to Jesus
(Did Jesus Exist? pp. 50-56)
.
Pliny the Younger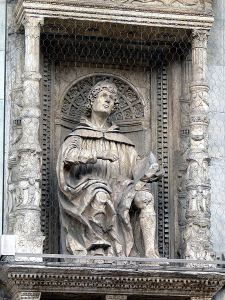 .
After this considerable amount of prefatory material, Ehrman finally arrives at his discussion of the non-Christian references to Jesus. He begins with Pliny the Younger and his famous letter to Trajan in the year 112 CE during his governorship of the province of Bithynia, making inquiries regarding the prosecution of Christians.
At the outset Ehrman admits that any information about Jesus that might be gleaned from Pliny could be seen as having been derived from the Christians themselves (indeed, this is a virtual certainty from what he says), and thus is of little if any value in establishing the historicity of Jesus. Nor does Pliny use the name "Jesus," referring to the Christian object of worship simply as "Christ."
The information Pliny has collected from the accused about the sect's activities is pretty innocuous:
A pre-dawn chant,
subscription to certain ethics and behavior,
assembling to "take food of an ordinary, harmless kind."
We might note that the latter does not suggest the Eucharist ceremony with its eating of the flesh and blood of Christ, whether god or man, and there is no reference to a crucifixion let alone an alleged resurrection.
As if!

But that pre-dawn chant: Pliny says it was "in honor of Christ as to a god [Christo quasi deo]." Continue reading "5. Earl Doherty's Response to Bart Ehrman's Case Against Mythicism: A Roman Trio"