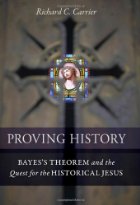 This post continues from my previous one in which I began my review of Richard Carrier's Proving History: Bayes's Theorem and the Quest for the Historical Jesus.
Chapter 2: The Basics
Here Carrier pauses before addressing Bayes' theorem in order to establish fundamentals that ought to be part of the basic mechanics of every historical enquiry.
The first subsection of the chapter is "Why History Requires Expertise". Carrier opens by listing three golden rules he always offers lay people who ask him what history they can trust:
Don't believe everything you read;
Always ask for the primary sources of a claim you find incredible;
Beware of scholars who make amazing claims but who are not experts in the period or even historians.
I have learned to extend #2 to "always ask for the primary sources of all claims — including the commonplace ones". Continue reading "Carrier's "Proving History", Chapter 2 — Review"