William Wrede's The Messianic Secret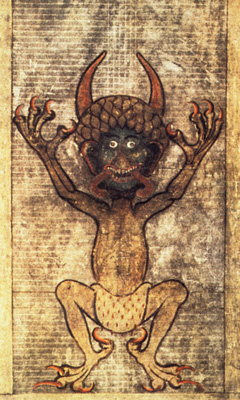 Part 5: "The Self-Concealment of the Messiah" — Demons
This unit begins Part 1, Section 2 of Wrede's The Messianic Secret.
Patterns of concealment or the "Shrouded Savior"
In this section Wrede lays out the various ways in which Jesus hides his true nature from the public, and at times even from his own disciples. It's worth mentioning again that the author of Mark and the readers of his gospel have no doubts about who Jesus is. The narrator tells us from the very start that he is the Christ, the beloved Son of God. However, Mark keeps us in suspense while we wonder at the inability of everyone around him to see the obvious.
"I know who you are!"
Now that Jesus has been possessed by the Holy Spirit (as Wrede puts it, "equipped with the pneuma"), the other actors in the supernatural dimension, the demons, become acutely aware of his presence. They tremble in fear for their lives. They beg not to be disturbed. It would seem they fear not just simple eviction, but that the Son of God's presence on earth signals the imminent eschaton, in which they will meet their doom.
While reading the gospel, we cannot help noticing that the exorcisms in Mark follow a recurring pattern. The presence of Jesus agitates them. They cry out to be left alone, often throwing the demoniac to the ground. Jesus commands them to be silent and casts them out. The ex-demoniac is cured and "in his right mind."
Why does Jesus order the demons to shut up?
The name of this section gives away the answer to that question. According to Wrede, Jesus commands their silence in order to keep the Messianic Secret. Is his conclusion justified? Craig A. Evans thinks not.
In, "How Mark Writes" (Chapter 7, The Written Gospel, 2005, Cambridge University Press), he explains that it's all a misunderstanding. What we need to understand, Evans explains, is that Mark was a clumsy writer and frequently misplaced his "γαρ (gar) clauses." The most famous example of this curious habit is in 16:3-4. I'll quote from Young's Literal Translation, so you get the full flavor of the misplaced γαρ clause.
3. and they said among themselves, 'Who shall roll away for us the stone out of the door of the sepulchre?' 
4. And having looked, they see that the stone hath been rolled away — for [γαρ] it was very great 
What is this supposed to mean? Was the stone rolled away because it was very great? No, the women were wondering who would help them get into the tomb because the stone that sealed the entrance was too large for them to move.
We have a similar problem, Evans claims, in 1:33-34. He writes:
1.34. 'He would not permit the demons to speak, for (gar) they knew him.' Mark 1.33-4 summarizes Jesus' healing activity in Capernaum: 'And he healed many who were sick with various diseases, and cast out many demons; and he would not permit the demons to speak, for they knew him.' The impression the evangelist gives is that perhaps Jesus perhaps would have allowed the demons to speak had they not known him. But this of course is nonsense. It is because the demons know who Jesus is that they speak. (p. 136)
Evans further explains that knowing the name of a demon gave an exorcist power over him. Conversely therefore, if a demon knew who the exorcist was, it might give the unclean spirit the upper hand. Given those ground rules, we can scarcely be surprised that Jesus forbids them to talk. He continues:
Accordingly, the point of the gar clause is that because the demons knew who Jesus was, they spoke; and they spoke in a desperate bid to thwart Jesus' attempts at exorcism. But Jesus had no intention of wrangling with these spirits, so he did not permit them to speak.
Recognition of Mark's misplaced gar clause in this case may well have implications for the so-called messianic secret motif in this Gospel. The point of Jesus' command was not to conceal his identity; it was to forbid them from arguing with him. (p. 137) [emphasis mine]
Is Evans right? Was Wrede barking up the wrong tree? Well, Dr Evans is certainly right about one thing: If his misplaced gar argument is correct, it does have dire implications for Wrede's thesis. Unfortunately for Evans, he is wrong on nearly every count.
Clause, but no see gar
It may seem like a minor point to quibble over, but we have to address the elephant that is not in the room. The explanatory clause in 1:34 begins with (hoti), not gar. As an amateur, I only have access to a few Koiné translations. According to the UBS, the Textus Receptus, Scrivener, Westcott-Hort, and Stephanus, this verse has no gar. I even checked the Codex Sinaiticus on line. They all say this:
. . . ὅτι ᾔδεισαν αὐτόν.
. . . because they knew him.
Now Evans could be arguing that any parenthetical statement in Mark could be out of place, no matter what preposition or conjunction it starts with; however, it seems awfully strange that he would specifically focus on misplaced gar clauses, and then cite as his very first example a verse that does not contain gar.
What about the assertion that the reason Jesus commanded the silence of the demons was that "it knows who he [Jesus] is and therefore can speak directly against him, possibly harming him" (p. 136). One way to test this theory is to examine each case of exorcism and see if it withstands scrutiny. It's true that in Galilee he always tells the demons to hold their peace.
My name is Legion
However, when Jesus and the disciples take their little day trip to the country of the Gadarenes (or Gergasenes, for those keen on harmonization), things are different. Let's not forget that the Gadarene demoniac was truly a holy terror. When the local folk tried to bind him in irons he was able to break the chains with his bare hands. This guy didn't have just one demon, but a whole pack of them. Mark says that no man could tame him, and that "night and day, he was in the mountains, and in the tombs, crying, and cutting himself with stones." (Mark 5:5, KJV) This is the kind of thing that can really spoil a picnic.
If Evans' theory had any validity at all, we should expect Jesus immediately to command these demons to be silent. After all, if they got the upper hand, there's no telling what they might do. Jesus surely will not want to "wrangle with these spirits." So what does Jesus say?
Well, ironically, verse 8 appears to be an actual misplaced gar clause. Verse 7 contains the demons' response to the command to leave the victim given in verse 8, out of temporal sequence. Jesus commands him to vacate the body, and the unclean spirits start wailing and complaining. At this point, Jesus surely tells them to shut up, right?
9. And he asked him, What is thy name? And he answered, saying, My name is Legion: for we are many.
10. And he besought him much that he would not send them away out of the country.
11. Now there was there nigh unto the mountains a great herd of swine feeding.
12. And all the devils besought him, saying, Send us into the swine, that we may enter into them.
13. And forthwith Jesus gave them leave. And the unclean spirits went out, and entered into the swine: and the herd ran violently down a steep place into the sea, (they were about two thousand;) and were choked in the sea.
At no time does Jesus silence the demons. In fact he engages in a conversation with 2,000 evil spirits, or at least with their spokes-demon. The salient difference between the exorcisms in Galilee and the expulsion of the legion of demons into the swine is the lack of the onlooking crowd. When the public is not present to hear the secret, Jesus doesn't care. Mark knows that Jesus is too powerful to worry about demons getting the upper hand; it isn't even a remote possibility. So when the demoniac cries out on behalf of his unwanted guests — "What have I to do with thee, Jesus, thou Son of the most high God? I adjure thee by God, that thou torment me not." — Jesus makes no effort to keep him quiet.
Whatever it is, they're against it!
As I said early on in this series, conservative scholars as a general rule do not fully understand Wrede, and what they think they understand, they do not like. Evans shows us that to discredit Wrede they're willing to take a long, twisted detour that depends on Mark's bad Greek and ancient exorcists' fear of demons. But Mark is very clear on this matter. He summarizes the exorcisms in 3:11-12.
11. And unclean spirits, when they saw him, fell down before him, and cried, saying, Thou art the Son of God.
12. And he straitly charged them that they should not make him known.  (KJV)
Mark tells us why Jesus commanded silence. It isn't because he doesn't feel like "wrangling." It is because he does not want them to make him known. It could hardly be any clearer.
I hope you will all forgive my little digression, but I think it's important to point these problems out. We're frequently told we need to "engage with modern scholarship" when we discuss NT matters. I'm sure many scholars in the guild would be amused that we spend so much time on Vridar dwelling on "old" critical scholarship and "debunked" authors such as Couchoud and Guignebert. However, it's difficult to deny that much of modern scholarship is tepid, timid, apologetic, and often downright sloppy.
---
Next time: "The Self-Concealment of the Messiah" — Demons (continued)
The following two tabs change content below.
Tim Widowfield
Tim is a retired vagabond who lives with his wife and multiple cats in a 20-year-old motor home. To read more about Tim, see our
About page.
Latest posts by Tim Widowfield (see all)
---
If you enjoyed this post, please consider donating to Vridar. Thanks!
---