In 2002 results of research into the relationship between personality and spirituality were published in Pastoral Psychology.
If you're one of those arm-chair anti-religionists who speculates that people who pray the most probably have some psychological malfunction and are expressing a need to communicate with an imaginary friend given their inability to relate to the real world, then the research findings are against you.
If you have rejected western religious traditions and think you are a much nicer person than the average for having found value in the regular practice of Eastern meditation instead, then again the science is against you. But what do you care for quantifiable observations of this crass material world!
The findings were that those who pray the most (in the conventional or traditional sense of the word) are jolly good types who fit in well with wider social expectations. Plato would be happy. Wasn't he the one who said a strong dose of conventional religious belief and fear was a necessary thing to keep the masses well-behaved and in line?
To be specific, the researchers conclude (using the Eysenck personality model) that those who pray the most are at the low end of the "psychoticism" dimension of personality and are thus most likely to be found to be
empathic, unselfish, altruistic, warm, peaceful and generally more pleasant, although possibly less socially decisive individuals.
The authors of the study note that Eysenck himself styled such types as "tender-minded". Spot on. Just what the author of Ephesians 4:32 ordered: "be tenderhearted".
So are those Christians who clearly lack empathy, warmth and peace advertizing that they don't pray as much in secret as they ought?
I'm thinking back on my prayer-full days. We were admonished that a half-hour daily prayer was the minimum. An hour a day was what was really encouraged. And during that particular phase of my religious life I know I was not the only one who would feel very out-of-sorts, very anti-social, uptight, if I did not get in at least my half-hour shot each morning.
To make more serious sense of this finding it is helpful to understand something of the Eysenck' personality dimensions upon which they are grounded.
Eysenck and his wife proposed that our personalities are made up of three dimensions, and each of us has varying strengths of each of these dimensions. From Wikipedia's Eysenck's Personality Questionnaire:
| Psychoticism | Extraversion | Neuroticism |
| --- | --- | --- |
| Aggressive | Sociable | Anxious |
| Assertive | Irresponsible | Depressed |
| Egocentric | Dominant | Guilt Feelings |
| Unsympathetic | Lack of reflection | Low self-esteem |
| Manipulative | Sensation-seeking | Tense |
| Achievement-oriented | Impulsive | Moody |
| Dogmatic | Risk-taking | Hypochondriac |
| Masculine | Expressive | Lack of autonomy |
| Tough-minded | Active | Obsessive |
Each of these three dimensions is a sliding scale. The fewer traits one displays in each of these three, the more one falls into the "Socialisation – Introversion — Stability" end of their respective continuums (or continua, for the Latin-obsessives.)
For alternatives and refinements to this personality model see the Wikipedia article as well as the one on Hans Eysenck himself.
It's that first column, the Psychoticism-Socialisation dimension, that Eysenck related to religiosity and that is relevant to this study:
The conclusion to emerge from these studies is that psychoticism is the dimension of personality fundamental to individual differences in prayer. Eysenck's wider theory on the relationship between personality and religiosity (Eysenck, 1998) is able to account for this finding in terms of conditioning into tender-minded social attitudes. According to this theory religion belongs to the domain of tender-minded social attitudes. Tender-minded social attitudes are a function of conditioning and individuals who record low scores on the dimension of psychoticism condition more readily . . .

This broader theory hinges on the notion of conditioning into acceptance of those social and religious values generally approved by wider society. (my emphasis)
We are social animals by nature, so it looks like religion may have something of a head start as a form of social adhesive. Belief in the supernatural or religion appears to be, after all, one of our "human universals" as a cultural species.
Where does this leave the meditator?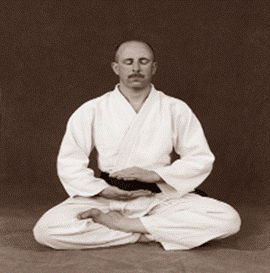 So where does all of this leave those social rebels who opt for Eastern meditation?
Well, they turn out to be found at the psychoticism end of the psychoticism-socialisation continuum. This end of the continuum points to a person
as being cold, impersonal, hostile, lacking in sympathy, unfriendly, untrustful, odd, unemotional, unhelpful, lacking in insight, strange, with paranoid ideas that people were against him.
Thus according to the findings of this study,
Eastern meditation appears to provide an alternative spirituality for individuals who seek a spiritual dimension to life but who are more likely to resist conditioning into acceptance of those social and religious values more generally approved of by wider society.
I do wonder if the same results would be found in an Asian society where meditation is more the cultural norm and traditional forms of Christian prayer are very much practiced by a minority. But then again, Buddhists and Taoists can be seen praying in a western conventional sense often enough throughout Asia, too.
Hypotheses
Francis (1996) identified several theories capable of linking personal prayer with low psychoticism scores.

If personal prayer is conceptualized as a response of unworthiness or guilt in the presence of the deity, it might be hypothesised that the tough-minded individual would be less concerned with such feelings.
If personal prayer is conceptualized as an empathic response to the needs of others, it might be hypothesised that the tough-minded individual would be less aware of such needs.
If personal prayer is conceptualized as the expression of an intimate relationship with God, it might be hypothesised that the tough-minded individual would be less capable of forming and sustaining such a relationship.

(page 3 of the article, my formatting and emphasis)
Perhaps studies like these will help us understand the reason for the success (and need?) of religion in our species. I'd also be interested to compare studies undertaken by researchers with opposing, or simply no, spiritual orientations at all. Another perspective would be from Muslim and Jewish researchers investigating their broader societies.
.
With special thanks to the blog reader who brought my attention to the research publication discussed here.
The following two tabs change content below.
Neil Godfrey
Neil is the author of this post. To read more about Neil, see our
About page.
Latest posts by Neil Godfrey (see all)
---
If you enjoyed this post, please consider donating to Vridar. Thanks!
---