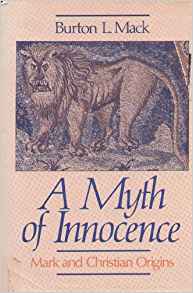 Bill Arnal and Leif E. Vaage are not the only scholars who have published doubts about the historicity of the baptism of Jesus by John the Baptist. I mentioned them back in January this year. Another was Burton Mack in Myth of Innocence. (The evidence against historicity is in my view overwhelming. I have shown the weakness of the arguments by E. P. Sanders for its historicity and posted before on how the scenes can be explained entirely in terms of literary function and artifice without any need to resort to assumptions of extraneous events outside the text.) But for sake of completeness here is Burton Mack's argument for treating it as entirely mythical. I highlight in bold type the reasons he sees evident for the need or wish of early Christians to invent the episode. Far from the scene being an embarrassment to the first Christians to have heard the story, it was surely welcomed. Only later evangelists reading Mark's gospel felt embarrassment over Mark's account because they had quite different views of Jesus.
The framework stories of the gospels are the most highly mythologized type of material. They include the narratives of Jesus' birth, baptism, transfiguration, crucifixion, resurrection, and post-resurrection appearances. The transfiguration story is purely mythological, as are the birth narratives, the story of the empty tomb, and the appearances of the resurrected Jesus to the disciples. Critical scholars would not say that any of these derive from reminiscences.

The baptism story is also mythic, but in this case may derive from lore about Jesus and John the Baptist. Lore about John and Jesus is present in the sayings tradition, in a pronouncement story, and other legends both in Q and in Mark. John the Baptist was a public figure whose social role was similar to that of Jesus and whose followers were regarded by some followers of Jesus as competitors.

Except for the baptism story, however, there is no indication that Jesus and John crossed paths.