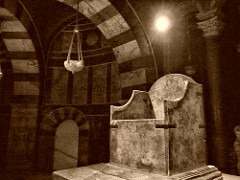 I like to marshal the most complete and best arguments for and against any proposition of interest to me and when I saw Dale C. Allison's list of arguments that "rulers of this age" in 1 Cor 2:6-8 (the rulers of this age being responsible for crucifying Jesus) means "human rulers" and not demon spirits I at first thought I had struck gold. But after working for a moment on putting them up on this post it dawned on me that what I was reading was more a scatter shotgun attack — a grab-bag of any and every point that might be used to make it appear that there were heaps of reasons to agree with the author.
The problem is that this "method" of argument avoids addressing the logic of the opposing case with a reasoned point by point rebuttal. It is quite conceivable that in a long list of dot points like this the major central points of the alternative view are bypassed completely. So rather than ditch this post I decided to continue with it. Only instead of producing what I originally expected to be a post of the best nugget of arguments against the interpretation that "rulers of this age" meaning demons, I copy a list of dot points of reasons anyone who does not like that interpretation can hang on to anyway.
And as for that "in the middle in between avoiding either end of the polarity" position that says the phrase "rulers of this age" means demons spirits working though human puppets, Allison draws on Wesley Carr to refute that Mr Jellyfish Average Have-It-Both-Ways position, too.
Dale C. Allison in Constructing Jesus: Memory, Imagination, and History lists nine dot points to support the interpretation that "rulers of this age" in 1 Corinthians 2:8  is a reference to human rulers. These nine points, he says, are the "main points to be made against" the interpretation that this phrase refers to demons. That interpretation he cruelly lays aside by saying that "it has been popular" for some time now! Popular? Oh my, how savagely a scholar can damn with such faint praise!
It has been popular, over the past one hundred years or so, to identify these rulers with hostile spirits. Paul can characterize Satan as "the god of this world" (ὁ θεὸς τοῦ αἰῶνος τούτου [2 Cor 4:4]), whom the Fourth Evangelist in turn calls "the ruler [ὁ ἄρχων] of this world" (John 12:31; 14:30; 16:11); and "the rulers and authorities" (αὶ ἀρχὰς καὶ αὶ ἐξουσίας) of Col 2:5 generally are held to be demonic beings (cf. Eph 6:12). (p. 396) Continue reading ""Rulers of this age" – Dale Allison's shotgun argument for human rulers"