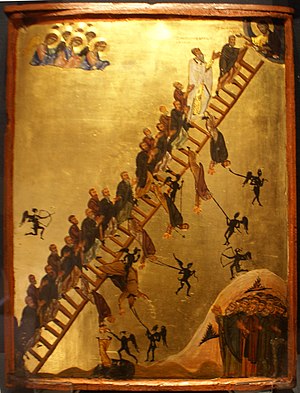 The New Testament epistles inform us that the original Gospel was a revelation from God. That means it did not originate by means of spoken tradition relayed from historical events, by word of mouth, from eyewitness or preacher to others. Rather, one might almost say that the medium itself was the message: the revelation or vision was, in a significant sense, the Gospel and conversion experience.
Thus Paul — thought by some scholars to be the real founder of Christianity — says that he was not taught the Gospel by men. "In Galatians 1, Paul claims that he did not receive the gospel from a human source. . . . In Galatians Paul speaks of his conversion as a revelation (apocalypse [1:12])" (Segal, 1990: 35, 36)
I did not receive it from any man, nor was I taught it; rather, I received it by revelation from Jesus Christ. . . . But when God, who set me apart from my mother's womb and called me by his grace, was pleased to reveal his Son in me so that I might preach him among the Gentiles, my immediate response was not to consult any human being. (Galatians 1:12, 16)
Later we read in the final chapter of Paul's letter to the Romans the same thought:
. . . . my gospel, the message I proclaim about Jesus Christ, in keeping with the revelation of the mystery hidden for long ages past, but now revealed and made known through the prophetic writings by the command of the eternal God . . .  (Romans 16:25-26)
In another epistle we read that the mystery of Christ was revealed by the Spirit to the apostles and prophets:
. . . . if indeed you have heard of the dispensation of the grace of God which was given to me for you,  how that by revelation He made known to me the mystery (as I have briefly written already, by which, when you read, you may understand my knowledge in the mystery of Christ), which in other ages was not made known to the sons of men, as it has now been revealed by the Spirit to His holy apostles and prophets . . . (Ephesians 3:2-5)
And in Titus we read  more of the same:
. . . . eternal life which God, who cannot lie, promised before time began, but has in due time manifested His word through preaching, which was committed to me according to the commandment of God our Savior (Titus 1:2-3)
Colossians likewise explains that God's ages-old secret has been revealed for the first time through Paul's gospel (Doherty, 2009: 39):
the mystery of Christ, namely Christ, in whom are hidden all the treasures of wisdom and knowledge (Col. 2:2)

the mystery which has been hidden from ages and from generations, but now has been revealed to His saints. . . . which is Christ in you, the hope of glory. (Col. 1:26-27)
Paul, like Enoch, a sky traveler
Alan F. Segal, in Paul the Convert, explains Paul's understanding of his own conversion experience:
Paul describes his own spiritual experiences in terms appropriate to a Jewish apocalyptic-mystagogue of the first century. He, like Enoch, relates his experiences of heavenly travel, in which he sees the secrets of the universe revealed. He believes his salvation to lie in a body-to-body identification with his heavenly savior [see Galatians 2:2 above], who sits on the divine throne and functions as God's glorious manifestation. (p. 35)
It might be interesting to reflect on the implications of this against the place of "uranography" or "astronomics" in the ancient world as discussed in my previous post about the genre of the book of Revelation.
Paul claims that he did not receive his gospels from a human source (see Galatians 1:12 above).
Paul called his experience of receiving the gospel an apocalypse, or a revelation.
I did not receive it from any man, nor was I taught it; rather, I received it by revelation (ἀποκαλύψεως apokalupseōs) from Jesus Christ
Paul left us a description of one of his visions in 2 Corinthians 12:1-9:
It is doubtless not profitable for me to boast. I will come to visions and revelations of the Lord: I know a man in Christ who fourteen years ago—whether in the body I do not know, or whether out of the body I do not know, God knows—such a one was caught up to the third heaven. And I know such a man—whether in the body or out of the body I do not know, God knows— how he was caught up into Paradise and heard inexpressible words, which it is not lawful for a man to utter. Of such a one I will boast; yet of myself I will not boast, except in my infirmities. For though I might desire to boast, I will not be a fool; for I will speak the truth. But I refrain, lest anyone should think of me above what he sees me to be or hears from me. And lest I should be exalted above measure by the abundance of the revelations, a thorn in the flesh was given to me, a messenger of Satan to buffet me, lest I be exalted above measure. Concerning this thing I pleaded with the Lord three times that it might depart from me. And He said to me, "My grace is sufficient for you, for My strength is made perfect in weakness." Therefore most gladly I will rather boast in my infirmities, that the power of Christ may rest upon me.
This should be read alongside Moray-Jones' explanation of how precisely this description fits the mystical visionary experiences found in other literature such as the Ascension of Isaiah and the book of Enoch. I have posted on this in Visions that lay a foundation for Christianity. This post is a continuation of the theme begun there.
Segal supports this:
One important meeting, possibly but not necessarily the first one, took place in a heavenly ascent to the enthroned presence of Christ. Paul's claim is not strange or ridiculous for a first-century Jew, since this experience parallels ecstatic ascents to the divine throne in other apocalyptic and merkabah mystical traditions in Jewish Hellenism. (p. 36)
(Segal suggests that it is possible (though it cannot be certain) that Paul in the above 2 Corinthians passage is explaining his original conversion experience. He says there that this particular vision occurred 14 years earlier, and in Galatians he indicates that he visited Jerusalem 14 years after the period of his conversion. 2 Corinthians is recognized as being a composite letter, so we cannot know when the various parts of it were composed.)
Segal explores this further in relation to other visionary-ascent literature, and writes:
Like Enoch, Paul claims to have gazed on the Glory, whom Paul identifies as Christ; Paul understands that he has been transformed into a divine state, which will be fully realized after his death; Paul claims that his vision and transformation is somehow a mystical identification; and Paul claims to have received a calling, his special status as intermediary. Paul specifies the meaning of this calling for all believers, a concept absent in the Enochian texts, although it may have been assumed in the original community. (p. 47)
As explained in my earlier Visions that lay a foundation (linked above) and related posts, one of the consequences of the vision experience was a transformation of the visionary into the glory or the divine nature of the one being seen. Paul describes this transformation experience, and indicates he was not the only Christian to have experienced it in 2 Corinthians 3:18-4:6.
Greater than the experience of Moses
Here he teaches that the Christian's visionary experience, and its transformative consequences, are greater than the visions and resulting glory experienced by Moses:
 3:18 But we all, with unveiled face, beholding as in a mirror the glory of the Lord, are being transformed into the same image from glory to glory, just as by the Spirit of the Lord.

2 Corinthians 4

1 Therefore, since we have this ministry, as we have received mercy, we do not lose heart. 2 But we have renounced the hidden things of shame, not walking in craftiness nor handling the word of God deceitfully, but by manifestation of the truth commending ourselves to every man's conscience in the sight of God. 3 But even if our gospel is veiled, it is veiled to those who are perishing, 4 whose minds the god of this age has blinded, who do not believe, lest the light of the gospel of the glory of Christ, who is the image of God, should shine on them. 5 For we do not preach ourselves, but Christ Jesus the Lord, and ourselves your bondservants for Jesus' sake. 6 For it is the God who commanded light to shine out of darkness, who has shone in our hearts to give the light of the knowledge of the glory of God in the face of Jesus Christ.
Paul often talks of the transformation of believers into the image of Christ: Rom. 8:29; 2 Cor. 3:18; Phil. 3:21; 1 Cor. 15:49; cf Col. 3:9.
Paul explicitly compares Moses' experience with his own and that of Christian believers. The experiences are similar, but the Christian transformation is greater and more permanent. . . . His point is that some Christian believers also make such an ascent and that its effects are more permanent than the vision Moses received. The church has witnessed a theophany as important as the one vouchsafed to Moses, but the Christian theophany is greater still, as Paul himself has experienced. The Corinthians are said to be a message from Christ (3:2), who is equated with the Glory of God. The new community of gentiles is not a letter written on stone (Jer. 31:33), but it is delivered by Paul as Moses delivered the Torah to Israel. The new dispensation is more splendid than the last, not needing the veil with which Moses hid his face. Paul's own experience proved to him and for Christianity that all will be transformed. . . . .

The result of the journey is the identification of CHrist as the Glory of God. What Paul says that he preaches that Jesus is Lord and that God "has let this light shine out of darkness into our hearts to give the light of knowledge of the glory of God in the face of Christ: (4:6), he is describing his own conversion and ministry . . . . (pp. 60-1)
Paul describes his ministry as a prophetic calling. Like the prophets he was called through a visionary experience. As was typically believed of such experiences, he believed he became transformed into the image of the one he saw in the vision.
The role of baptism
In Galatians 1:16 (quoted above) Paul speaks of God revealing his Son "in him". Segal explains,
Being in Christ in fact appears to mean being united with Christ's heavenly image. The same, however, is available to all Christians through baptism. (p. 64)
Segal informs us that mystical and apocalyptic Judaism also practiced the ritual of baptism as the central purifying ritual prior to experiencing a visionary ascent into God's presence. (They never taught me that in any of the church's I ever attended.)
Dying and being resurrected along with Christ in baptism is the beginning of the process by which the believer gains the same image of God, his eikon, which was made known to humanity when Jesus became the son of man — the human figure in heaven who brings judgment in the apocalypse described in Daniel.
Here I am reminded of the Gospel narrative of Jesus' baptism. It was followed by the heavens opening and God's voice being heard by Jesus, and the spirit of the Christ entering into Jesus — the glory of God entering (and "transforming"?) him.
For all believers, a bodily conversion
In Romans 8:29 Paul speaks of God fore-ordaining his elect to be "conformed to the image of his Son".
But when Paul states that believers conform to the image of God's son, he is not speaking of an agreement of mind or ideas between Jesus and the believers. The word symmorphe itself suggests a spiritual reformation of the believer's body into the form of the divine image. Paul's language for conversion — being in Christ — develops out of mystical Judaism. (p. 64)
There is much more, and these snippets will for many spark associations with other passages in the New Testament epistles.
Segal never questions the historicity of Jesus, but I suggest his argument would have been even more cogent had he done so.
The following two tabs change content below.
Neil Godfrey
Neil is the author of this post. To read more about Neil, see our
About page.
Latest posts by Neil Godfrey (see all)
---
If you enjoyed this post, please consider donating to Vridar. Thanks!
---