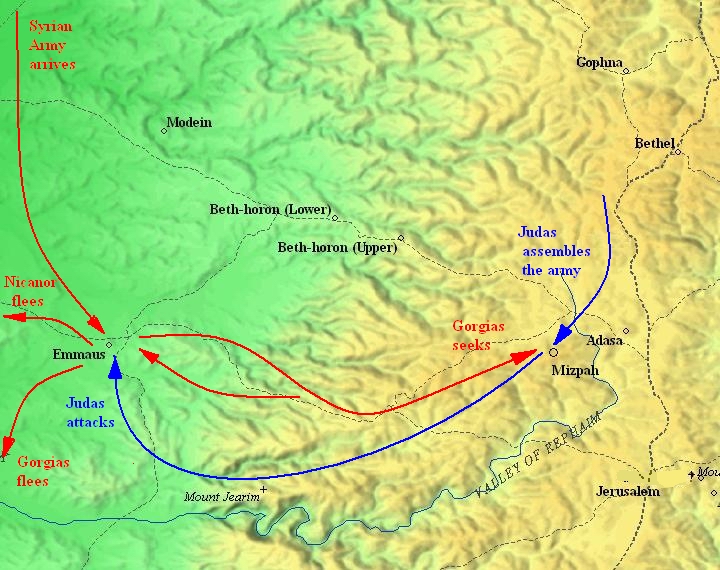 I thought I had nailed the reason for Luke's choice of Emmaus (Luke 24:23-35) as the destination of the two disciples after the crucifixion when I posted on The Origin and Meaning of the Emmaus Road Narrative in Luke. That explanation hinged on Codex Bezae containing the original word, Oulammaus, and that led to the link with the place where God appeared to Jacob when he was traveling away from his home.
But now there is another possible explanation for the choice of the placename that I have come across in Classics and the Bible by John Taylor.
Firstly, he suggests the location in Luke 24:13 is "strongly probably" to be identified with the place of that name in 1 Maccabees 3:40 and Josephus in Jewish War 2.71. This places the town 160 stades distant from Jerusalem rather than the 60 in most manuscripts, though some manuscripts do say 160.
It is however much more likely that Luke intends a symbolic point than that he is preoccupied with the minutiae of geography of that there were two places of the same name.
Firstly look at the Emmaus passage to recollect a few details:
13And, behold, two of them went that same day to a village called Emmaus, which was from Jerusalem about threescore furlongs.

14And they talked together of all these things which had happened.

15And it came to pass, that, while they communed together and reasoned, Jesus himself drew near, and went with them.

16But their eyes were holden that they should not know him.

17And he said unto them, What manner of communications are these that ye have one to another, as ye walk, and are sad?

18And the one of them, whose name was Cleopas, answering said unto him, Art thou only a stranger in Jerusalem, and hast not known the things which are come to pass there in these days?

19And he said unto them, What things? And they said unto him, Concerning Jesus of Nazareth, which was a prophet mighty in deed and word before God and all the people:

20And how the chief priests and our rulers delivered him to be condemned to death, and have crucified him.

21But we trusted that it had been he which should have redeemed Israel: and beside all this, to day is the third day since these things were done.

22Yea, and certain women also of our company made us astonished, which were early at the sepulchre;

23And when they found not his body, they came, saying, that they had also seen a vision of angels, which said that he was alive.

24And certain of them which were with us went to the sepulchre, and found it even so as the women had said: but him they saw not.

25Then he said unto them, O fools, and slow of heart to believe all that the prophets have spoken:

26Ought not Christ to have suffered these things, and to enter into his glory?

27And beginning at Moses and all the prophets, he expounded unto them in all the scriptures the things concerning himself.

28And they drew nigh unto the village, whither they went: and he made as though he would have gone further.

29But they constrained him, saying, Abide with us: for it is toward evening, and the day is far spent. And he went in to tarry with them.

30And it came to pass, as he sat at meat with them, he took bread, and blessed it, and brake, and gave to them.

31And their eyes were opened, and they knew him; and he vanished out of their sight.

32And they said one to another, Did not our heart burn within us, while he talked with us by the way, and while he opened to us the scriptures?

33And they rose up the same hour, and returned to Jerusalem, and found the eleven gathered together, and them that were with them,

34Saying, The Lord is risen indeed, and hath appeared to Simon.

35And they told what things were done in the way, and how he was known of them in breaking of bread.
Emmaus was the site of Judas Maccabaeus's first victory over Antiochus IV Epiphanes, the Syrian king who attempted to destroy Jewish customs and their traditional Temple worship. This was the site of the battle that began the redemption of Israel.
1 Maccabees 3:40-4:25
40So they set out with their entire force, and when they arrived they encamped near Emmaus in the plain. 41When the traders of the region heard what was said to them, they took silver and gold in immense amounts, and fetters,* and went to the camp to get the Israelites for slaves. And forces from Syria and the land of the Philistines joined with them.

42 Now Judas and his brothers saw that misfortunes had increased and that the forces were encamped in their territory. They also learned what the king had commanded to be done to the people to cause their final destruction. 43But they said to one another, 'Let us restore the ruins of our people, and fight for our people and the sanctuary.' 44So the congregation assembled to be ready for battle, and to pray and ask for mercy and compassion. 45Jerusalem was uninhabited like a wilderness; not one of her children went in or out.The sanctuary was trampled down, and aliens held the citadel; it was a lodging-place for the Gentiles.Joy was taken from Jacob; the flute and the harp ceased to play.

46 Then they gathered together and went to Mizpah, opposite Jerusalem, because Israel formerly had a place of prayer in Mizpah. 47They fasted that day, put on sackcloth and sprinkled ashes on their heads, and tore their clothes. 48And they opened the book of the law to inquire into those matters about which the Gentiles consulted the images of their gods. 49They also brought the vestments of the priesthood and the first fruits and the tithes, and they stirred up the nazirites* who had completed their days; 50and they cried aloud to Heaven, saying,'What shall we do with these? Where shall we take them? 51Your sanctuary is trampled down and profaned, and your priests mourn in humiliation. 52Here the Gentiles are assembled against us to destroy us; you know what they plot against us. 53How will we be able to withstand them, if you do not help us?'

54 Then they sounded the trumpets and gave a loud shout. 55After this Judas appointed leaders of the people, in charge of thousands and hundreds and fifties and tens. 56Those who were building houses, or were about to be married, or were planting a vineyard, or were faint-hearted, he told to go home again, in accordance with the law. 57Then the army marched out and encamped to the south of Emmaus.

58 And Judas said, 'Arm yourselves and be courageous. Be ready early in the morning to fight with these Gentiles who have assembled against us to destroy us and our sanctuary. 59It is better for us to die in battle than to see the misfortunes of our nation and of the sanctuary. 60But as his will in heaven may be, so shall he do.' 4 –>

The Battle at Emmaus

4Now Gorgias took five thousand infantry and one thousand picked cavalry, and this division moved out by night 2to fall upon the camp of the Jews and attack them suddenly. Men from the citadel were his guides. 3But Judas heard of it, and he and his warriors moved out to attack the king's force in Emmaus 4while the division was still absent from the camp. 5When Gorgias entered the camp of Judas by night, he found no one there, so he looked for them in the hills, because he said, 'These men are running away from us.'

6 At daybreak Judas appeared in the plain with three thousand men, but they did not have armour and swords such as they desired. 7And they saw the camp of the Gentiles, strong and fortified, with cavalry all around it; and these men were trained in war. 8But Judas said to those who were with him, 'Do not fear their numbers or be afraid when they charge. 9Remember how our ancestors were saved at the Red Sea, when Pharaoh with his forces pursued them. 10And now, let us cry to Heaven, to see whether he will favour us and remember his covenant with our ancestors and crush this army before us today. 11Then all the Gentiles will know that there is one who redeems and saves Israel.'

12 When the foreigners looked up and saw them coming against them, 13they went out from their camp to battle. Then the men with Judas blew their trumpets 14and engaged in battle. The Gentiles were crushed, and fled into the plain, 15and all those in the rear fell by the sword. They pursued them to Gazara, and to the plains of Idumea, and to Azotus and Jamnia; and three thousand of them fell. 16Then Judas and his force turned back from pursuing them, 17and he said to the people, 'Do not be greedy for plunder, for there is a battle before us; 18Gorgias and his force are near us in the hills. But stand now against our enemies and fight them, and afterwards seize the plunder boldly.'

19 Just as Judas was finishing this speech, a detachment appeared, coming out of the hills. 20They saw that their army* had been put to flight, and that the Jews* were burning the camp, for the smoke that was seen showed what had happened. 21When they perceived this, they were greatly frightened, and when they also saw the army of Judas drawn up in the plain for battle, 22they all fled into the land of the Philistines. 23Then Judas returned to plunder the camp, and they seized a great amount of gold and silver, and cloth dyed blue and sea purple, and great riches. 24On their return they sang hymns and praises to Heaven—'For he is good, for his mercy endures for ever.' 25Thus Israel had a great deliverance that day.
John Taylor comments:
Luke surely expects us to pick up the clue: the two companions to a site steeped in an earlier redeeming of Israel. They expect a conquering hero, and their preoccupation with battles long ago prevents them from seeing the significance of what Luke presents as the greater victory won by the unrecognized stranger who walks with them. (p. 129)
The following two tabs change content below.
Neil Godfrey
Neil is the author of this post. To read more about Neil, see our
About page.
Latest posts by Neil Godfrey (see all)
---
If you enjoyed this post, please consider donating to Vridar. Thanks!
---