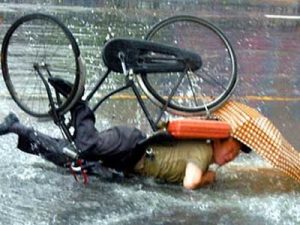 Although a certain professor of religion regularly insists that his historical methods are the same as those of other historians who deal in nonbiblical subjects, he has failed to demonstrate the similarity. Rather, his attempt to establish this particular point is a classic in obfuscation, misrepresentation of the issues and avoidance of the challenges of mythicist arguments.
One thing cannot be reasonably denied. Mainstream historical Jesus scholarship . . . uses the same methods as mainstream historical study. Those who study early Christianity, those who study Jewish history, those who study Hellenistic and Roman history, those who study any of these overlapping areas or some subset thereof, all interact regularly at conferences, in scholarly volumes and publications, and in numerous other ways. While scholars certainly disagree regularly with one another's conclusions, if we did not share some common scholarly methodological ground rules, such fruitful interaction would not be possible.

Reflecting on this, it struck me that mythicism is very much like intelligent design in at least one important regard. It wishes to redefine the methods of a scholarly discipline in order to accomplish an ideological agenda.
Of course there are many grounds for fruitful interaction among scholars of "early Christianity", "Jewish history" and those who study "Hellenistic and Roman history" — and more — I would add especially with those who study ancient classical literature. Of course these scholars do indeed "share some common scholarly methodological ground rules".
But the author uses this statement of the bleeding obvious as a cover to hide the fact he is sweeping under the carpet the key points made about historical Jesus studies in particular. I will explain below.
The mythical claims of a NT historian
As for the claim in the second paragraph above, I would be interested if this good associate professor could offer supporting evidence for the claim that "mythicists" seek to "redefine methods of a historical discipline" — at least to the extent that that historical discipline shares methodological ground rules with any other academic historical discipline.
The irony is that Professor Thomas L. Thompson has cast doubt on the historicity of Jesus by applying the very same methodological ground rules that are applied to both other biblical and nonbiblical areas of interest. In his recent criticism of Robert Price's chapter in The Historical Jesus 5 Views, McGrath did question what he perceived as Price's inconsistency in applying certain rules — but he made no complaint that Price was attempting to redefine the rules. None of the criticisms of Doherty or Wells or Ellgard or Zindler that I have encountered have ever suggested they are attempting to change the ground rules of historical inquiry. If McGrath has perceived something in their works that no-one else has noticed it would benefit us all if he could demonstrate or provide evidence for it.
So although I know of no mythicist who has been challenged for attempting to redefine historical methods "to suit their own ideological agenda", I myself have argued consistently that historical Jesus scholars are themselves the ones who have long claimed a certain exceptionalism from standard historical approaches for their particular area of interest.
What is meant by historical method?
First, it can help to understand what is meant by "historical methods". This term can have several layers of meaning.
At one level, we have philosophical and ideological assumptions that inevitably guide every historian in how he or she selects and interprets the evidence and tells their story. Discussions of methodology at this level are the popular topics of many conferences and publications.
Historiography has come a long way since those "Liberal" nineteenth-century historians who were convinced that history was a matter of setting out the objective facts. Historians have come to learn that it's not as black and white as that. One challenge to this view (from E. H. Carr) even had historians debating "What is a fact?" By that question, they did not question whether or not there really was a riot at Stalybridge Wakes in 1850 in which a gingerbread seller was beaten to death. That was a well documented and established fact. The question was whether or not such a fact had "historical significance".
One principle has not changed since the nineteenth century, however, and that is the well-known maxim of a pioneer of modern historiography, Leopold von Ranke, that "history is an art". What he meant by this is the way historians tell their stories, how they weave and spin their facts to create a narrative.
I avoid discussing here postmodernist historiography. But suffice it to say that even postmodernists do not deny the existence of real facts, such as the violent death of the gingerbread seller. Their argument is with the construction of stories and interpretations of such 'facts' in historians' heads, and what they see as the confusion between objective and subjective realities.
The starting point that is skipped or cheated by Historical Jesus studies
But there is one point underlying all of this that is rarely addressed head-on. And I think the reason is that this point is justifiably taken for granted before one begins any of the above discussions of "historical methodology".
Historical enquiry necessarily begins with the raw materials of evidence. Jewish apocalyptic literature, Stoic literature, ancient novels, Herodotus,  Homer, Polybius, Livy, Philo and the gospels are all forms of evidence. They are literary documents through which we can investigate the thoughts and world-views of the ancients. Some of these lend themselves to direct comparative or intertextual studies, and that is also a rewarding historical exercise.
Such enquiries are posing questions to the documents that they can yield as documents or narratives in their own right. There is no question about whether or not the contents of their narratives are historically true, such as whether Enoch really was taken up to heaven.
But if we are to inquire into the details of certain events and persons of the past, we can only go as far as our evidence will allow us. We cannot ask the same sorts of questions of very sparse and mostly secondary evidence as we can of richly documented and mostly primary documents. (By secondary evidence, I mean evidence that does not physically derive from the period under study. Within this definition Homeric epics and the gospels are not primary evidence since they are not physically traced to their original periods of compositions. We only have late manuscripts that are copies of earlier manuscripts, and so on.)
It is obvious, then, that historians cannot ask the same sorts of questions of ancient history as they can of modern history, for which they have an abundance of primary documentation.
The reason for this discrepancy is worth repeating. It is because the actual evidence itself is of a different quantity and quality (mostly secondary rather than primary).
Why no quest for the historical Socrates?
This is the reason you do not find books on the various quests for "the historical Socrates". The evidence as it exists does not allow for such an inquiry. All historians can do is study the history of Greek philosophical thought, and apparent social trends, such as the rise of the sophists, etc, from the evidence. It is beyond the nature of the evidence to allow anyone to draw a definitive portrait of the personal Socrates, except perhaps in the broadest brushstrokes. Some historians have even raised the question about the historical existence of Socrates, but it's not a question of any real consequence. The evidence only permits a serious study of the history of ideas, not of the persons behind them.
So how does this impact historical Jesus studies?
Well, it means we have absolutely no primary evidence at all for Jesus. That does not necessarily mean Jesus did not exist. By no means. But it does mean that historians must apply consistently the same historical methodologies to the evidence for Jesus that they also apply to the evidence for any other person or event under investigation.
The evidence for major political figures is of a different order altogether. We have primary evidence to establish their historicity and this gives us an external set of controls by which to evaluate the secondary evidence we have.
If we do not have the same sorts of external controls for Jesus then we can't break the rules to suit our own ideological agendas. Yet this is just what historical Jesus scholars often seem very willing to do.
The misuse of criteriology
But if there is no primary evidence, or any reliable external controls by which to evaluate their secondary evidence, what do HJ historians do for their "bedrock" evidence? How do they decide if a gingerbread seller's death is of historical value or not if they don't even have the basic documentation for the existence of the gingerbread seller in the first place?
They break the rules and substitute the findings of criteria for hard evidence.
Now there is nothing wrong with criteria as a historiographical tool. It is used a lot in evaluating motives of authors of primary documents, for example. But its findings can never be absolute in the same way primary evidence itself can be absolute. Nor can its findings ever attain the same probability as certain testimonies from secondary sources that are supported by reliable external controls to those sources.
It is possible to use criteria to argue, for example, that Jesus both did and did not "cleanse the temple" when he entered Jerusalem, or that he was and was not baptized by John, or that his disciples really did and did not desert him at Gethsemane.
Appealing to mainstream scholars for consistency
Those calling for consistency of historical methodology are from among the ranks of mainstream biblical scholarship — and yet these voices have been ignored by most HJ scholars, as far as I am aware.
My own critique of HJ methodologies is based squarely on the methods of mainstream historians. If indeed emerged out of my studies of mainstream historical methods.
. . . . only in special cases does there exist a tradition about a given literary production independent of the self-witness of the literary production itself; and that the person who utilizes a literary-historical tradition must always first demonstrate its character as a historical document. General grounds of probability cannot take the place of this demonstration.
from an academic paper delivered in 1904 by E. Schwartz: cited in a 1991 chapter by Luise Abramowski titled "The 'Memoirs of the Apostles' in Justin" pp.331-332 published in "The Gospel and the Gospels" ed. Peter Stuhlmacher.
Schweitzer by no means thought of mythicist arguments of his day as "crank", as McGrath is attempting to paint them today:
In reality, however, these writers are faced with the enormous problem that strictly speaking absolutely nothing can be proved by evidence from the past, but can only be shown to be more or less probable. Moreover, in the case of Jesus, the theoretical reservations are even greater because all the reports about him go back to the one source of tradition, early Christianity itself, and there are no data available in Jewish or Gentile secular history which could be used as controls. Thus the degree of certainty cannot even be raised so high as positive probability.

. . . Modern Christianity must always reckon with the possibility of having to abandon the historical figure of Jesus. Hence it must not artificially increase his importance by referring all theological knowledge to him and developing a 'christocentric' religion: the Lord may always be a mere element in 'religion', but he should never be considered its foundation. (Quest, p.402)
McGrath loves to make the analogy with a court of law:
I will appeal once more to an analogy for historical investigation that I've used before and that is popular and widespread. You may truly believe that your client is innocent or guilty. But when you are in the court of law, what matters is what you can persuade the jury, and you must do so using criteria of evidence that are well-established and have been honed through use and through effort to achieve a fair and just system. The system and its rules may be imperfect. But inasmuch as you want to appear in court, you must abide by them. And inasmuch as you want to advocate changes to them, you must do so through appropriate channels and having a firm basis with the necessary legal qualifications and expertise. History is not different, as far as I can tell.
Agreed. And mainstream historians agree, as we find in this excerpt from a famous secular historian:
In no case can we infer the reality of any specific 'social bandit' merely from the 'myth' that has grown up around him. In all cases we need independent evidence of his actions. (p.142)
From p.24 of A Contra Corriente: a Journal on Social History and Literature in Latin America (2004)
In a court of law testimony must be tested. Mere claims need corroboration. The identities of those making the claims is also significant. McGrath is wanting to justify how HJ scholars have changed the rules of the courtroom to allow uncorroborated claims to be substituted for hard evidence.
So where does this leave mythicist arguments?
It leaves them working with the literary evidence, the secondary documentation, in the same way, using the same methods, as scholars of classical literature and documents relating to ancient history. It leaves them working with these documents as literature and as tools for exploring the ideas they express, and sometimes their relationships, even intertextual relationships, with other literature.
It leaves them in the methodological justifiable position of not making any a priori assumptions about the historicity of the origins of their narratives. It leaves them working with the evidence as they find it, and seeking to understand it in its own terms, and asking only those questions of it that it legitimately can answer. Mainstream historians in other fields do not use "criteria" to decide whether or not Caesar really did cross the Rubicon. Nor do they use criteria to sift from Plato's works what "the real Socrates" must have taught. So one can also say that all of the above leaves mythicist arguments working with the evidence they do have, and not seeking to misguidedly apply criteria to establish "bedrock" fact that will always be debatable anyway.
The unanswered challenges
To date, I have only ever argued for consistency of methodology of historical practices. (In particular, on sham methodology and Scot McKnight's laments.) I know of no mythicist who has been accused of seeking to change the rules of general historical methodology as found outside NT studies.
One has to wonder, therefore, why McGrath repeatedly insists the contrary in the face of all the evidence that witnesses to the falsity of his charge.
The closest he has ever come to supporting his accusation is to speak in vague generalities (we couldn't get along at conferences if we didn't agree on basic methodologies; if there is a consensus there must be a good reason for it) that smudge over the actual challenges to HJ methodologies, and conveniently manage to ignore (or alternately manufacture through the criteriological machine) the facts.
The following two tabs change content below.
Neil Godfrey
Neil is the author of this post. To read more about Neil, see our
About page.
Latest posts by Neil Godfrey (see all)
---
If you enjoyed this post, please consider donating to Vridar. Thanks!
---