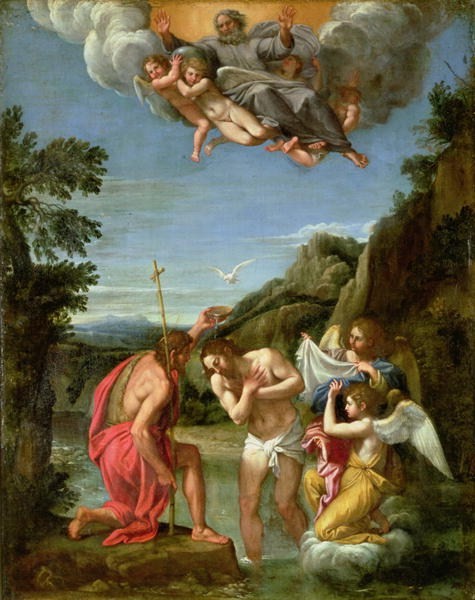 Strelan's article on the Fallen Watchers and the Disciples in Mark led me to a 1981 article by George W. E. Nickelsburg of particular interest: Enoch, Levi, and Peter: Recipients of Revelation in Upper Galilee (JBL 100/4 (1981) 575-600). I suspect Nickelsburg is touching on aspects of the Book of Enoch that ought to have major significance for the question of Christian origins, and in particular for the origin of the geographic symbolism we encounter in the Gospel of Mark. The idea that Galilee represents the place of the Kingdom of God while Jerusalem is in bondage to archons and apostasy is not original to the Gospel of Mark. Mark seems to have inherited this among a number of other ideas from those we find also in the Book of Enoch.
But here I share just one detail from this article, one that has to do with the baptism of Jesus as the means of his entry into the narrative of the gospel.
This is Nickelsburg's sentence that caught my eye:
At the sacred place, [Enoch] sits down by the waters — traditionally a place of revelation — and reads himself into a trance in which he is conveyed into the presence of God.
Here Milik (Le Testament de Lévi, Revue Biblique, 62 (1955) 405) is referenced as citing the following:
Ezekiel 1:1
Now it came to pass in the thirtieth year . . . as I was among the captives by the River Chebar, that the heavens were opened and I saw visions of God.
Daniel 10:4-7
I was by the side of the great river, that is, the Tigris. I lifted my eyes and looked, and behold, a certain man clothed in linen, whose waist was girded with gold of Uphaz! His body was like beryl, his face like the appearance of lightning, his eyes like torches of fire, his arms and feet like burnished bronze in colour, and the sound of his words like the voice of a multitude. And I, Daniel, alone saw the vision, for the men who were with me did not see the vision; but a great terror fell upon them, so that they fled to hide themselves.
And the Enochian passage in question is
Enoch 13:7-8 Continue reading "Rivers & Revelation: Enoch, Jesus and the Jordan River"