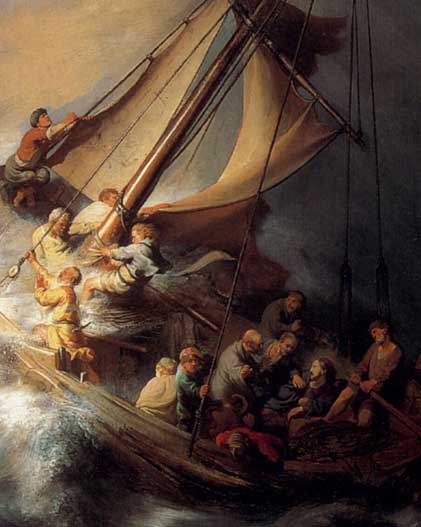 One of Jesus' more impressive tricks was to command a raging storm at sea to be quiet and go away so his disciples could continue their sea crossing without fear. Many readers of this tale are reminded of another about Jonah who, like Jesus, was caught sleeping in the boat while the crew were desperately bailing out water. The captain wakes Jonah up, words are exchanged, and the storm immediately ceases — the moment Jonah was tossed overboard.
But there was another very popular story about Julius Caesar attempting something similar, but not quite succeeding.
It was long the literary fashion for authors to show the superiority of their particular hero to other well-known heroes from older stories. The Roman poet Virgil composed an epic about Aeneas, father of the Roman race, basing many of  his adventures on those of the earlier Greek hero Odysseus in Homer's Odyssey. Where Odysseus fell foul of monsters and lost his crew, Aeneas more prudently (or with more favourable divine blessings) avoided such dangers and brought his crew to their destination, thus demonstrating his more masterful leadership qualities to those of the well known Odysseus.
But while the Jesus story of stilling the storm borrows a few details from Jonah's adventure, it is nonetheless a wild leap from one hero commanding the storm to cease and another begging to be sacrificed.
But then I read Wendy Cotter's citation (Miracles in the Greco-Roman World) setting the Jesus story alongside another that was evidently very popular throughout the Roman world around the era the Gospels were composed. Julius Caesar was famously reported to have disguised his identity, clambered into a boat and demanded its pilot to take him to the opposite shore. When storm and winds threatened their safety, Caesar declared his real identity and commanded the crew to have no fear, but to know that with Caesar on board the storm could do them no harm and that they would make it safely to their destination. Unfortunately for Caesar's ego, the storm refused to cooperate and the boat was forced to return to safety. Continue reading "How Jesus Christ outclassed Julius Caesar"