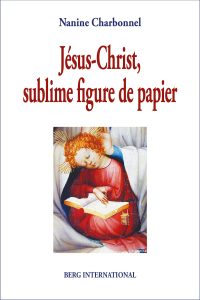 Back to blogging. I have been working for some time on tracking down sources behind several publications, one of them Nanine Charbonnel's Jésus-Christ, Sublime Figure de Papier. This post is the first of three that wrap up the third chapter of part 2; it is in this chapter that NC brings out the full meaning of the title of her book — figure de papier — the full meaning of which the English translation "paper figure" fails to impart.
1. Incarnation and Transforming Figures of Speech into "Real" Persons
Wisdom in Person
Most of us are well aware that in the Bible Wisdom is often portrayed figure crying out to a deaf humanity to rescue it from its folly. In the first nine chapters of Proverbs we read that Wisdom is begotten rather than created, just as another figure in the New Testament will be said to be begotten of God. More than that, Wisdom is portrayed existing alongside God before creation itself. She stamps her mark on all of creation.
For Nanine Charbonnel, passages like these about Wisdom very likely point us towards understanding the way gospel figures were invented and the way Christ is represented in the New Testament epistles and book of Revelation.
Compare Wisdom in Jewish Scriptures and related literature with the way Christ appears in the gospels.
The Gospel of John opens with Jesus "tabernacling" or "tenting" among his people, with the tent being a metaphor for flesh. Similarly in Sirach 24:8 we find that Wisdom comes to dwell in a tent in Israel:
Then the Creator of all things gave me [=Wisdom] a command,
and my Creator chose the place for my tent.
He said, 'Make your dwelling in Jacob,
and in Israel receive your inheritance.' — Sirach 24:8
In Baruch 3:38 Wisdom dwells among men:
Afterwards he was seen upon earth, and conversed with men. — Baruch 3:38
Compare John 1:14
And the Word became flesh, and did tabernacle [or dwell] among us . . .
The concept of pre-existing Wisdom, the chief of God's beings, living or "tabernacling" among her people Israel, reminds us of Jesus Christ, of course. The motifs associated with personified Wisdom are carried through and applied to the figure of Jesus.
Wisdom and the Word of God
Wisdom is not only personified but it is also identified with the divine Word. Like Wisdom, the Word sits on the throne of God; if the Word touches the heavens he/it also moves with the same power on earth. Continue reading "Jesus: Incarnation of Written and Oral Torah. part 1 of 3 (Charbonnel contd)"