---
2021-07-07
by Neil Godfrey
---
2021-07-04
by Tim Widowfield
[More stuff from James McGrath's What Jesus Learned from Women.]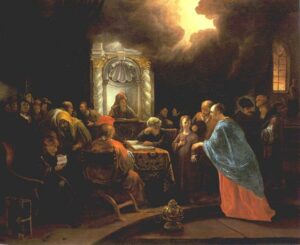 In the previous post, we discussed McGrath's assertion that the twelve-year-old Jesus in the Temple was learning from the teachers of the law. According to the esteemed doctor, Jesus was just a really good pupil. In rebuttal, I provided some reasons to think that Luke wanted us to believe Jesus "astonished" his interlocutors with his insightful questions and answers. Joel Green, the author of one of the better commentaries on Luke, says Jesus was at least on equal footing with men who had devoted their entire lives to studying the law.
Not a Pupil, Not a Fan
As I mentioned last time, Green cited a paper by Dennis Sylva that lists a few reasons why he thinks Luke had no intention of portraying Jesus as a student. In "The Cryptic Clause," he writes:
Luke did not present Jesus as a pupil of the Jewish teachers, as scholars often suppose. . . . The fact that Jesus is said to have questioned the teachers and answered questions does not necessarily mean that Jesus is presented as a student of the Jewish teachers. Luke often presents the adult Jesus as asking questions and answering them without portraying him as a student. . . . (Sylva 1987, pp. 136-137)
Exactly so. As we noted earlier, Jesus' teaching method often involved both asking and answering questions. He continues:
Further, Luke writes that the child Jesus was kathezomenon en mesō tōn didaskalōn (Lk 246a). By way of contrast, Luke writes about how Paul "was taught at the feet of Gamaliel" (Acts 22:3). Still further, the fact that in subsequent chapters in the Lukan narrative Jesus is presented as condemning many views of the Jewish teachers makes it highly unlikely that Luke would present Jesus as a student of the Jewish teachers in Luke 24 1:51. (Sylva 1987, p.137, formatting altered slightly)
We picture Jesus sitting (καθεζόμενον) in the middle of the teachers, not learning at their feet. That's a powerful image. Consider the social implications of a boy looking eye-to-eye at the most learned people in all of Judea. And recall that he's been at this, allegedly, for three days.
Moreover, Sylva is absolutely correct about Luke's portrayal of Jesus' relationship with the Jewish authorities, especially the doctors of the law. Does McGrath propose that he learned from them and then learned more later from some other source, thereby changing his outlook? Perhaps. We know he believes Jesus was a disciple of John the Baptist. And we've already noted that he thinks Jesus had some education previous to the encounter in the Temple.
The depiction of Jesus on the cusp of adolescence in the Gospel of Luke already suggests a certain level of prior education. (McGrath 2021, p. 25)
Memory, Essence, and Gist
Now the mythical tale of the boy in the Temple can serve a dual purpose: It foreshadows Jesus' career as a teacher and it magically reveals the gist of his actual, real-life, honest-to-goodness historical education.
Regardless of McGrath's intentions here, the reader will easily infer that the historical Jesus "must have" acquired some education in his youth. We've seen this sleight-of-hand maneuver in NT Studies many times before. Continue reading "A Wunderkind in the Temple? (Part 2)"
---
2021-07-01
by Neil Godfrey
Will be posting here again soon, and regularly again, too. Have been catching up on books and articles that I've acquired faster than I can read them — biblical, aboriginal, political, and other. When various changes happening all around settle down I'll be relaxed enough to sit down and organize more regular posts. So don't go away thinking I must have died.